French cooking
Au retour du marché - Paris
French cooking
Au retour du marché - Paris
Au programme
A chaque saison son lot de merveilles à découvrir. Parcourez les étals d'un marché à Paris avec notre chef et revenez préparer un délicieux menu de saison tous ensemble dans notre atelier.
Techniques abordées
Organiser ses achats
Savoir sélectionner les produits de saison, de qualité et bon marché
Travailler des produits frais
S'organiser en cuisine
En détail
Tout débute par un café à 09h15 dans nos cuisines, puis accompagné de notre chef, arpentez les étals du marché de Richard Lenoir pour y dénicher les plus beaux fruits, légumes, poissons, fromages, volailles et autres trésors de saison qui composeront votre cours de cuisine. Réalisez un menu entrée, plat et dessert sur les conseils de votre chef.

À l'issue de votre cours, une table sera dressée et vous pourrez déguster les plats réalisés accompagnés d'un verre de vin, et partager un moment avec le chef et les autres participants.
L'équipe
Voici nos chefs experts recrutés pour cet atelier :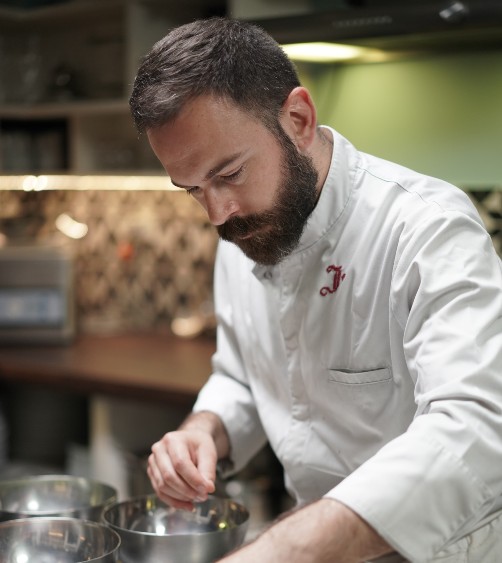 Jean Mathat-Christol
Jean est issu d'une famille de cuisiniers, pâtissiers et hôteliers. Gardant de ses études un goût pour la recherche théorique, il construit ses cours comme des leçons ludiques et considère que les recettes qu'il met au point sont un moyen de comprendre la chimie, la physique et l'histoire de la cuisine.
Find out more
Parage Arnaud
Passionné de pâtisserie depuis son plus jeune âge, le Chef Arnaud Parage a grandit en Bretagne avec un réel amour de son terroir. Après avoir fait ses armes chez Bernard Loiseau à Saulieu ou encore J-M Lorrain à Joigny, le Chef pose finalement ses valises à Paris et va même jusqu'à ouvrir son restaurant : L'Hédoniste à Vincennes, récompensé par des guides comme Le Michelin, Le Fooding pour une cuisine authentique et de qualité.
Find out more
La cerise sur le gâteau
Dégustation à table des plats réalisés
Verre de vin offert pour le repas
Café & thé bio offerts
Tablier inclus
Légumes locaux ou BIO
Ingrédients direct des producteurs
Démarche anti-gaspi
Recettes sans additif
Lieux
À deux pas de Bastille, au fond d'une cour intérieure, retrouvez nos cuisines dans un ancien atelier d'artiste. Deux cuisines calmes et lumineuse d'une superficie totale de 100 m2 peuvent accueillir jusqu'à 30 personnes.
Infos pratiques
Retrouvez toutes les recettes imprimables 48h avant le début du cours sur votre compte Chefsquare.

INFORMATIONS COVID-19
Nous avons mis en place toutes les mesures de sécurité pour vous recevoir dans les meilleures conditions :
- Masques obligatoires pour tous
- Répartition des denrées pour un travail individuel
- Limitation de 10 à 12 participants maximum espacés d'1 mètre
- Désinfection du matériel et des cuisines avant et après un cours

Do you want to organise this EXPERIENCE for a GROUP?
Contact us
You wish to propose this WORKSHOP to your CORPORATE COMMITTEE?
Contact us