French cooking
Carte blanche avec le chef Arnaud Bulliot - Lyon
French cooking
Carte blanche avec le chef Arnaud Bulliot - Lyon
Au programme
Arnaud est un chef à domicile, chaque jour il propose des plats différents au gré des saisons et des tendances. Passionné par la gastronomie française, ses cours vous permettrons aussi de réaliser des recettes élégantes aux saveurs parfois d'ailleurs. Découvrez sa cuisine dans notre atelier de Lyon qui séduira tous vos convives.
Techniques abordées
S'organiser en cuisine et optimiser le temps en cuisine
Respecter les produits et éviter le gaspillage
Travailler des produits d'exception
Maîtriser vos cuissons
Appliquer avec finesse et simplicité les codes du dressage d'assiette
En détail
Dans cet atelier de 2 heures à Lyon, le chef Arnaud Bulliot vous enseigne les fondamentaux et son approche de la cuisine française. En fonction du marché, celui-ci nous propose un menu offrant les meilleurs produits couplés à des techniques élaborées et maîtrisées.
Printemps-Eté :

Samedi 31 Juillet :

-Gaspacho de courgettes à la menthe fraîche, quenelle de chèvre frais
-Poire de bœuf rôti, jus à la coriandre, crème de choux fleur et légumes printaniers
-Fraicheur de fraises et rhubarbe

Mercredi 28 Juillet :

-Tartare de saumon aux kiwis et citron vert
-Ballotine de volaille au pesto de fanes, caviar d'aubergine et carottes fanes
-Pana cotta ananas et crumble coco


Automne-Hiver :

-Œuf poché, poêlée de shiitaké, parmesan en texture
-Lotte en croûte de chorizo, mousseline de céleri et pistils de safran
-Moelleux chocolat, sauce caramel beurre salé

-Crème mousseuse de potimarron, quenelle de chèvre frais à l'huile de noisettes
-Magret de canard laqué au sirop d'érable, polenta crémeuse à l'huile de truffe et jeunes poireaux
-Tiramisu ardéchois à la crème de marrons et aux spéculoos


À l'issue de votre cours, une table sera dressée et vous pourrez déguster les plats réalisés accompagnés d'un verre de vin, et partager un moment avec le chef et les autres participants.
La cerise sur le gâteau
Dégustation à table des plats réalisés
Verre de vin offert pour le repas
Café & thé bio offerts
Tablier inclus
Oeufs et agrumes BIO
Lieux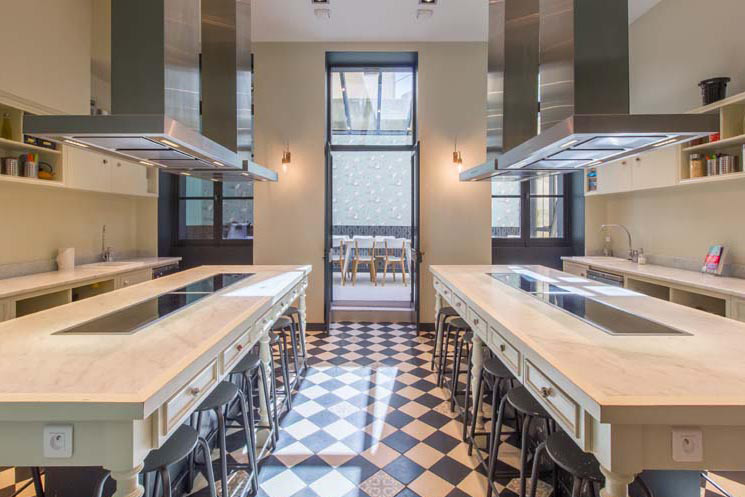 À mi-chemin entre le Parc de la Tête d'Or et la gare Part-Dieu, découvrez notre boutique-atelier, deux cuisines lumineuses et une agréable véranda pour accueillir vos dégustations et réunions.
Infos pratiques
Retrouvez toutes les recettes imprimables 48h avant le début du cours sur votre compte Chefsquare.


Do you want to organise this EXPERIENCE for a GROUP?
Contact us
You wish to propose this WORKSHOP to your CORPORATE COMMITTEE?
Contact us