French cooking
Cuisine bretonne - Lyon
French cooking
Au programme
Degemat mat a kegin !
(bienvenue en cuisine ! en langue bretonne).
Les embruns marins, des paysages magnifiques, le pays aux mille îles… ça c'est pour le tourisme.
Mais dès lors que l'on parle d'iode, de couleurs, de richesse sous-marine entre les fruits de mer, les poissons, les algues... c'est la Bretagne qui nous gagne !
Ici pas de galettes, ni de crêpes, ni de kouign amann au programme !
Alors que diriez-vous (re)découvrir la cuisine bretonne dans cet atelier de 3 heures avec notre Chef ? Apprenez à réaliser des recettes emblématiques remises au goût du jour avec des produits artisanaux provenant directement des quatre coins de la Bretagne.
Au programme de l'atelier :
Printemps-Été (d'Avril à Septembre) :
- Salade d'algues, pomme verte, œuf mollet, pralin de sarrasin
- Filet de poisson blanc pêche durable, beurre de cidre, salade de sarrasin aux herbes et sauce aux algues
- Far breton, crème glacée au caramel au beurre salé
Allergènes : œuf, huile végétale (tournesol), moutarde, graines (sarrasin), lait, blé (gluten), fruits à coque (noisettes).
Automne-Hiver (d'Octobre à Mars) :
- Couteaux de mer (kountell) en persillade, cuits en marinière puis poêlés au beurre demi-sel servi avec jus de cuisson réduit, jus de persil
- "Kig ha farz", spécialité du Finistère avec joue de porc, saucisse fumée, poitrine de porc aux légumes (choux verts, carottes, navets, poireaux) accompagnés d'un far au sarrasin cuit dans le bouillon
- Le "Traoud mad", "gwell" (gros lait fermenté de vache bretonne) et caramel au beurre salé au miso blanc et pralin de sarrasin
Allergènes : lait, fruits de mer (couteaux), sulfites, blé (gluten), œuf.
À cœur de vous offrir le meilleur, nous sommes engagés aux côtés de producteurs investis pour une agriculture moderne et raisonnée et avons donc sourcés des fournisseurs alignés sur nos valeurs.
À l'issue de votre cours, une table sera dressée et vous pourrez déguster les plats réalisés accompagnés d'un verre de cidre artisanal, et partager un moment avec le·a Chef·fe et les autres participant·e·s.
Techniques abordées
Aborder la préparation et la cuisson des fruits de mer
Réaliser un caramel au beurre salé comme en Bretagne
Concevoir un praliné
Préparer des recettes traditionnelles de région avec des produits artisanaux
La cerise sur le gâteau
Tablier en coton recyclé bio inclus
Café & thé offerts
Dégustation à table des plats réalisés
Verre de cidre offert pour le repas
Lieux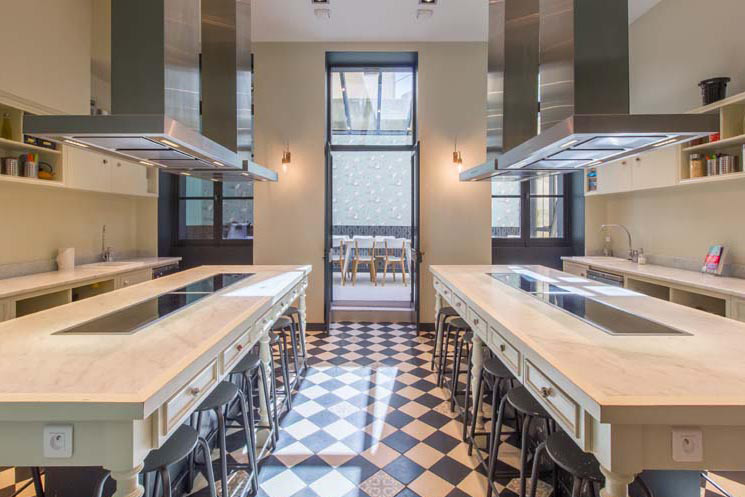 À mi-chemin entre le Parc de la Tête d'Or et la gare Part-Dieu, découvrez notre boutique-atelier, deux cuisines lumineuses et une agréable véranda pour accueillir vos dégustations et réunions.
Infos pratiques
Retrouvez toutes les recettes imprimables 48h avant le début du cours sur votre compte Chefsquare.


Do you want to organise this EXPERIENCE for a GROUP?
Contact us
You wish to propose this WORKSHOP to your CORPORATE COMMITTEE?
Contact us