Cours de cuisine végétarienne
Menu 100% végétal et nutrition - Lyon
Cours de cuisine végétarienne
Menu 100% végétal et nutrition - Lyon
Au programme
La cuisine végane peut naturellement être gourmande et suffisante pour notre organisme lorsque les menus sont bien réfléchis.
Rejoignez notre Chef·fe en cuisine pour un atelier de 2 heures où vous apprendrez à confectionner un menu 100% végétal en abordant aussi l'aspect nutritionnel de votre alimentation : une cuisine saine et réfléchie.

Vous découvrirez comment construire un menu composé à 100% de produits non transformés, d'origine végétale et à indice bas carbone tout en conservant tous les nutriments de vos aliments.
Au programme de l'atelier :
- Buddha bowl aux céréales, légumes rôtis, houmous, pickles de légumes et crudités
- Cheesecake vegan avec un coulis de fruits de saison
Allergènes : huile végétale (olive), sésame, blé (gluten), fruits à coque (amandes, noix, noix de cajou).

À l'issue de votre cours, une table sera dressée et vous pourrez déguster les plats réalisés accompagnés d'un verre de vin, et partager un moment avec le·a Chef·fe et les autres participant·e·s.
Techniques abordées
Travailler les légumes sous plusieurs formes et cuissons
Apprendre à conserver les nutriments des légumes lors de leurs préparations
Confectionner une cuisine équilibrée et réfléchie
Réfléchir aux apports et nutriments pour construire notre alimentation.
La cerise sur le gâteau
Tablier en coton recyclé bio inclus
Café & thé bio offerts
Dégustation à table des plats réalisés
Verre de vin offert pour le repas
Lieux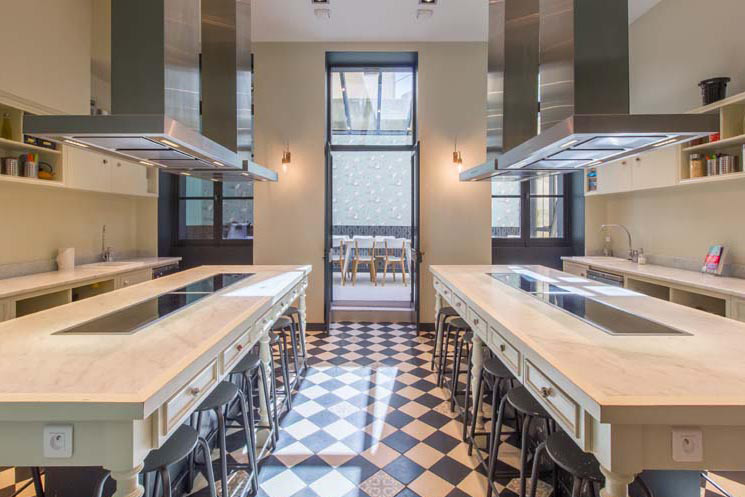 À mi-chemin entre le Parc de la Tête d'Or et la gare Part-Dieu, découvrez notre boutique-atelier, deux cuisines lumineuses et une agréable véranda pour accueillir vos dégustations et réunions.
Infos pratiques
Retrouvez toutes les recettes imprimables 48h avant le début du cours sur votre compte Chefsquare.


Do you want to organise this EXPERIENCE for a GROUP?
Contact us
You wish to propose this WORKSHOP to your CORPORATE COMMITTEE?
Contact us