Cuisine du monde
Immersion africaine personnalisée avec Alexandre Bella Ola
Cuisine du monde
Immersion africaine personnalisée avec Alexandre Bella Ola
Au programme
Rentrez dans les cuisines de Moussa l'Africain, ce bistrot afro-européen haut en couleur, qui modernisent les plats traditionnels de la gastronomie africaine. Vivez un moment privilégié aux côtés du chef Alexandre Bella Ola dans sa cuisine.

Faites votre choix parmi une multitude de plats emblématiques : mafé, yassa ou encore poulet DG.
En détail
Votre expérience se déroulera en cuisine et sur la grande table d'hôte attenant aux fourneaux afin de partager un service aux côtés du Chef Bella Ola. Voici les étapes de cette immersion :
Accueil et présentation de la soirée avec le Chef Bella Ola
Participation à la mise en place du service
Conseils et techniques d'Alexandre
Observation du coup de feu directement en cuisine
Dégustation en salle, à la table d'hôte, du menu du soir avec un jus de gingembre préparé par vos soins
Une personne peut se joindre à vous pour le dîner aux alentours de 20h30, le repas étant à sa charge. Il est nécessaire de prévenir l'établissement en amont.
L'équipe
Après avoir connu le succès avec leur premier restaurant à Montreuil, Dos Rio Camaraos, Alexandre (en cuisine), Vicky (à l'accueil et en salle) et Yonni (au bar) partagent leur savoir-faire avec le plus grand nombre en plein centre de Paris avec leur nouveau restaurant Moussa l'Africain.
Alexandre Bella ola
Originaire du Cameroun, Alexandre Bella Ola défend les saveurs de l'Afrique Noire depuis plus de 20 ans dans son restaurant Rio Dos Camaraos à Montreuil et à travers ses livres : Cuisine actuelle de l'Afrique Noire (2012) et La cuisine de Moussa (2010). On le retrouve aussi désormais dans son nouvel établissement Moussa l'Africain dans le 1er arrondissement de la capitale.
Find out more
La cerise sur le gâteau
Découvrir les plats emblématiques de la gastronomie africaine
Avoir une immersion personnalisée suivant vos envies
Fabriquer son propre jus de gingembre
Lieux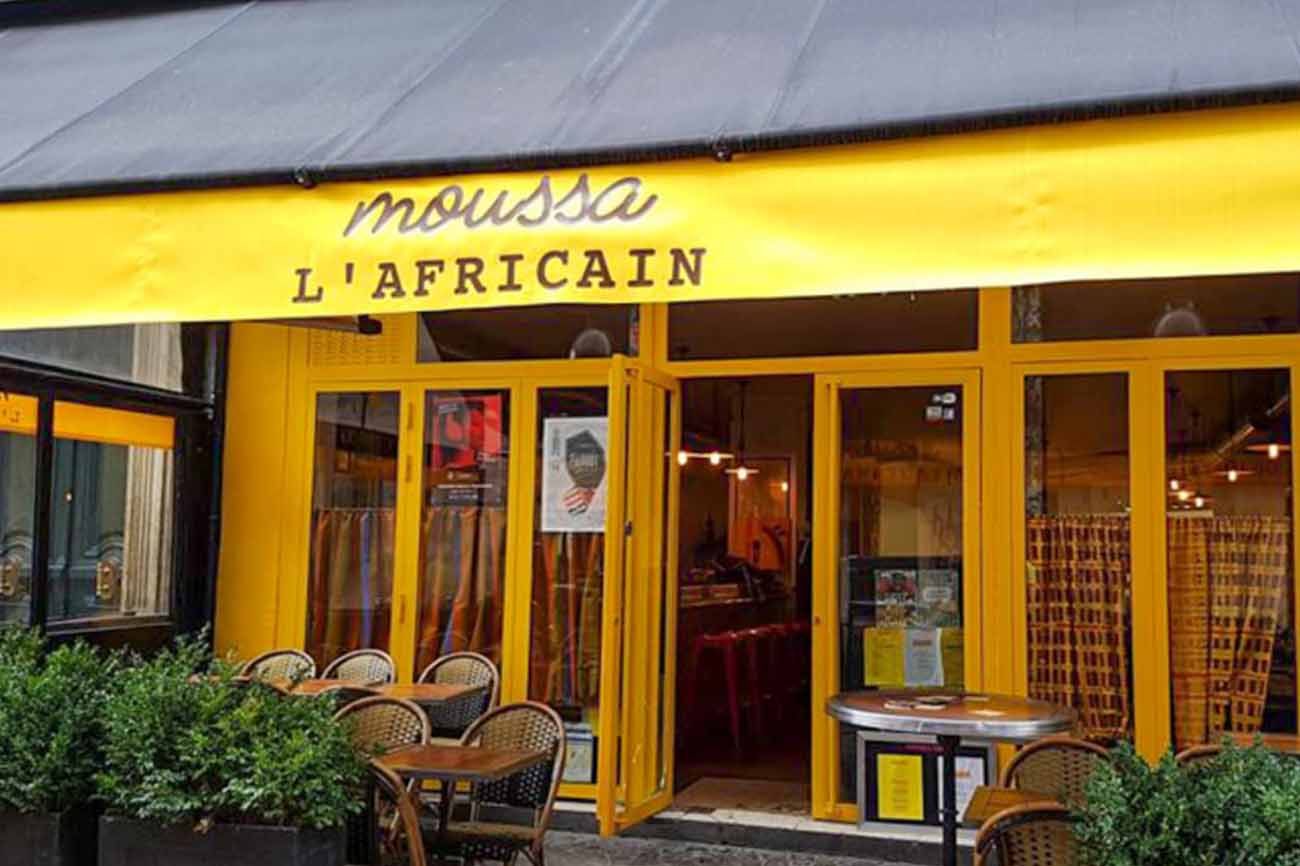 Moussa l'Africain est un bistrot afropéen en plein coeur de la capitale. Véritable voyage sur le continent africain, avec ses plats emblématiques, ses couleurs et la chaleur de son accueil.
Info pratiques
Retrouvez toutes les recettes imprimables 48h avant le début du cours sur votre compte Chefsquare.

INFORMATIONS COVID-19
Nous avons mis en place toutes les mesures de sécurité pour vous recevoir dans les meilleures conditions :
- Masques obligatoires pour tous
- Répartition des denrées pour un travail individuel
- Limitation à 9 participants maximum espacé d'1 mètre
- Désinfection du matériel et des cuisines avant et après un cours
- Dans la mesure du possible, il est préférable de favoriser la dégustation à emporter. Néanmoins, quand l'espace le permet, la dégustation sur place est envisageable. (n'hésitez pas à venir avec vos propres contenants 3x1 litre pour le "à emporter")

Do you want to organise this EXPERIENCE for a GROUP?
Contact us
You wish to propose this WORKSHOP to your CORPORATE COMMITTEE?
Contact us