Pâtisserie
Boulangerie et pâtisserie sans gluten chez Noglu
Pâtisserie
Boulangerie et pâtisserie sans gluten chez Noglu
Au programme
Le temps d'une matinée, intégrez la brigade de Noglu et découvrez le quotidien de Jocelyn et toute son équipe dans le laboratoire. Profitez de cette rencontre privilégiée pour en savoir un peu plus sur les secrets de cette institution du "Sans gluten"
Participez à la production du jour et apprenez-en plus sur le "glutenfree" à la mode Noglu

En détail
Votre immersion se déroulera dans les coulisses du laboratoire pâtissier. Au programme de votre journée:
Accueil à la boutique par Jocelyn et présentation du programme de la journée
Visite du laboratoire
Participation aux préparations du jour en boulangerie et en pâtisserie : montage des vitrines, commandes, réapprovisionnement
Conseils et astuces de Jocelyn et de la brigade
Explications sur l'organisation quotidienne de la pâtisserie/boulangerie
A la fin de l'immersion, repartez avec un panier de produits Noglu.
La cerise sur le gâteau
Visiter les coulisses d'une pâtisserie professionnelle
Découvrir les techniques spécifiques de la pâtisserie "sans gluten"
Repartir en fin de journée avec un panier gourmand Noglu
Lieux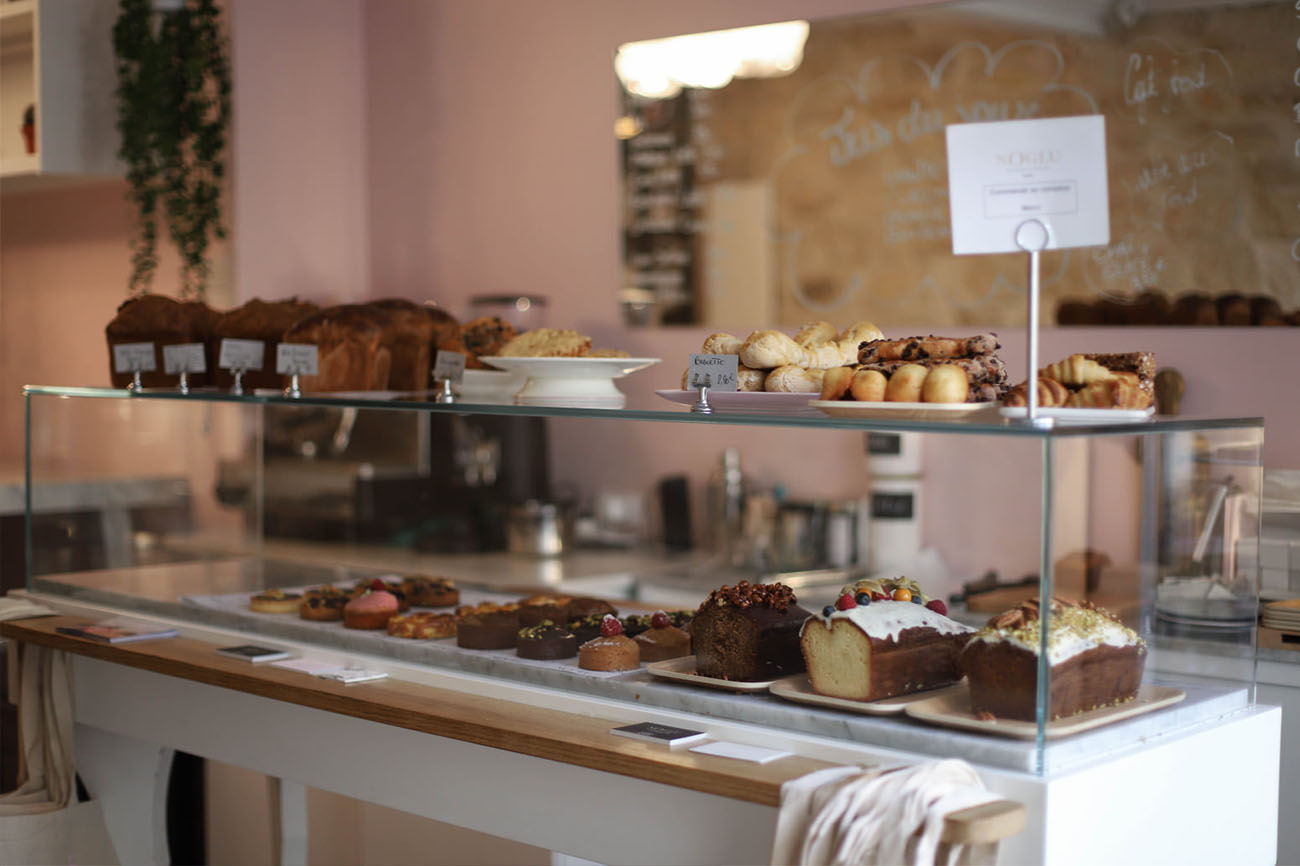 Devenue une référence dans l'univers du "sans gluten", Noglu n'arrête pas son expansion, se déclinant en deux adresses à Paris mais aussi outre-Atlantique avec une adresse à New-York. A la fois café, brunch, salon de thé, restaurant et traiteur, l'enseigne touche à tout s'engage pour la préservation de la planète, allant du choix des produits (bio et/ou locaux) jusqu'à l'instauration du zéro gaspillage.
Infos pratiques
Retrouvez toutes les recettes imprimables 48h avant le début du cours sur votre compte Chefsquare.

INFORMATIONS COVID-19
Nous avons mis en place toutes les mesures de sécurité pour vous recevoir dans les meilleures conditions :
- Masques obligatoires pour tous
- Répartition des denrées pour un travail individuel
- Limitation de 10 à 12 participants maximum espacés d'1 mètre
- Désinfection du matériel et des cuisines avant et après un cours

Do you want to organise this EXPERIENCE for a GROUP?
Contact us
You wish to propose this WORKSHOP to your CORPORATE COMMITTEE?
Contact us