Pâtisserie
Une immersion en pâtisserie à la Cave à Desserts
Pâtisserie
Une immersion en pâtisserie à la Cave à Desserts
Au programme
Durant cette immersion de 7h, vivez au rythme d'une pâtisserie moderne, proposant à la fois des pâtisseries à la pièce pour le goûter mais aussi de grands entremets pour les festivités. Profitez d'une rencontre privilégiée avec les Cheffes Aurore et Louise et participez à leur quotidien.

Derrière la Cave à desserts se cache une pâtisserie à l'esprit bistronomique, proposant en plus de cela d'associer vos gâteaux au vin de rigueur.

En détail
Votre immersion se déroulera au sein du laboratoire de la pâtisserie, donnant sur la vitrine lumineuse et la partie boutique fournie en douceurs. Au programme de votre journée:
Accueil par les cheffes Aurore et Louise et présentation de la journée de production
Participation aux préparations de la matinée, entre confection des pâtes, pochage et finitions
Conseils et techniques d'Aurore et Louise
Déjeuner avec l'équipe durant la pause déjeuner
Pensez à votre carnet pour repartir avec les recettes préparées durant la journée.
La cerise sur le gâteau
Découvrir les coulisses d'une pâtisserie moderne
Echanges et discussions sur les alliances entre desserts et vins
Repartir avec une pâtisserie pour 2 personnes
Lieux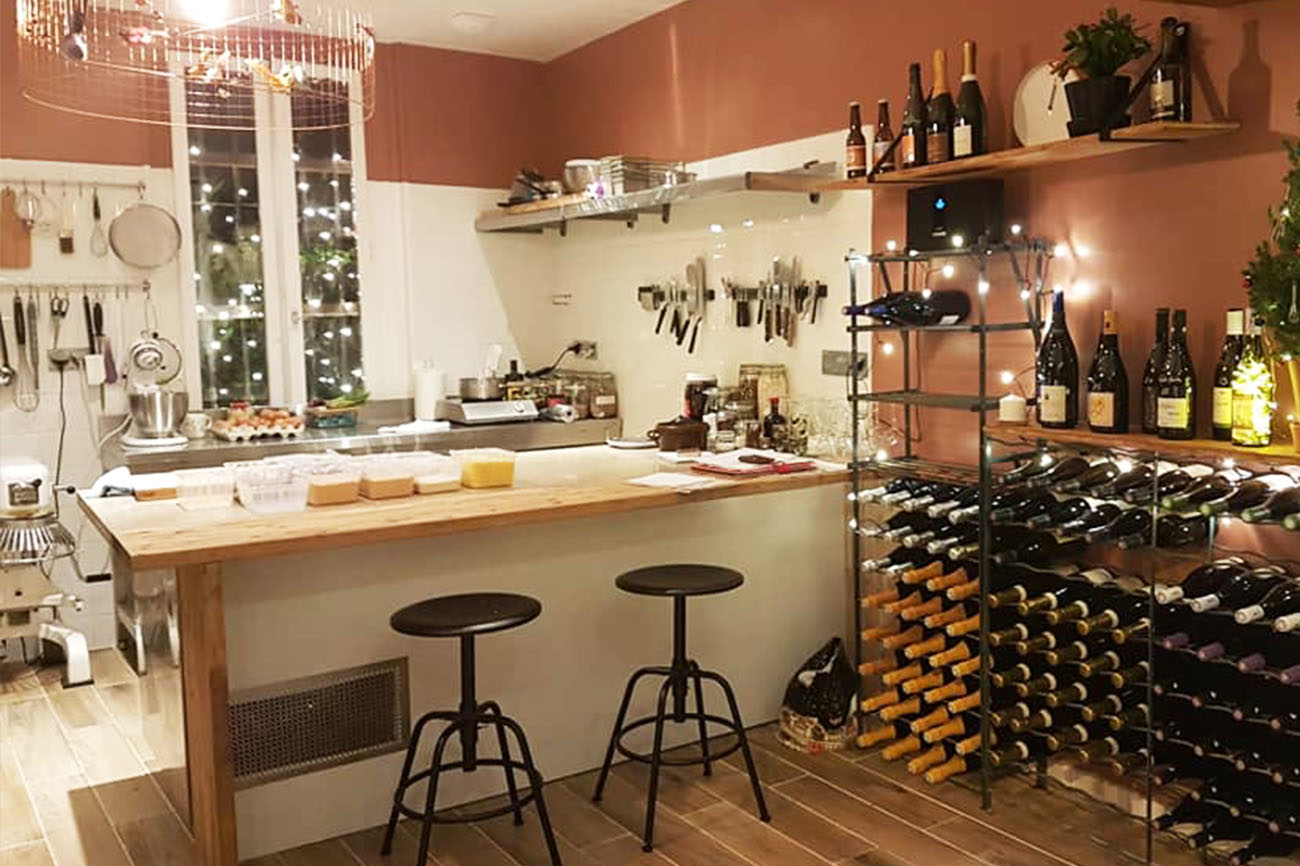 La Cave à desserts, c'est une pâtisserie - cave à vins où les gâteaux et tartes se marient à de belles bouteilles de vins de petits producteurs. Installée rue Popincourt dans le 11ème, Aurore a misé sur la transparence avec son labo accessible au public et sur la convivialité du lieu avec son grand comptoir à desserts. Une pâtisserie intimiste pleine de charme qui se prête à toutes les occasions.
Infos pratiques
Retrouvez toutes les recettes imprimables 48h avant le début du cours sur votre compte Chefsquare.

INFORMATIONS COVID-19
Nous avons mis en place toutes les mesures de sécurité pour vous recevoir dans les meilleures conditions :
- Masques obligatoires pour tous
- Répartition des denrées pour un travail individuel
- Limitation de 10 à 12 participants maximum espacés d'1 mètre
- Désinfection du matériel et des cuisines avant et après un cours

Do you want to organise this EXPERIENCE for a GROUP?
Contact us
You wish to propose this WORKSHOP to your CORPORATE COMMITTEE?
Contact us