Cuisine italienne
Gnocchi à distance
Cuisine italienne
Au programme
Au cours de cet atelier à distance, vous réaliserez des gnocchi alla sorrentina (tomate, mozzarella et basilic) pour 4 personnes.
Cours adapté à toute la famille. Suivez-le avec vos enfants :-)
À partir de votre téléphone, tablette ou ordinateur, cuisinez sous l'oeil affuté d'un chef, en direct et dans votre cuisine !
Attention : il vous est possible de régler ce cours par crédit d'heures mais un crédit entier vous sera décompté.
Techniques abordées
Préparer des gnocchi typiquement italiens à base de pommes de terre
Maîtriser le geste pour modeler le gnocchi
Réaliser une sauce tomate parfumée
En détail
AVANT VOTRE COURS
Retrouvez dans votre espace client :
- le tutoriel pour télécharger et utiliser l'application de visioconférence Zoom
- les recettes de votre cours
- les ingrédients et le matériel à préparer avant le début de l'atelier
La durée du cours est de 1h, prévoyez tout de même 30 minutes supplémentaires pour vos questions réponses avec le chef.
LE MATÉRIEL
2 plaques de cuisson ou plateaux pour disposer les gnocchis
2 bols moyens
1 cuillère en bois
1 écumoire
1 couteau
1 casserole de 3 litres
1 casserole de 2 litres
1 balance
Facultatif : 1 râpe à fromage
LES INGRÉDIENTS
Pour les gnocchis :
- 1 kg de pommes de terre type Bintje cuites
- 300 g de farine + un peu pour le façonnage
- 1 œuf
- Sel et poivre
- 250 g de mozzarella (facultatif)
- Parmesan râpé (facultatif)
Pour la sauce :
- 400 g de coulis de tomate ou de tomates concassées en boîtes
- 1 gousse d'ail
- 1 botte de basilic ou d'herbes aromatiques
- 100 g parmesan ou pecorino ou fromage de chèvre très sec
- Huile d'olive
- Sel et poivre
L'équipe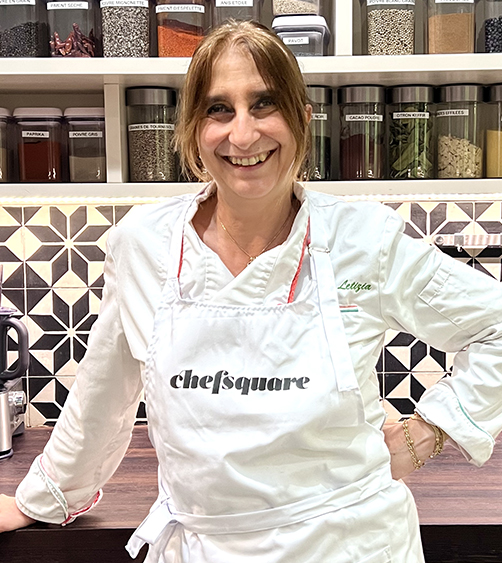 Letizia Del Vecchio
Originaire de Naples, berceau de la pizza et de la mozzarella, la cuisine de Letizia est depuis toujours parfumée de basilic, de tomates et d'huile d'olive. De sa grand-mère, elle hérite du goût des bonnes choses et d'une recette de pâtes fraîches incomparable qu'elle transmet chaque jour avec un enthousiasme et une générosité communicative.
Find out more
La cerise sur le gâteau
Un atelier de cuisine à distance en petit comité
Les recettes réalisées de A à Z chez vous
A faire seul(e), en famille ou entre amis
La dégustation des plats en famille
Lieux
Zoom est une application de visio conférence, disponible sur les systèmes d'exploitation Android et iOS et utilisable sur PC, tablette ou encore mobile. Simple d'installation et instinctif d'utilisation, il se révèle être l'outil parfait pour rapprocher chefs et gourmets malgré la distance.
Info pratiques
Retrouvez toutes les recettes imprimables 48h avant le début du cours sur votre compte Chefsquare.

INFORMATIONS COVID-19
Nous avons mis en place toutes les mesures de sécurité pour vous recevoir dans les meilleures conditions :
- Masques obligatoires pour tous
- Répartition des denrées pour un travail individuel
- Limitation à 9 participants maximum espacé d'1 mètre
- Désinfection du matériel et des cuisines avant et après un cours
- Dans la mesure du possible, il est préférable de favoriser la dégustation à emporter. Néanmoins, quand l'espace le permet, la dégustation sur place est envisageable. (n'hésitez pas à venir avec vos propres contenants 3x1 litre pour le "à emporter")

Do you want to organise this EXPERIENCE for a GROUP?
Contact us
You wish to propose this WORKSHOP to your CORPORATE COMMITTEE?
Contact us