French cooking
Trop choux - version salée pour l'apéro
French cooking
Trop choux - version salée pour l'apéro
Au programme
Épatez vos invités grâce à des trompes l'œil de grands classiques de la pâtisserie en pâte à choux. Découvrez dans les moindres détails les astuces à maîtriser pour réaliser à la perfection des choux et des éclairs salés.  
Techniques abordées
Réaliser une pâte à choux, la coucher sous différentes formes et la cuire
Préparer des farces au fromage et aux légumes
Garnir les choux et les éclairs
Glacer des choux avec une base salée
En détail
Dans cet atelier de 2 heures, le chef vous apprend à réaliser de très jolis trompes l'oeil à base de pâte à choux :
- Gougères au Comté
- Religieuse au poivron et paprika
- Mini-éclair au chèvre et à la ciboulette
- Chouquette pour terminer sur une note sucrée

À l'issue de votre cours, vous pourrez déguster les bouchées apéritives accompagnées d'un verre de vin, et partager un moment avec le chef et les autres participants.
L'équipe
Voici nos chefs formateurs recrutés pour cet atelier.

Anto Cocagne
Anto a quitté son Gabon natal bien décidée à poursuivre ses rêves et décrocher son Bachelor Restaurateur (Ferrandi). Elle passe ensuite par les cuisines d'Alain Hascoët, Chef de l'hôtel 5* «Le Carlton » à Cannes, par celles d'Eric Pras MOF(3* au guide Michelin) et co-fonde le magazine Afro cooking avant de décrocher en 2018 le Prix Spécial « Eugénie Brazier » pour la créativité aux Cuillères d'Or. Depuis 2019, c'est sur la chaine Canal Plus Afrique que l'on peut la retrouver en tant que présentatrice de l'émission « Rendez-vous avec Le Chef Anto ».
Find out more
Joséphine Thai
Joséphine partage sa passion et son expérience de la cuisine chinoise sur son blog Un lapin sur la lune. <br>Sa cuisine est instinctive, elle joue avec les saveurs, mélange les différentes cultures, car la cuisine pour elle c'est de la poésie, du voyage et de l'unification. Joséphine guide également avec patience les Little chefs dans l'apprentissage de la cuisine et la pâtisserie.
Find out more
La cerise sur le gâteau
Tablier inclus
Café & thé bio offerts
Dégustation à table des plats réalisés
Verre de vin offert pour le repas
Lieux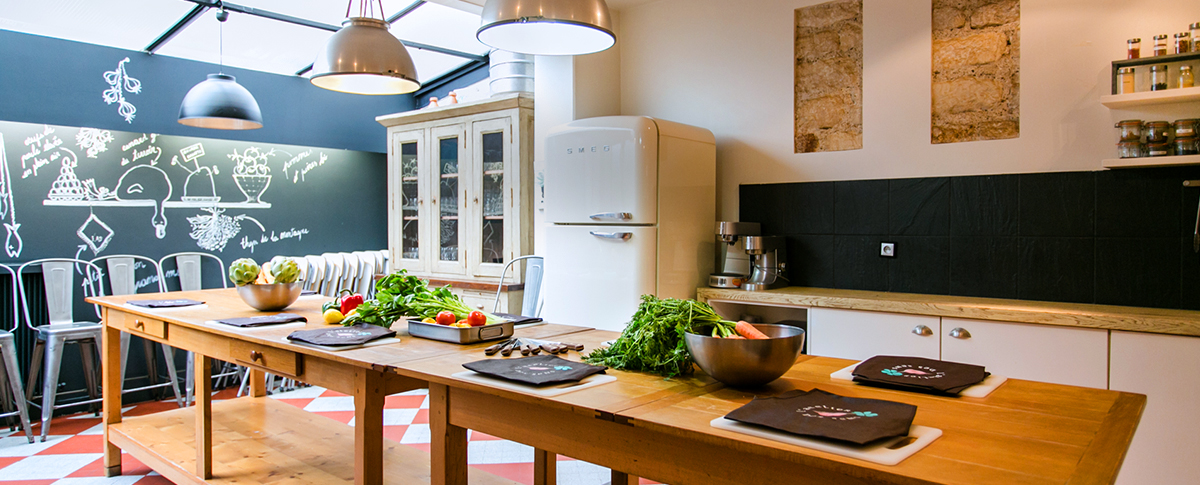 À deux pas de Bastille, au fond d'une cour intérieure, retrouvez nos cuisines dans un ancien atelier d'artiste. Deux cuisines calmes et lumineuse d'une superficie totale de 100 m2 peuvent accueillir jusqu'à 30 personnes.
Info pratiques
Retrouvez toutes les recettes imprimables 48h avant le début du cours sur votre compte Chefsquare.

INFORMATIONS COVID-19
Nous avons mis en place toutes les mesures de sécurité pour vous recevoir dans les meilleures conditions :
- Masques obligatoires pour tous
- Répartition des denrées pour un travail individuel
- Limitation à 9 participants maximum espacé d'1 mètre
- Désinfection du matériel et des cuisines avant et après un cours
- Dans la mesure du possible, il est préférable de favoriser la dégustation à emporter. Néanmoins, quand l'espace le permet, la dégustation sur place est envisageable. (n'hésitez pas à venir avec vos propres contenants 3x1 litre pour le "à emporter")

Do you want to organise this EXPERIENCE for a GROUP?
Contact us
You wish to propose this WORKSHOP to your CORPORATE COMMITTEE?
Contact us