Cours de cuisine en famille
Autour de la framboise - Lyon
Cours de cuisine en famille
Autour de la framboise - Lyon
Au programme
Pendant votre atelier, notre Chef.fe pâtissier.ère partagera son savoir-faire avec vous à travers des recettes sucrées pour que la framboise n'aie plus aucun secret pour vous.
Techniques abordées
Utiliser la framboise dans différentes préparations
Réaliser des coques de macaron en meringue Italienne
Réaliser un appareil à financier
Monter une chantilly
En détail
Lors de cet atelier de 2 heures, vous réalisez ces 3 pâtisseries à base de produits non transformés et à indice bas carbone. Et cela, avec l'un des fruits star du Printemps et de l'Été : la framboise :
- Macaron framboise
- Financier pistache-framboise
- Pavlova vanille-framboise
Allergènes : Fruits à coque (amandes, pistaches), blé (gluten), œuf.

À l'issue de votre cours, vous pourrez déguster une partie des pâtisseries réalisées accompagnées d'un verre de jus de fruits frais, et partager un moment avec le.a Chef.fe et les autres participants. Une partie des pâtisseries seront aussi emportées.
La cerise sur le gâteau
Tablier en coton bio recyclé inclus
Café & thé bio offerts
Recettes sans additif
Verre de jus de fruits frais offert pour la dégustation
Lieux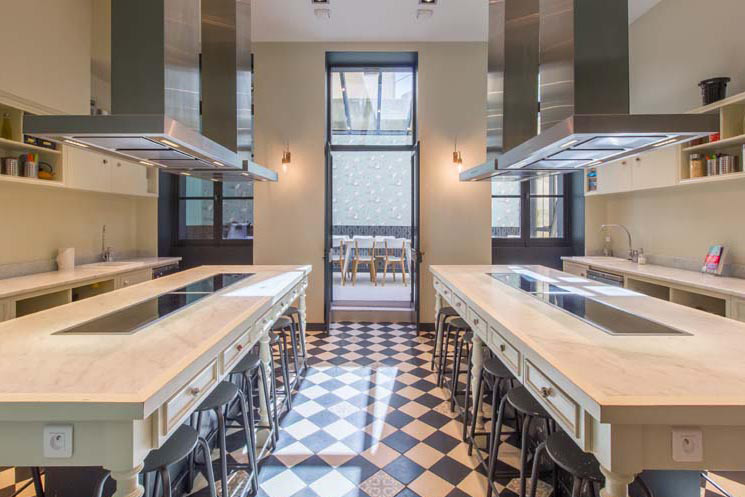 À mi-chemin entre le Parc de la Tête d'Or et la gare Part-Dieu, découvrez notre boutique-atelier, deux cuisines lumineuses et une agréable véranda pour accueillir vos dégustations et réunions.
Infos pratiques
Retrouvez toutes les recettes imprimables 48h avant le début du cours sur votre compte Chefsquare.


Do you want to organise this EXPERIENCE for a GROUP?
Contact us
You wish to propose this WORKSHOP to your CORPORATE COMMITTEE?
Contact us