Pâtisserie
Une matinée en pâtisserie bordelaise chez Pierre Mathieu
Pâtisserie
Une matinée en pâtisserie bordelaise chez Pierre Mathieu
Au programme
Passez la matinée dans le laboratoire de la pâtisserie Pierre MATHIEU Pâtissier Bordelais en compagnie du chef Pierre et participez à la production des gourmandises sucrés de la journée avec l'ensemble de l'équipe. Comme si vous étiez pâtissier d'un jour, mettez la main à la pâte : de la sortie des fournées jusqu'aux réalisations des pâtisseries bordelaises.
En détail
Votre immersion se déroulera au cœur du laboratoire de la pâtisserie pour découvrir le quotidien de l'équipe en pâtisserie. Au programme de l'immersion :
Accueil et présentation du programme de la journée avec Pierre
Participation aux préparations de la journée dans le laboratoire : pâtisseries, macarons, cannelés ou encore chocolats
Conseils et astuces du chef et des pâtissiers tout au long de la matinée
Explications sur le fonctionnement quotidien de la boutique
A emporter à la fin de l'immersion : une pâtisserie pour 2 personnes
L'équipe
Inspiré par sa région et ses gourmandises locales, Pierre Mathieu a su s'entourer d'une belle équipe pour proposer une pâtisserie créative, ancrée dans les traditions bordelaises mais apportant sa touche dans chacune de ses créations.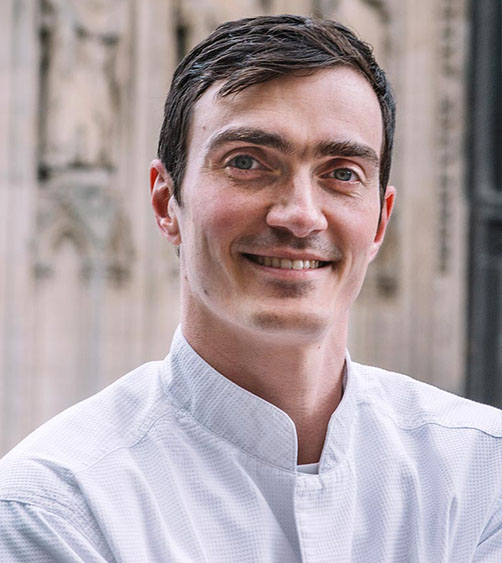 Pierre Mathieu
Pour le Chef Pierre Mathieu, la pâtisserie est une passion depuis la tendre enfance. Après une formation CAP Pâtisserie et 17 années d'expériences auprès des meilleurs ouvriers pâtissiers de France et champions du monde (Pascal Caffet, Alexandre Gyé-Jacquot, Laurent Le Daniel, Angelo Musa ou encore Thierry Marx), il passe du rêve à la réalité en ouvrant sa propre pâtisserie à Bordeaux : Pierre MATHIEU Pâtissier Bordelais.
Find out more
La cerise sur le gâteau
Rentrez dans les coulisses du laboratoire de production
Découvrir les spécialités de la boutique et de la région
Repartir avec une pâtisserie de la vitrine pour 2 personnes
Lieux
Après avoir proposé ses pâtisseries aux chanceux parisiens, Pierre Mathieu s'est installé à Bordeaux, sur la place centrale Pey-Berland, dans de belles arches voutées. A l'intérieur de la boutique, on retrouve les marqueurs des pâtisseries de prestige : marbre, lumières tamisées, couleurs aux tons rouge et bleu profond. Les pâtisseries et délices sucrés y trônent comme des oeuvres d'arts. Bonne nouvelle pour les gourmands bordelais, une deuxième boutique a ouvert Rue de Pessac.
Infos pratiques
Retrouvez toutes les recettes imprimables 48h avant le début du cours sur votre compte Chefsquare.


Do you want to organise this EXPERIENCE for a GROUP?
Contact us
You wish to propose this WORKSHOP to your CORPORATE COMMITTEE?
Contact us