French cooking
Menu Bistronomique - Lyon
French cooking
Menu Bistronomique - Lyon
Au programme
Réalisez un menu bistronomique, de l'entrée jusqu'au dessert, en travaillant les produits de saison et en apprenant à les décliner sur les différents plats. A la frontière entre la gastronomie et la cuisine moderne, apprenez les techniques propres de cette cuisine à la fois actuelle et réfléchie.
Techniques abordées
S'organiser en cuisine et optimiser le temps en cuisine
Respecter les produits et éviter le gaspillage
Apprendre à travailler les produits de saison et les décliner dans un menu
Confectionner un menu bistronomique en entier
Appliquer avec finesse et simplicité les codes du dressage d'assiette
En détail
Durant ce cours de cuisine française, réalisez un menu entier, de l'entrée au dessert, sur le thème de la bistronomie, la gastronomie moderne.
Au programme de l'atelier :



Automne (d'Octobre à Décembre) :
-Crème mousseuse de potimarron, quenelle de chèvre frais à l'huile de noisettes
-Magret de canard laqué au sirop d'érable, polenta crémeuse à l'huile de truffe et jeunes poireaux
-Tiramisu ardéchois à la crème de marrons et aux spéculoos


Hiver (de Janvier à Mars) :
-Œuf poché, poêlée de champignons, parmesan en texture
-Lotte en croûte de chorizo, mousseline de céleri et pistils de safran
-Moelleux chocolat, sauce caramel beurre salé


Printemps (d'Avril à Juin) :
-Tartare de saumon aux kiwis et citron vert
-Ballotine de volaille au pesto de fanes, caviar d'aubergine et carottes fanes
-Pana cotta ananas et crumble coco


Eté (de Juillet à Septembre) :
-Gaspacho de courgettes à la menthe fraîche, quenelle de chèvre frais
-Poire de bœuf rôti, jus à la coriandre, crème de choux fleur et légumes de saison
-Fraicheur de fraises et rhubarbe


À l'issue de votre cours, une table sera dressée et vous pourrez déguster les plats réalisés accompagnés d'un verre de vin, et partager un moment avec le chef et les autres participants.
L'équipe
Arnaud Bulliot
Issu d'une formation hôtelière en région parisienne, Arnaud a acquis une solide expérience grâce à 20 années dans différents établissements de renom notamment en temps que Chef de partie au restaurant la feuillantine à St Germain en Laye ou encore au lévrier à St Leu-la-forêt. Il met aujourd'hui son savoir-faire au service de la restauration à domicile dans la région lyonnaise.
Find out more
La cerise sur le gâteau
Tablier inclus
Café & thé bio offerts
Dégustation à table des plats réalisés
Verre de vin offert pour le repas
Lieux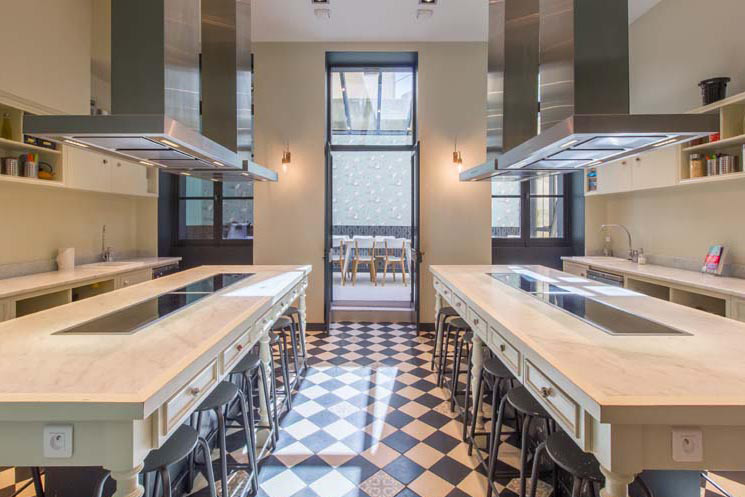 À mi-chemin entre le Parc de la Tête d'Or et la gare Part-Dieu, découvrez notre boutique-atelier, deux cuisines lumineuses et une agréable véranda pour accueillir vos dégustations et réunions.
Info pratiques
Retrouvez toutes les recettes imprimables 48h avant le début du cours sur votre compte Chefsquare.

INFORMATIONS COVID-19
Nous avons mis en place toutes les mesures de sécurité pour vous recevoir dans les meilleures conditions :
- Masques obligatoires pour tous
- Répartition des denrées pour un travail individuel
- Limitation à 9 participants maximum espacé d'1 mètre
- Désinfection du matériel et des cuisines avant et après un cours
- Dans la mesure du possible, il est préférable de favoriser la dégustation à emporter. Néanmoins, quand l'espace le permet, la dégustation sur place est envisageable. (n'hésitez pas à venir avec vos propres contenants 3x1 litre pour le "à emporter")

Do you want to organise this EXPERIENCE for a GROUP?
Contact us
You wish to propose this WORKSHOP to your CORPORATE COMMITTEE?
Contact us