Cuisine du monde
Menu Fusion - Lyon
Cuisine du monde
Au programme
Réalisez un menu fusion, entre France et Asie, de l'entrée jusqu'au dessert. Apprenez à associer le savoir faire culinaire français à des saveurs et goûts venus d'ailleurs.
Techniques abordées
Associer des saveurs asiatiques aux techniques culinaires françaises
Réaliser un bouillon parfumé
En détail
Durant ce cours de cuisine mêlant culture gastronomique Européenne et Asiatique, réalisez un menu entier, de l'entrée au dessert, en mêlant des saveurs venant de ces deux continents.

Au programme de l'atelier :

- Raviolis aux crevettes, bouillon léger aux herbes
- Saumon Teriyaki, nouilles soba au miso
- Ile flottante au thé matcha , noix de cajou caramélisées
L'équipe
Voici le chef spécialiste recruté pour cet atelier :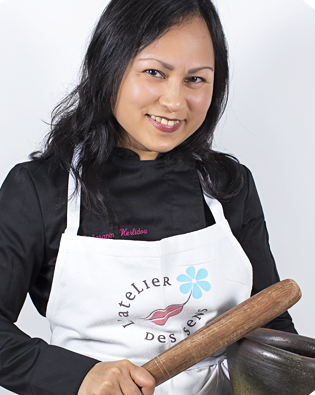 Sacharanin Herlidou
Née à Phnom-Penh au Cambodge, Sacharanin a baigné dans un milieu familial riche de savoir culinaire. A la tête d'une société de traiteur, Coriandre & Citronnelle, elle régale sociétés et institutions de la région lyonnaise et intervient également en tant que chef à domicile chez les particuliers et en tant que coach culinaire pour les professionnels.
Find out more
La cerise sur le gâteau
Tablier inclus
Café & thé offerts
Dégustation à table des plats réalisés
Verre de vin offert pour le repas
Lieux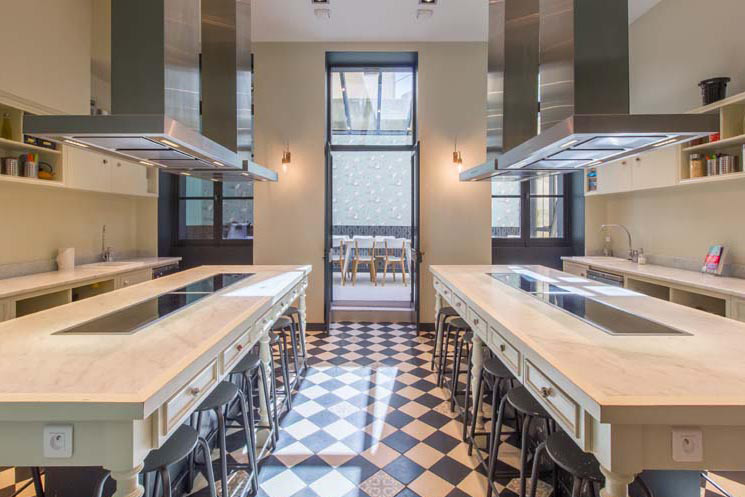 À mi-chemin entre le Parc de la Tête d'Or et la gare Part-Dieu, découvrez notre boutique-atelier, deux cuisines lumineuses et une agréable véranda pour accueillir vos dégustations et réunions.
Infos pratiques
Retrouvez toutes les recettes imprimables 48h avant le début du cours sur votre compte Chefsquare.

INFORMATIONS COVID-19
Nous avons mis en place toutes les mesures de sécurité pour vous recevoir dans les meilleures conditions :
- Masques obligatoires pour tous
- Répartition des denrées pour un travail individuel
- Limitation de 10 à 12 participants maximum espacés d'1 mètre
- Désinfection du matériel et des cuisines avant et après un cours

Do you want to organise this EXPERIENCE for a GROUP?
Contact us
You wish to propose this WORKSHOP to your CORPORATE COMMITTEE?
Contact us