Enfants
Parent - enfant : Madeleines et muffins à distance
Enfants
Parent - enfant : Madeleines et muffins à distance
Au programme
Au cours de cet atelier à distance, vous réaliserez en famille :
12 madeleines natures, au citron ou aux pépites de chocolat
6 muffins avec insert à la confiture ou à la pâte à tartiner
Trop bon !
À partir de votre téléphone, tablette ou ordinateur, cuisinez sous l'oeil affuté d'un chef, en direct et dans votre cuisine !
Attention : il vous est possible de régler ce cours par crédit d'heures mais un crédit entier vous sera décompté.
Techniques abordées
Casser les oeufs sans faire d'omelette ;-)
Tamiser la farine et bien mélanger les préparations pour éviter les grumeaux
Surveiller la cuisson et savoir quand c'est cuit !
En détail
AVANT VOTRE COURS
Retrouvez dans votre espace client :
- le tutoriel pour télécharger et utiliser l'application de visioconférence Zoom
- les recettes de votre cours
- les ingrédients et le matériel à préparer avant le début de l'atelier
La durée du cours est de 1h, prévoyez tout de même 30 minutes supplémentaires pour vos questions réponses avec le chef.
LE MATÉRIEL
- 1 four
- 1 petite casserole (pour le beurre)
- 2 culs-de-poule moyen ou saladiers
- 1 fouet
- 2 spatules
- 2 poches à douille ou sacs congélation solides ou grandes cuillères ou pochons
- 1 moule à madeleines 12 empreintes (ou à financiers)
- 2 plaques de cuisson
- 1 maryse (facultatif)
- 1 petite cuillère (si insert)
LES INGRÉDIENTS
Pour 12 madeleines
- 75 g d'oeuf (ou 2 petits)
- 85 g de sucre
- 15 g de miel (facultatif)
- 1 pincée de sel
- 115 g de farine (+15g si chemisage)
- 5 g de levure chimique
- 35 g de lait
- 65 g de beurre fondu froid (+10g pour si chemisage)
- 50 g de pépites de chocolat (facultatif)
- 1 citron zesté (facultatif)
Pour 6 muffins :
- 1 œuf
- 85 g de sucre glace
- 50 g de beurre mou
- 40 g de lait
- 120 g de farine
- 5 g de levure chimique
- 1 pincée de sel
- 75 g de pépites de chocolat (facultatif)
- 4 à 6 càs de miel ou de confiture
L'équipe
Daily Diniz
Cheffe depuis 2014, Daily Diniz nous vient tout droit du Brésil. Elle a déjà fait ses preuves à W Paris Opéra avant de rentrer à L'Astrance puis au Ritz en 2016. Avec sa grande énergie, elle vous fera passer un cours des plus ensoleillés.
Find out more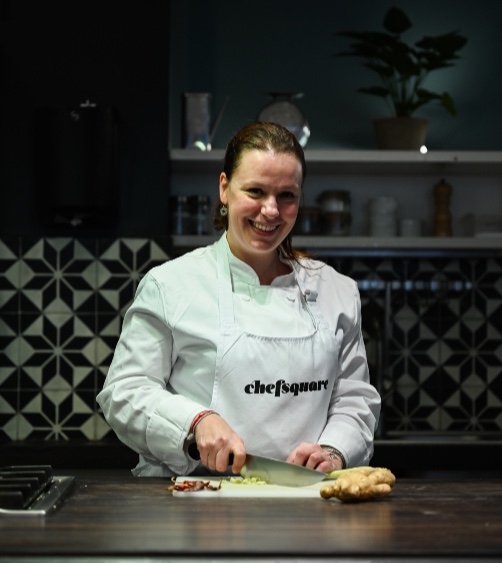 Audrey Simon
Reconvertie à la cuisine en 2010, Audrey a fait ses armes dans les cuisines étoilées d'Alain Lliorca et de Jean-François Rouquette avant de prendre la tête d'un restaurant-traiteur parisien. Passionnée par les gastronomies d'Asie et le voyage, elle intègre la brigade en 2013 en tant que cheffe de cuisine fusion et asiatique avant d'être promue cheffe exécutive en 2018.
Find out more
La cerise sur le gâteau
Un atelier de cuisine à distance en petit comité
Les recettes réalisées de A à Z chez vous
A faire en famille ou entre amis
La dégustation des plats en famille
Lieux
Zoom est une application de visio conférence, disponible sur les systèmes d'exploitation Android et iOS et utilisable sur PC, tablette ou encore mobile. Simple d'installation et instinctif d'utilisation, il se révèle être l'outil parfait pour rapprocher chefs et gourmets malgré la distance.
Info pratiques
Retrouvez toutes les recettes imprimables 48h avant le début du cours sur votre compte Chefsquare.

INFORMATIONS COVID-19
Nous avons mis en place toutes les mesures de sécurité pour vous recevoir dans les meilleures conditions :
- Masques obligatoires pour tous
- Répartition des denrées pour un travail individuel
- Limitation à 9 participants maximum espacé d'1 mètre
- Désinfection du matériel et des cuisines avant et après un cours
- Dans la mesure du possible, il est préférable de favoriser la dégustation à emporter. Néanmoins, quand l'espace le permet, la dégustation sur place est envisageable. (n'hésitez pas à venir avec vos propres contenants 3x1 litre pour le "à emporter")

Do you want to organise this EXPERIENCE for a GROUP?
Contact us
You wish to propose this WORKSHOP to your CORPORATE COMMITTEE?
Contact us