Cours de pizza
Pizza Party - Lyon
Cours de pizza
Au programme
Ciao ragazzi !
Envie de devenir le roi·la reine de la véritable pizza napolitaine ?

Durant cet atelier de 2 heures, rejoignez notre Chef·fe qui vous enseignera son savoir-faire et ses astuces de pizzaïolo autour de la pizza.
Pas de four en pierre dans nos ateliers mais le but est de vous montrer comment réaliser une pizza qu'elle soit bianca ou rossa, margherita ou preziosa avec une recette qui est toujours la même : une bonne pâte et de bons produits, non transformés et à indice bas carbone !
Un trajet Naples-Paris tout en gourmandise !

Au programme de l'atelier :
- Réalisation de la pâte à pizza à la main
- Préparation et cuisson de plusieurs pizzas en fonction de vos envies du moment
- Réalisation d'une foccacia aux oignons rouges, olives noires et romarin
Allergènes : blé (gluten), huile végétale (olive), lait.

À l'issue de votre cours, une table sera dressée et vous pourrez déguster les plats réalisés accompagnés d'un verre de vin, et partager un moment avec le·a Chef·fe et les autres participant·e·s.

Petit plus, repartez avec votre pâton pour réaliser votre propre pizza maison et mettre en œuvre toutes les astuces que vous aurez appris !
Techniques abordées
Réaliser une pâte à pizza
Façonner des pizzas
Cuire des pizzas à la perfection
L'équipe
Voici nos Chef·fe·s imprégné·e·s par la cuisine Italienne recruté·e·s pour cet atelier :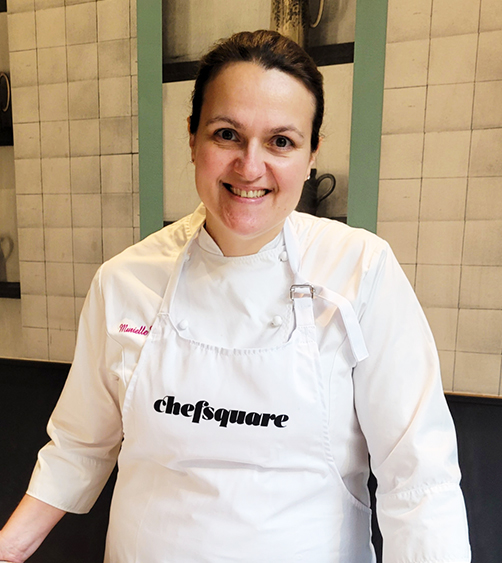 Murielle Valette
Murielle est née dans une famille de chefs français. Apprenant d'abord la tradition familiale, elle a ensuite suivi une formation classique en passant par l'Ecole du Grand Chocolat Valrhona, et a travaillé aux côtés des meilleurs chefs pâtissiers de France et du Royaume-Uni. Après avoir exercé le métier de chef pâtissier pendant 10 ans dans un restaurant étoilé Michelin en Angleterre et écrit un manuel de pâtisserie (Pâtisserie: A step-by-step guide to baking French pastries at home, Constable, 2013). Murielle revient en France et partage sa passion pour la pâtisserie dans notre atelier Lyonnais.
Find out more
La cerise sur le gâteau
Tablier en coton recyclé bio inclus
Café & thé offerts
Dégustation à table des desserts réalisés
Verre de vin offert pour le repas
Lieux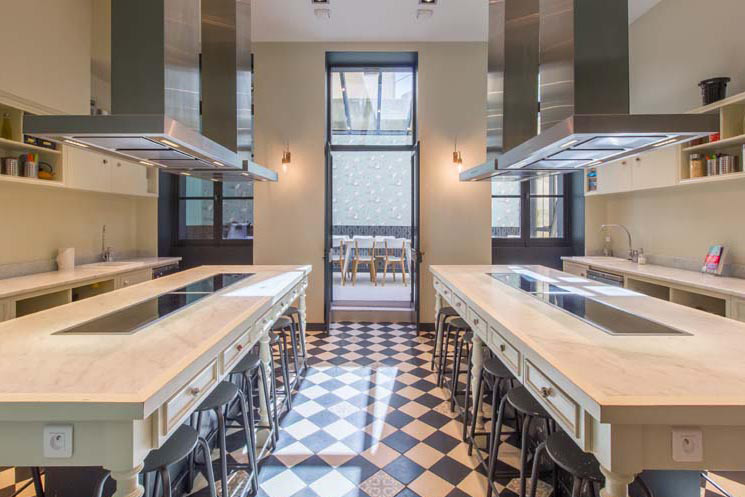 À mi-chemin entre le Parc de la Tête d'Or et la gare Part-Dieu, découvrez notre boutique-atelier, deux cuisines lumineuses et une agréable véranda pour accueillir vos dégustations et réunions.
Infos pratiques
Retrouvez toutes les recettes imprimables 48h avant le début du cours sur votre compte Chefsquare.


Do you want to organise this EXPERIENCE for a GROUP?
Contact us
You wish to propose this WORKSHOP to your CORPORATE COMMITTEE?
Contact us