French cooking
Un air de fêtes - Lyon
French cooking
Au programme
Notre Chef.fe passionné.e par la cuisine bistronomique vous propose de travailler le foie gras, la pintade et la bûche, tout en conservant les codes du grand repas de fêtes en famille.
Techniques abordées
Détailler un filet sur une volaille
Découper finement un filet de poisson
Pocher des choux
Appliquer avec finesse et simplicité les codes du dressage d'assiette
En détail
C'est la fête, on met les petits plats dans les grands !
Rien de tel qu'un beau menu de fêtes pour se retrouver et partager la bonne chère avec ses proches.
Durant cet atelier de 3 heures, le·a Chef·fe vous enseigne les fondamentaux et son approche de la cuisine Française avec ce menu de fêtes qui revisite les grands classiques du repas de fêtes, à partir de produits non transformés et à indice bas carbone.
Automne-Hiver
- Foie gras poêlé, pop-corn, émulsion aux fruits de la passion
- Suprême de pintade, purée truffée, légumes racines
- Choux au chocolat 66%, chantilly au pain d'épices
Allergènes : lait, maïs, céleri, huiles végétales (olive, truffe), blé (gluten), œuf.
Printemps-Été :
- Ceviche de poisson blanc et Yuzu
- Suprême de pintade, purée à l'huile d'olive, légumes de saison
- Choux au chocolat 66%, chantilly vanille
Allergènes : poisson (blanc), huile végétale (olive), céleri, lait, blé (gluten), œuf.
À l'issue de votre cours, une table sera dressée et vous pourrez déguster les plats réalisés accompagnés d'un verre de vin, et partager un moment avec le·a Chef·fe et les autres participant·e·s.
La cerise sur le gâteau
Dégustation à table des plats réalisés
Verre de vin offert pour le repas
Café & thé offerts
Tablier en coton recyclé bio inclus
Lieux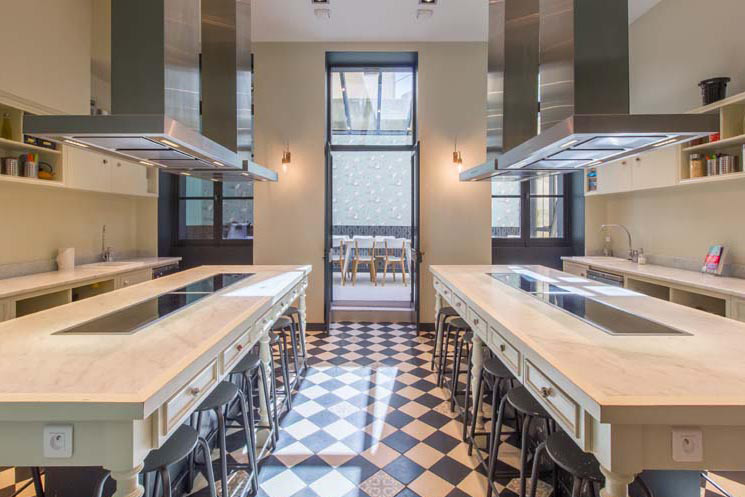 À mi-chemin entre le Parc de la Tête d'Or et la gare Part-Dieu, découvrez notre boutique-atelier, deux cuisines lumineuses et une agréable véranda pour accueillir vos dégustations et réunions.
Infos pratiques
Retrouvez toutes les recettes imprimables 48h avant le début du cours sur votre compte Chefsquare.


Do you want to organise this EXPERIENCE for a GROUP?
Contact us
You wish to propose this WORKSHOP to your CORPORATE COMMITTEE?
Contact us