Techniques culinaires
3 poissons 3 cuissons - Paris
Techniques culinaires
3 poissons 3 cuissons - Paris
Au programme
Le poisson, un vaste sujet qui fait souvent peur à tous les cuisiniers en herbes. Apprenez à travailler et cuire le poisson en 3 façons, 3 techniques, et apprenez en plus sur ses typicités pour savoir le décliner en toutes saisons.
Techniques abordées
Apprendre à préparer le poisson
Décliner le poisson en différentes découpes et cuisson
Assaisonner le poisson suivant le mode de cuisson
Apprendre les différences importantes entre chaque variété
En détail
Durant ce cours de cuisine dans nos ateliers parisiens, vous abordez 3 techniques pour travailler le poisson et surtout savoir le décliner au gré de vos envies et des saisons. Que ce soit par cuisson par expansion ou concentration, le poisson n'aura plus de secrets pour vous.

Au programme du cours :

- Ceviche sud américain de poisson
- Filets de poisson rôtie, sauce Hollandaise safranée, pommes de terre Hasselback
- Poisson en cuisson basse température, bouillon léger, gingembre et citron combawa
L'équipe
Voici le chef spécialiste recruté pour cet atelier :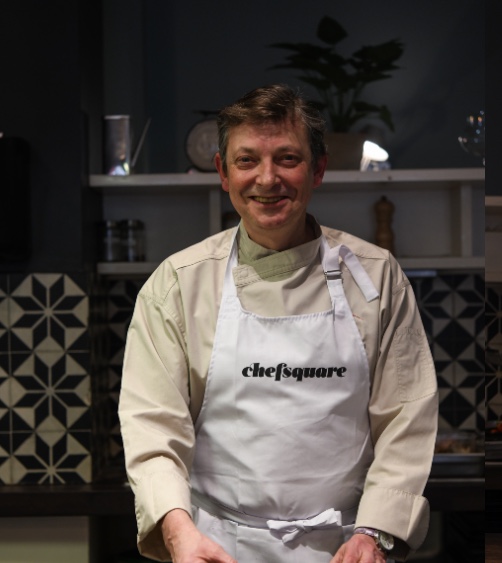 Jean-Paul Deyries
Gersois fort de 35 années d'expériences au sein d'établissements prestigieux comme Le Fouquet's, La Perouse, le Pavillon Elysée Lenôtre et Le Macéo, il ouvre son propre restaurant l'Instinct en 2005. Chef Jean-Paul transmet aujourd'hui sa passion de la haute gastronomie avec humilité et brio.
Find out more
La cerise sur le gâteau
Tablier inclus
Café & thé bio offerts
Dégustation à table des plats réalisés
Verre de vin offert pour le repas
Lieux
À deux pas de Bastille, au fond d'une cour intérieure, retrouvez nos cuisines dans un ancien atelier d'artiste. Deux cuisines calmes et lumineuse d'une superficie totale de 100 m2 peuvent accueillir jusqu'à 30 personnes.
Info pratiques
Retrouvez toutes les recettes imprimables 48h avant le début du cours sur votre compte Chefsquare.

INFORMATIONS COVID-19
Nous avons mis en place toutes les mesures de sécurité pour vous recevoir dans les meilleures conditions :
- Masques obligatoires pour tous
- Répartition des denrées pour un travail individuel
- Limitation à 9 participants maximum espacé d'1 mètre
- Désinfection du matériel et des cuisines avant et après un cours
- Dans la mesure du possible, il est préférable de favoriser la dégustation à emporter. Néanmoins, quand l'espace le permet, la dégustation sur place est envisageable. (n'hésitez pas à venir avec vos propres contenants 3x1 litre pour le "à emporter")

Do you want to organise this EXPERIENCE for a GROUP?
Contact us
You wish to propose this WORKSHOP to your CORPORATE COMMITTEE?
Contact us