French cooking
Apprendre à manier un couteau - Paris
French cooking
Apprendre à manier un couteau - Paris
Au programme
Julienne, bâtonnet, mirepoix, macédoine, brunoise, émincer, ciseler…
En crapaudine, dégager, lever, écailler,…
Couteau Chef, couteau d'office, couteau éminceur,…
Ces mots vous parlent peu ou pas du tout ?
Dans cet atelier de 3 heures, rejoignez notre Chef·fe en cuisine qui vous enseignera les techniques de couteau pour les légumes, les viandes et les poissons, à travers des recettes issues de la cuisine française, à partir de produits non transformés et à indice bas carbone. Les taillages n'auront plus de secrets pour vous.
Au programme de l'atelier :
Printemps-Été :
- Pressé de coquelet, fondue d'oignons aux épices
- Rouget à l'huile de citron, ratatouille minute
- Tarte fine aux pommes caramélisées
Allergènes : céleri, soja, lait, lupins (petits pois, fèves), fruits à coque (noisettes), poisson (daurade), œuf.
Automne-Hiver :
- Escabèche de daurade et crème de chou-fleur au beurre noisette
- Coquelet poché et rôti, pot-au-feu minute de légumes d'hiver
- Tarte Bourdaloue
Allergènes : céleri, sulfites, lait, poissons (daurade, anchois), lait, œuf, moutarde, gluten (blé), fruits à coque (noisettes, amandes, pistaches).
À l'issue de votre cours, une table sera dressée et vous pourrez déguster les plats réalisés accompagnés d'un verre de vin, et partager un moment avec le·a Chef·fe et les autres participant·e·s.
Techniques abordées
Lever des filets de poisson
Maitriser les taillages des légumes
Découper un coquelet
Choisir le bon couteau pour le bon usage
L'équipe
Voici nos Chef·fe·s de cuisine recruté·e·s pour cet atelier :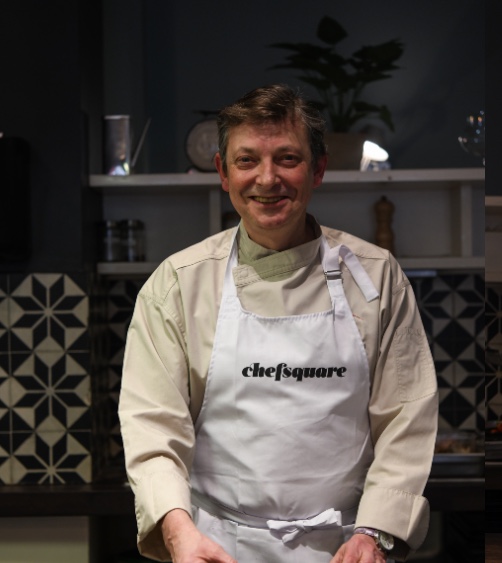 Jean-Paul Deyries
Gersois fort de 35 années d'expériences au sein d'établissements prestigieux comme Le Fouquet's, La Perouse, le Pavillon Elysée Lenôtre et Le Macéo, il ouvre son propre restaurant l'Instinct en 2005. Chef Jean-Paul transmet aujourd'hui sa passion de la haute gastronomie avec humilité et brio.
Find out more
Rémy Dunoyer
Rémy Dunoyer est un jeune Chef dynamique. Formé au Pavillon Ledoyen et autres étoilés, il y acquière un amour pour la cuisine de précision. Il se consacre ensuite à la gestion d'établissements bistronomiques auxquels il transmet une réelle originalité culinaire grace à son imagination gustative débordante.
Find out more
La cerise sur le gâteau
Dégustation à table des plats réalisés
Verre de vin offert pour le repas
Café & thé bio offerts
Tablier en coton recyclé bio inclus
Œufs et agrumes BIO
Lieux
À deux pas de Bastille, au fond d'une cour intérieure, retrouvez nos cuisines dans un ancien atelier d'artiste. Deux cuisines calmes et lumineuse d'une superficie totale de 100 m2 peuvent accueillir jusqu'à 30 personnes.
À deux pas de Bastille, ce nouveau lieu de 185 m2 associe un atelier de cuisine côté rue, à un laboratoire professionnel côté cour. Il conserve les marqueurs de l'école avec un environnement cocooning, un peu comme à la maison. Il partage aussi les attributs d'une vraie cuisine de restaurant pour plonger dans les conditions réelles les futurs food-entrepreneurs.
Infos pratiques
Retrouvez toutes les recettes imprimables 48h avant le début du cours sur votre compte Chefsquare.


Do you want to organise this EXPERIENCE for a GROUP?
Contact us
You wish to propose this WORKSHOP to your CORPORATE COMMITTEE?
Contact us