French cooking
3 viandes 3 sauces 3 accompagnements - Paris
French cooking
3 viandes 3 sauces 3 accompagnements - Paris
Au programme
De bons plats tirés des classiques de bistrot et sublimés par nos chefs tant par la qualité et l'originalité des produits que par les techniques culinaires employées.
Plusieurs pièces de viande et volaille sont abordés durant ce cours à Paris afin de vous enseigner leurs critères de choix, leurs préparations et la bonne cuisson de la viande.
En fonction des dates et de nos chefs, les recettes peuvent différées. 
Techniques abordées
Préparer trois viandes et volaille
Maîtriser leur cuisson
Réaliser différentes sauces d'accompagnement
En détail
Durant cet atelier de 3h, vous préparez 3 pièces du boucher

- Pièce de bœuf sauce béarnaise, écrasé de pommes de terre
- Ballottine de volaille aux légumes, mousseline de carotte, sauce maltaise
- Pièce de veau, crème aux champignons sauvages (forestière)

À l'issue de votre cours, une table sera dressée et vous pourrez déguster les plats réalisés accompagnés d'un verre de vin, et partager un moment avec le chef et les autres participants.
L'équipe
Voici nos chefs de cuisine française recrutés pour cet atelier :
Hervé Mercier
En apprentissage avec le chef Martinez* , il a ensuite goûté au savoir-faire de Claude Peyrrot ** et de Senderens ***, la cuisine bourgeoise du Royal Monceau*, l'indétrônable restaurant Lapérouse en tant que sous-chef et le restaurant du Racing Club de France en tant que chef des salons. Aujourd'hui, il régale les élus d'un club de direction.
Find out more
La cerise sur le gâteau
Tablier offert
Dégustation sur place des plats réalisés
Vins et café/thé inclus
Recettes disponibles 48h avant le cours
Lieux
À deux pas de Bastille, au fond d'une cour intérieure, retrouvez nos cuisines dans un ancien atelier d'artiste. Deux cuisines calmes et lumineuse d'une superficie totale de 100 m2 peuvent accueillir jusqu'à 30 personnes.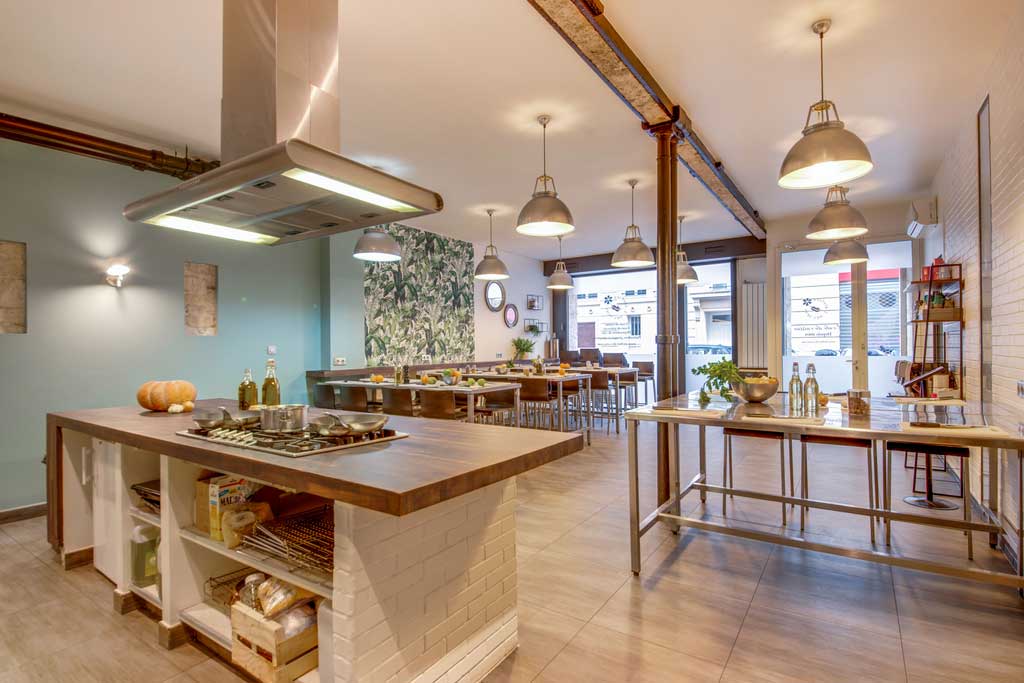 À quelques pas de Beaubourg, cet espace culinaire a été aménagé dans une ancienne galerie d'art sur deux niveaux. Au RDC, notre grande cuisine ouverte sur plus de 100 m² est modulable en fonction de vos besoins. Au sous-sol, nos deux caves voûtées en pierres apparentes sont propices aux dégustations de vins et aux réunions de travail.
Info pratiques
Retrouvez toutes les recettes imprimables 48h avant le début du cours sur votre compte Chefsquare.

INFORMATIONS COVID-19
Nous avons mis en place toutes les mesures de sécurité pour vous recevoir dans les meilleures conditions :
- Masques obligatoires pour tous
- Répartition des denrées pour un travail individuel
- Limitation à 9 participants maximum espacé d'1 mètre
- Désinfection du matériel et des cuisines avant et après un cours
- Dans la mesure du possible, il est préférable de favoriser la dégustation à emporter. Néanmoins, quand l'espace le permet, la dégustation sur place est envisageable. (n'hésitez pas à venir avec vos propres contenants 3x1 litre pour le "à emporter")

Do you want to organise this EXPERIENCE for a GROUP?
Contact us
You wish to propose this WORKSHOP to your CORPORATE COMMITTEE?
Contact us