Cours de pâtisserie
Autour de la pomme - Lyon
Cours de pâtisserie
Autour de la pomme - Lyon
Au programme
"Pommes ! Poires ! Et des scoubidous-bidous !"
Ici il est question de pommes !

Rejoignez notre Chef·fe dans cet atelier de 1 heure autour de deux recettes avec la pomme comme fruit phare :
- Crumble amande pommes, chantilly vanillée à la fève tonka
- Tarte fine aux pommes, sauce caramel beurre salé
Allergènes : à venir.

Au programme de cet atelier de pâtisserie : pâte à crumble, chantilly, pâte sucrée, caramel beurre salé… autant de préparations qui pousseront encore plus loin vos compétences en pâtisserie !

À l'issue de votre cours, vous pourrez déguster les desserts réalisés accompagnés d'un verre de jus de fruits frais, et partager un moment avec le·a Chef·fe et les autres participant·e·s. Une partie des pâtisseries seront aussi emportées.
Techniques abordées
Réaliser une pâte à crumble
Monter et cuire une tarte fine aux pommes
Réalisation une chantilly maison et une sauce caramel beurre salé
La cerise sur le gâteau
Tablier en coton recyclé bio inclus
Café & thé offerts
Recettes sans additifs
Verre de jus de fruits offert pour le repas
Lieux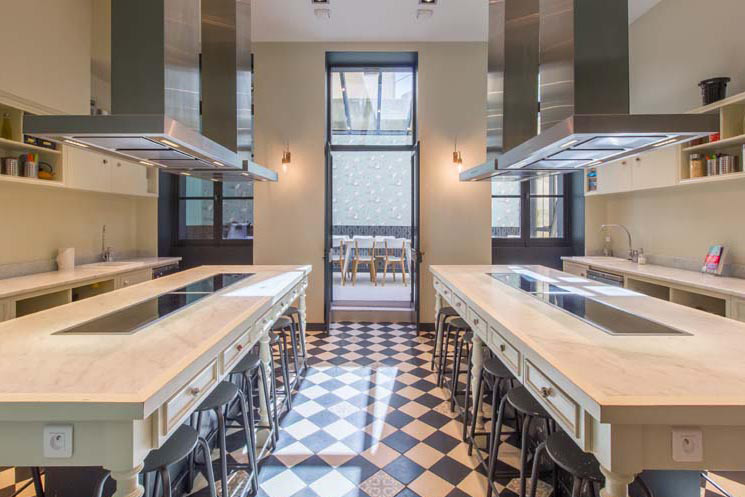 À mi-chemin entre le Parc de la Tête d'Or et la gare Part-Dieu, découvrez notre boutique-atelier, deux cuisines lumineuses et une agréable véranda pour accueillir vos dégustations et réunions.
Infos pratiques
Retrouvez toutes les recettes imprimables 48h avant le début du cours sur votre compte Chefsquare.


Do you want to organise this EXPERIENCE for a GROUP?
Contact us
You wish to propose this WORKSHOP to your CORPORATE COMMITTEE?
Contact us