Cuisine végétarienne
Batch cooking végétarien : Organiser ses repas pour la semaine - Lyon
Cuisine végétarienne
Batch cooking végétarien : Organiser ses repas pour la semaine - Lyon
Au programme
Pas le temps de faire la cuisine tous les soirs ?
Le batch cooking ou l'art d'anticiper les repas de la semaine !
Accompagnés par les conseils d'une diététicienne-nutritionniste, nous vous proposons de préparer en avance 4 repas variés et végétariens pour votre semaine, (à emporter à la fin du cours). Vous repartez non seulement avec vos repas pour la semaine, mais aussi avec la technique du batch cooking, à répéter les dimanches suivants pour préparer sa semaine. Un vrai gain de temps, sans compromis sur la qualité ou l'équilibre alimentaire de vos déjeuners ou dîners. Il ne vous restera plus que la dégustation, pas besoin de faire ni les courses ni la vaisselle ! Et ça se passe dans notre atelier de Lyon.
Techniques abordées
Une organisation culinaire vous permettant de réaliser en 2 heures vos repas de la semaine
Des clés pour équilibrer vos repas
Eviter le gâchis en prévoyant les quantités au plus juste
Des recettes végétariennes de saison
En détail
Une méthodologie et des techniques culinaires "gains de temps"
4 repas qui varient au fil des saisons
Tous les plats sont à emporter

La cerise sur le gâteau
Tablier offert
Repartez avec vos repas pour la semaine
Possibilité d'apporter vos propres contenants
Lieux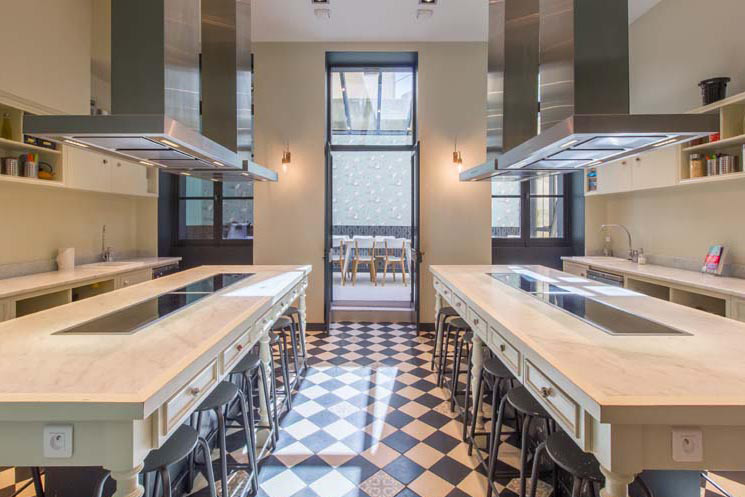 À mi-chemin entre le Parc de la Tête d'Or et la gare Part-Dieu, découvrez notre boutique-atelier, deux cuisines lumineuses et une agréable véranda pour accueillir vos dégustations et réunions.
Infos pratiques
Retrouvez toutes les recettes imprimables 48h avant le début du cours sur votre compte Chefsquare.

INFORMATIONS COVID-19
Nous avons mis en place toutes les mesures de sécurité pour vous recevoir dans les meilleures conditions :
- Masques obligatoires pour tous
- Répartition des denrées pour un travail individuel
- Limitation de 10 à 12 participants maximum espacés d'1 mètre
- Désinfection du matériel et des cuisines avant et après un cours

Do you want to organise this EXPERIENCE for a GROUP?
Contact us
You wish to propose this WORKSHOP to your CORPORATE COMMITTEE?
Contact us