Cuisine d'ailleurs
Cuisine Indienne - Paris
Cuisine d'ailleurs
Au programme
Anil vous plonge en Inde dès la première demi-heure de cuisine avant de vous confier ses meilleurs recettes. Un repas aux 1 000 saveurs, dans notre atelier de Paris, peu ou très épicé, ce sera à vous de décider !
Techniques abordées
Maîtriser le dosage des épices indiennes
Équilibrer un repas végétarien
Cuire les chapatis
Réaliser un lassi Indien
En détail
Lors de cet atelier de 3 heures, le.a Chef.fe vous apprend à réaliser ce menu traditionnel indien :
Atelier du 25 Septembre 8 octobre, 12 novembre et 10 décembre:
- Gambas au lait de coco
- Biryani de légumes de saison
- Chutney de coriandre et menthe
- Barfi à la noix de coco
- Lassi à la mangue
Allergènes : fruits de mer (gambas), huile végétale, lait, fruits à coque (amandes, pistaches).
Atelier du 2 Octobre, 5 novembre et 4 décembre (cuisine indienne veggie) :
- Dal au cumin et coriandre
- Masala aux 7 légumes
- Riz à la moutarde noire et cardamome
- Chapati à l'ajwain
- Lassi à la mangue
Allergènes : huile végétale, blé (gluten), lait.
À l'issue de votre cours, une table sera dressée et vous pourrez déguster les plats réalisés accompagnés d'un verre de vin et partager un moment avec le.a Chef.fe et les autres participant.e.s.
L'équipe
Voici notre Chef Anil, imprégné par la cuisine indienne recruté pour cet atelier :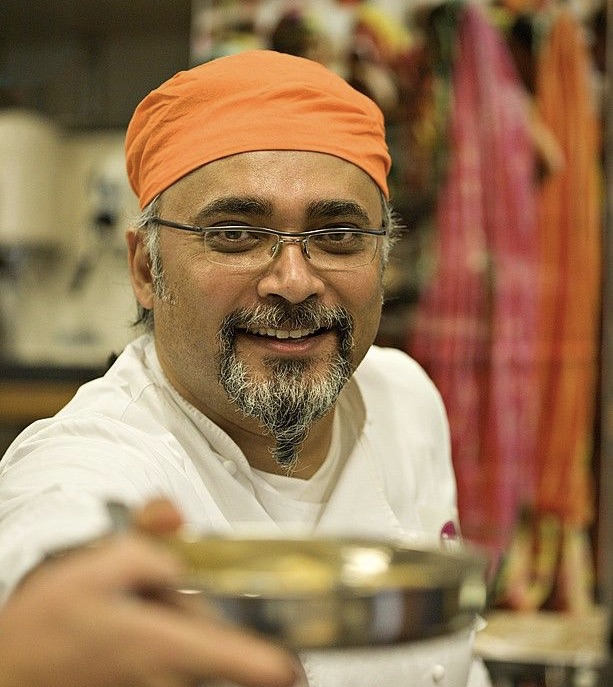 Anil Abhimanyu Sharma
Né à New-Delhi, Anil est photographe de profession et cuisinier par passion. Auteur du livre L'Inde d'hier et de demain, il nous a rejoint en 2008 pour transmettre son savoir sur la culture indienne et ses traditions culinaires. En 2014, il a été consultant culinaire sur le film de Spielberg Les recettes du bonheur qui retrace le parcours d'un chef indien.
Find out more
La cerise sur le gâteau
Tablier en coton recyclé bio inclus
Café & thé bio offerts
Dégustation à table des plats réalisés
Verre de vin offert pour le repas
Lieux
À deux pas de Bastille, au fond d'une cour intérieure, retrouvez nos cuisines dans un ancien atelier d'artiste. Deux cuisines calmes et lumineuse d'une superficie totale de 100 m2 peuvent accueillir jusqu'à 30 personnes.
Infos pratiques
Retrouvez toutes les recettes imprimables 48h avant le début du cours sur votre compte Chefsquare.


Do you want to organise this EXPERIENCE for a GROUP?
Contact us
You wish to propose this WORKSHOP to your CORPORATE COMMITTEE?
Contact us