Cours de cuisine d'ailleurs
Cuisine libanaise - Lyon
Cours de cuisine d'ailleurs
Au programme
Houmous, taboulé, caviar d'aubergine, … oui nous vous parlons bien de cuisine Libanaise !
Rejoignez notre Chef·fe en cuisine pour un aller/retour express Lyon-Beyrouth comme si vous y étiez pour réaliser un assortiment de mezzes libanais.

Lors de cet atelier de 3 heures, le·a Chef·fe vous apprend à réaliser plusieurs recettes emblématiques de la cuisine Libanaise :
- Le vrai houmous
- Le vrai taboulé libanais
- Cigares au fromage
- Babaganough (caviar d'aubergine et sésame)
- Falafels
- Znout el sit
Allergènes : légumineuses (pois chiches), sésame, huile végétale (olive, raisin), blé (gluten), lait, fruits à coque (amandes).

À l'issue de votre cours, une table sera dressée et vous pourrez déguster les plats réalisés accompagnés d'un verre de vin, et partager un moment avec le·a Chef·fe et les autres participant·e·s.
Techniques abordées
Tailler les herbes aromatiques et légumes
Travailler les pois chiches en deux façons
Cuire les pains pita
Plier les cigares et briouates
Découvrir les différentes pâtes orientales
En détail
Rejoignez notre Chef·fe en cuisine pour réaliser un menu traditionnel Libanais !
À découvrir aussi :
-
Falafels et pitas - Lyon
L'équipe
Voici nos Chef·fe·s imprégné·e·s par la cuisine Libanaise recruté·e·s pour cet atelier :
Salima Boutemtam
Salima s'est formée dans les plus grandes écoles (Institut Paul Bocuse, Alain Ducasse...). Cheffe d'entreprise depuis plusieurs années elle forme et anime des ateliers de cuisine et pâtisserie d'un nouveau genre: la cuisine fusion! Techniques d'ci et saveurs d'ailleurs n'auront plus de secret pour vous.
Find out more
La cerise sur le gâteau
Tablier en coton recyclé bio inclus
Café & thé bio offerts
Dégustation à table des plats réalisés
Verre de vin offert pour le repas
Lieux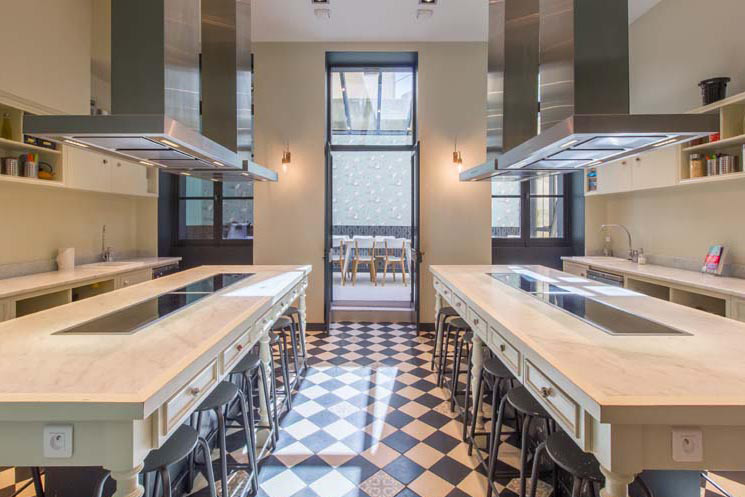 À mi-chemin entre le Parc de la Tête d'Or et la gare Part-Dieu, découvrez notre boutique-atelier, deux cuisines lumineuses et une agréable véranda pour accueillir vos dégustations et réunions.
Infos pratiques
Retrouvez toutes les recettes imprimables 48h avant le début du cours sur votre compte Chefsquare.


Do you want to organise this EXPERIENCE for a GROUP?
Contact us
You wish to propose this WORKSHOP to your CORPORATE COMMITTEE?
Contact us