Apprendre à sublimer les pâtes
Escapade en Italie - Paris
Apprendre à sublimer les pâtes
Escapade en Italie - Paris
Au programme
Ciao a tutti !
L'Italie, ce sont des paysages à couper le souffle, des monuments tout aussi époustouflants et un accueil chaleureux au son de l'accent si chantant des habitant·e·s.
Envie de déguster un menu aux couleurs de la petite botte et d'aborder la préparation de la pasta comme une nonna italienne ?

Rejoignez notre Chef·fe italien·ne en cuisine à Paris dans cet atelier de 2h où vous apprendrez à réaliser des pâtes colorées aux herbes fraîches ainsi qu'un carpaccio de fruits coloré et présenté comme un tableau digne de la Toscane !
- Tagliatelles fraîches aux saveurs d'été (pâtes aux herbes fraîches, sauce aux asperges vertes, petits pois et oignons blancs sur un lit de crème de burrata, huile d'olive et parmigiano)
- Carpaccio de fruits frais au pesto de basilic, mousse de yaourt
Allergènes : blé (gluten), œuf, lait, huile végétale (olive), fruits à coque (pignons de pin).

À l'issue de votre cours, une table sera dressée et vous pourrez déguster les plats réalisés accompagnés d'un verre de vin, et partager un moment avec le·a Chef·fe et les autres participant·e·s.
Techniques abordées
Réaliser les pâtes fraîches aux œufs
Colorer une pâte avec des herbes pour obtenir des pâtes fraîches colorées
Apprendre à utiliser la machine à pâtes
Utiliser la burrata dans une sauce
Créer une sauce pesto sucrée
L'équipe
Voici nos Chef·fe·s imprégné·e·s de la cuisine Italienne recruté·e·s pour cet atelier :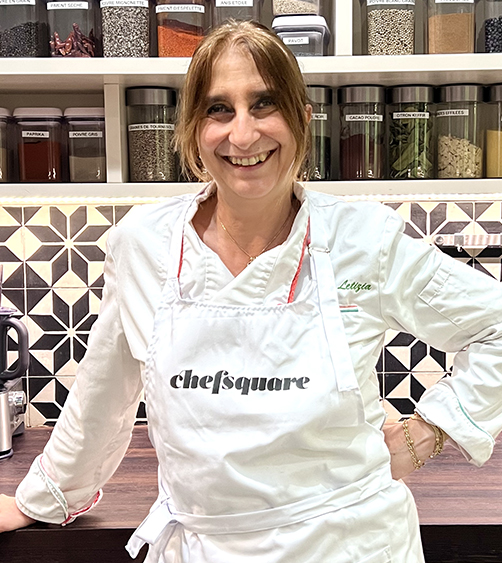 Letizia Del Vecchio
Originaire de Naples, berceau de la pizza et de la mozzarella, la cuisine de Letizia est depuis toujours parfumée de basilic, de tomates et d'huile d'olive. De sa grand-mère, elle hérite du goût des bonnes choses et d'une recette de pâtes fraîches incomparable qu'elle transmet chaque jour avec un enthousiasme et une générosité communicative.
Find out more
Lucia Donadio
Originaire de Naples, Lucia a travaillé dans plusieurs restaurants, à Milan, à Rome et dans le Sud de l'Italie. Grâce à ses cours, elle transmet son histoire, ses techniques et son expérience en cuisine et emporte dans un voyage immédiat.
Find out more
La cerise sur le gâteau
Tablier en coton recyclé bio inclus
Café & thé bio offerts
Dégustation à table des plats réalisés
Verre de vin offert pour le repas
Lieux
À deux pas de Bastille, au fond d'une cour intérieure, retrouvez nos cuisines dans un ancien atelier d'artiste. Deux cuisines calmes et lumineuse d'une superficie totale de 100 m2 peuvent accueillir jusqu'à 30 personnes.
Infos pratiques
Retrouvez toutes les recettes imprimables 48h avant le début du cours sur votre compte Chefsquare.


Do you want to organise this EXPERIENCE for a GROUP?
Contact us
You wish to propose this WORKSHOP to your CORPORATE COMMITTEE?
Contact us