Cours de cuisine d'ailleurs
Falafels et Pitas - Lyon
Cours de cuisine d'ailleurs
Au programme
D'origine libanaise, les falafels sont réputés comme un encas typique au pays du Cèdre. Chaque famille dispose de sa propre recette mais tous ont la même gourmandise.
Cuits à la friteuse pour plus de croustillant ou au four pour plus de tendreté, il y en a pour tous les goûts.

Dans cet atelier, notre Chef.fe, vous apprend les rudiments des falafels et comment ils sont consommés la plupart du temps dans les pains pitas.
Techniques abordées
Réaliser des pickles de légumes minute
Préparer la pâte des falafels à la bonne texture
Façonner et cuire les falafels
Préparer la sauce tahini et savoir la décliner
Cuire les pains pita
En détail
Dans cet atelier, vous apprendrez à réaliser le vrai falafel libanais dans toute sa splendeur, à partir de produits non transformés et à indice bas carbone :
- Pickles de légumes maison
- Falafels traditionnels végétariens aux pois chiches
- Sauce tahini à base de purée de sésame
Pour accompagner cette spécialité libanaise, vous réaliserez des pains pita maison.
Allergènes : légumineuses (pois chiches), blé (gluten), huiles végétales (tournesol, olive), sésame.

À l'issue de votre cours, une table sera dressée et vous pourrez déguster les plats réalisés accompagnés d'un verre de vin, et partager un moment avec le.a Chef.fe et les autres participant.e.s.
L'équipe
Voici nos Chef.fe.s imprégné.e.s de la cuisine Libanaise recruté.e.s pour cet atelier :
Basile Trichakis
Né en Crète, Basile a d'abord étudié la chimie à Athènes, il décide ensuite de partir en France pour suivre sa passion: la gastronomie. Ayant des connaissances pointues en cuisine et en pâtisserie, il travaille aux côtés de Jérôme Brochot dans son restaurant gastronomique en Bourgogne. Puis il arrive à Lyon pour travailler la pâtisserie en boutique, chez M Sève et aux Ondes de Choc, à Craponne. Son mot d'ordre: la convivialité !
Find out more
La cerise sur le gâteau
Tablier en coton recyclé bio inclus
Dégustation sur place du falafel réalisé
Vins et café/thé inclus
Recettes disponibles 48h avant le cours
Lieux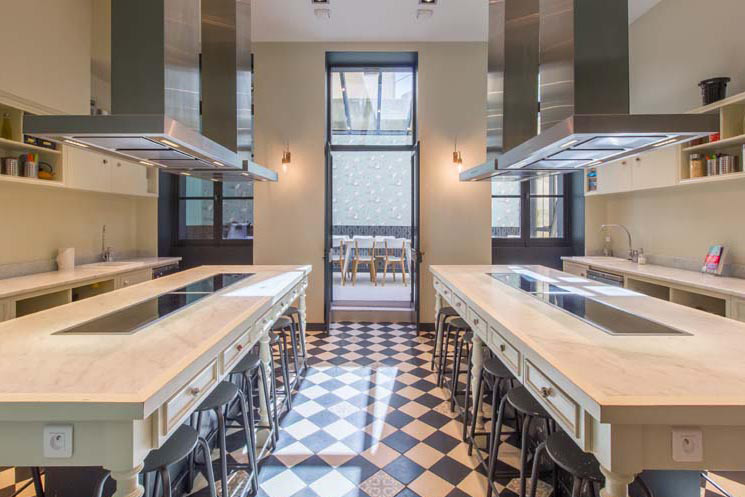 À mi-chemin entre le Parc de la Tête d'Or et la gare Part-Dieu, découvrez notre boutique-atelier, deux cuisines lumineuses et une agréable véranda pour accueillir vos dégustations et réunions.
Infos pratiques
Retrouvez toutes les recettes imprimables 48h avant le début du cours sur votre compte Chefsquare.


Do you want to organise this EXPERIENCE for a GROUP?
Contact us
You wish to propose this WORKSHOP to your CORPORATE COMMITTEE?
Contact us