French cooking
Gastronomie engagée et créative à Anona
French cooking
Gastronomie engagée et créative à Anona
Au programme
Rentrez pour 4h dans les cuisines d'ANONA pour une matinée en immersion dans les cuisines et vivez un service aux côtés du Chef Thibaut Spiwack et toute sa brigade.
Découvrez son univers : une cuisine gastronomique, responsable, durable et locavore. Une formule pionnière dans la restauration de demain.

À l'issue de l'immersion, profitez d'un déjeuner en salle seul(e) ou accompagné(e).
En détail
Votre expérience se déroulera en cuisine afin de découvrir tous les postes de la brigade et appréhender la cuisine réfléchie et locavore de Thibaut. Voici les étapes de cette immersion :
Accueil et présentation de la matinée avec le Chef Spiwack
Participation à la mise en place du service avec la brigade
Conseils et techniques de Thibaut
Observation du coup de feu directement en cuisine
Dégustation en salle d'un menu entrée / plat / dessert, avec 1 verre de vin, 1 café et 1 bouteille d'eau
Une personne peut se joindre à vous pour le déjeuner, aux alentours de 13h, le repas étant à sa charge. Il est nécessaire de prévenir l'établissement en amont.
L'équipe
Plus qu'un restaurant, ANONA est une véritable expérience culinaire, vouant à nous faire réfléchir sur notre mode de consommation : travailler avec des producteurs locaux, cuisiner les produits de la chaire jusqu'aux épluchures, tout en dépensant le moins d'énergies possible. Thibaut partage cet état d'esprit avec l'ensemble de son équipe, pour notre plus grand plaisir.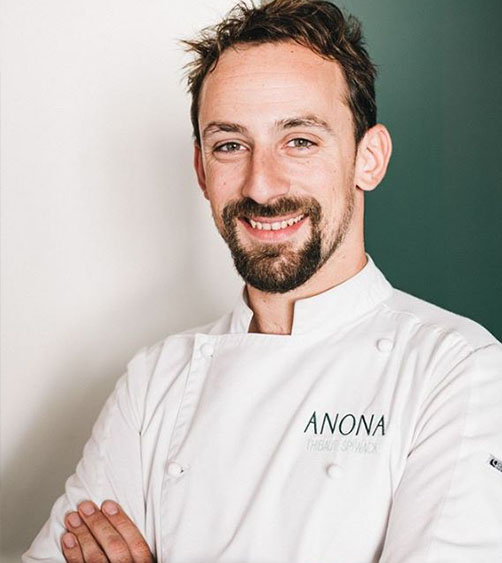 Thibaut Spiwack
Créatif et engagé, le Chef Thibaut Spiwack propose une cuisine gastronomique audacieuse et responsable. Passé par les fourneaux d'établissements de renom comme le George V, le Jules Verne ou encore le Senderens/Lucas Carton, c'est désormais sa vision de la cuisine qu'il propose avec ANONA. Son objectif : offrir à ses clients une véritable expérience culinaire car c'est avant tout le partage qui motive ce jeune chef passionné.
Find out more
La cerise sur le gâteau
Découverte des coulisses du restaurant
Echanges sur la philosophie écoresponsable du restaurant et ses enjeux environnementaux
Dégustation en salle d'un menu entrée / plat / dessert, avec 1 verre de vin, 1 café et 1 bouteille d'eau
Lieux
Le nom du restaurant est inspiré du fruit l'annone, possédant des intérêts gastronomiques, médicaux et pharmaceutiques. Soucieux de l'environnement et de son engagement pour nature, Thibaut a réfléchi la décoration dans le même esprit que pour ses assiettes : un décor soigné, dans l'air du temps avec des touches de bois, pierre et cuivre. L'ensemble du mobilier a été produit en Ile-de-France et la vaisselle est constituée de matériaux naturels, tel que le bois, le ciment, le grès et le verre. Une véritable ôde à la nature.
Info pratiques
Retrouvez toutes les recettes imprimables 48h avant le début du cours sur votre compte Chefsquare.

INFORMATIONS COVID-19
Nous avons mis en place toutes les mesures de sécurité pour vous recevoir dans les meilleures conditions :
- Masques obligatoires pour tous
- Répartition des denrées pour un travail individuel
- Limitation à 9 participants maximum espacé d'1 mètre
- Désinfection du matériel et des cuisines avant et après un cours
- Dans la mesure du possible, il est préférable de favoriser la dégustation à emporter. Néanmoins, quand l'espace le permet, la dégustation sur place est envisageable. (n'hésitez pas à venir avec vos propres contenants 3x1 litre pour le "à emporter")

Do you want to organise this EXPERIENCE for a GROUP?
Contact us
You wish to propose this WORKSHOP to your CORPORATE COMMITTEE?
Contact us