French cooking
La bistronomie du marché chez Lamaccotte
French cooking
La bistronomie du marché chez Lamaccotte
Au programme
Durant cette immersion de 3h30, découvrez la nouvelle cuisine gastronomique française en passant la soirée en immersion dans les cuisines du Lamaccotte, aux côtés du chef Guillaume Maccotta. Avec des produits qui viennent directement du marché de Talensac, chaque menu est réfléchi suivant les approvisionnements du jour.
A l'issue de l'immersion, profitez d'un dîner en salle seul(e) ou accompagné(e).
En détail
Votre immersion se déroulera dans les cuisines du Lamaccotte avec toute la brigade. Profitez de ce moment privilégié avec le chef Guillaume Maccotta pour vivre un service à ses côtés. Au programme de l'immersion :
Accueil et présentation du programme de la soirée
Préparation du service avec la brigade
Conseils et astuces de Guillaume
Participation aux dressages des assiettes
Observation du coup de feu au passe d'envoi
Dégustation en salle d'un menu en 4 séquences (hors boissons)
Une personne peut se joindre à vous pour le dîner, aux alentours de 20h30, le repas étant à sa charge. Il est nécessaire de prévenir l'établissement en amont.
L'équipe
Lamaccotte a récemment fait peau neuve pour voir les choses en plus grand et ravir encore plus de curieux gourmets. Grâce à des approvisionnements auprès de producteurs locaux et une vision moderne de la cuisine, Guillaume et son équipe propose une cuisine bistronomique accessible et novatrice.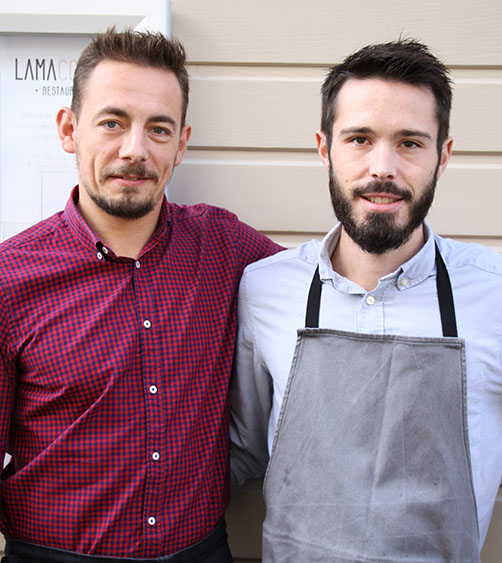 Guillaume Maccotta
Le Chef Guillaume Maccotta est un chef inspiré, soucieux de maintenir le lien avec ses producteurs et de retranscrire leurs passions à ses clients. Avant d'ouvrir son propre restaurant, il est passé par de nombreux établissements de renom : La Mare aux oiseaux*, L'Atlantide* ou encore Lulu Rouget. Désormais, c'est dans son restaurant Lamaccotte qu'il propose sa cuisine, une cuisine entre raffinement et créativité, inspirée des produits du marché.
Find out more
La cerise sur le gâteau
Découverte des coulisses du restaurant
Travail des produits directement venus du marché
Dégustation du menu Inspiration en 4 services avec un verre de vin
Lieux
Installé dans le centre ville de Nantes depuis fin 2019, à deux pas de la Cathédrale place Saint Pierre, Lamaccotte, c'est avant tout une histoire de partage. Retrouvez tout le charme d'une déco rétro, avec ses briques à nu, du cuivre apparent et son frigo tout droit sorti des années 50.
Infos pratiques
Retrouvez toutes les recettes imprimables 48h avant le début du cours sur votre compte Chefsquare.


Do you want to organise this EXPERIENCE for a GROUP?
Contact us
You wish to propose this WORKSHOP to your CORPORATE COMMITTEE?
Contact us