French cooking
La cuisine du marché dans les coulisses du Ravigote
French cooking
La cuisine du marché dans les coulisses du Ravigote
Au programme
Durant cette matinée en immersion, vivez au rythme d'un restaurant bistronomique et passez côté cuisine pour vivre le coup de feu du service aux côtés du chef Xavier Radojewski et sa brigade.
Immergez-vous dans sa cuisine du marché , déstructurée et raffinée, haute en couleurs, qui vous saura vous surprendre.

En détail
Votre immersion se déroulera au cœur des coulisses du restaurant avec le chef Xavier Radojewski. Au programme de votre matinée:
Préparation du service avec la brigade
Conseils et astuces de Xavier
Participation aux dressages des assiettes
Observation du coup de feu en cuisine
Dégustation en salle du menu du déjeuner accompagné d'un verre de vin.
L'équipe
Avec sa cuisine du marché créative et ses associations de saveurs inédites et pleines de fraîcheurs, Xavier emmène tous ses clients en balade bucolique en dégustant ses assiettes. Une cuisine "en toute simplicité" qui vaut le détour et au rapport qualité/ prix imbattable.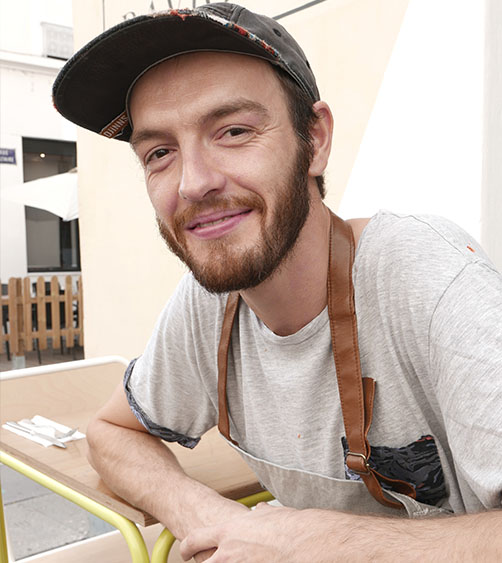 Xavier Radojewski
Xavier Radojewski est un chef créatif, chaque assiette est une oeuvre et un morceau d'inventivité. Formé chez Senderens à Paris et aux Trois Dômes à Lyon, sa cuisine s'inspire de ses expériences dans les restaurants gastronomiques et ses nombreux voyages. Pour lui, le secret est dans le choix des produits et de ses fournisseurs et c'est ce qu'il s'efforce de transmettre à ses clients au Ravigote avec des assiettes destructurées et raffinées.
Find out more
La cerise sur le gâteau
Apprendre des associations de saveurs avec les produits du terroir
Découvrir les coulisses d'un restaurant bistronomique
Dégustation du menu du jour avec les produits du marché
Lieux
Situé dans le 3ème arrondissement de Lyon, le restaurant Ravigote accueille ses clients dans un cadre lumineux, contemporain et chaleureux. Avec sa décoration chinée style cantine moderne, la jolie terrasse et la cuisine ouverte sur la salle, toutes les occasions sont bonnes pour venir y déjeuner ou dîner, entre amis ou en famille.
Info pratiques
Retrouvez toutes les recettes imprimables 48h avant le début du cours sur votre compte Chefsquare.

INFORMATIONS COVID-19
Nous avons mis en place toutes les mesures de sécurité pour vous recevoir dans les meilleures conditions :
- Masques obligatoires pour tous
- Répartition des denrées pour un travail individuel
- Limitation à 9 participants maximum espacé d'1 mètre
- Désinfection du matériel et des cuisines avant et après un cours
- Dans la mesure du possible, il est préférable de favoriser la dégustation à emporter. Néanmoins, quand l'espace le permet, la dégustation sur place est envisageable. (n'hésitez pas à venir avec vos propres contenants 3x1 litre pour le "à emporter")

Do you want to organise this EXPERIENCE for a GROUP?
Contact us
You wish to propose this WORKSHOP to your CORPORATE COMMITTEE?
Contact us