Pâtisserie
Pâtisseries grecques - Lyon
Pâtisserie
Pâtisseries grecques - Lyon
Au programme
Pendant votre atelier, vous réaliserez des incontournables de la pâtisserie grecque, Basile vous dévoilera aussi des classiques revisités.
Techniques abordées
Utilisation de la pâte filo et de la pâte à kadaif
Réalisation de pâtisseries typiques grecques
Confection d'une crème pâtissière
Réalisation d'une glace au yahourt maison
Utilisation du concombre dans un dessert
En détail
Lors de cet atelier de 3 heures, le·a Chef·fe vous apprend à réaliser quatre desserts grecs :
- Baklava : pâtisserie à base de pâte filo, noix et cannelle
- Galactoboureko : pâtisserie à base de pâte filo et crème pâtissière
- Ekmek Kadayıf : pâtisserie à base de kadayif, fruits secs, glace au yaourt et crème fouettée
- Citronnade maison
Allergènes : œuf, blé (gluten), légumineuses (concombre), lait, fruits à coque (pistaches, noix, amandes).

À l'issue de votre cours, vous pourrez déguster une partie des pâtisseries réalisées accompagnées d'un verre de jus de fruits frais, et partager un moment avec le·a Chef·fe et les autres participant·e·s.
L'équipe
Basile est un jeune Chef Grec pure souche, sa cuisine et son accent vous feront voyager en plein cœur de la Méditerranée.
Basile Trichakis
Né en Crète, Basile a d'abord étudié la chimie à Athènes, il décide ensuite de partir en France pour suivre sa passion: la gastronomie. Ayant des connaissances pointues en cuisine et en pâtisserie, il travaille aux côtés de Jérôme Brochot dans son restaurant gastronomique en Bourgogne. Puis il arrive à Lyon pour travailler la pâtisserie en boutique, chez M Sève et aux Ondes de Choc, à Craponne. Son mot d'ordre: la convivialité !
Find out more
La cerise sur le gâteau
Tablier en coton recyclé bio inclus
Café & thé offerts
Recettes sans additif
Verre de jus de fruits frais offert pour la dégustation
Lieux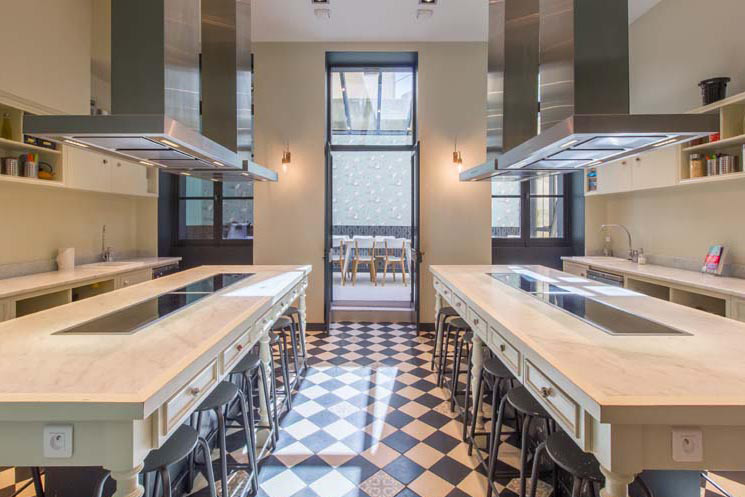 À mi-chemin entre le Parc de la Tête d'Or et la gare Part-Dieu, découvrez notre boutique-atelier, deux cuisines lumineuses et une agréable véranda pour accueillir vos dégustations et réunions.
Infos pratiques
Retrouvez toutes les recettes imprimables 48h avant le début du cours sur votre compte Chefsquare.


Do you want to organise this EXPERIENCE for a GROUP?
Contact us
You wish to propose this WORKSHOP to your CORPORATE COMMITTEE?
Contact us