Cours de cuisine pour enfant
Anniversaire Enfant - Lyon
Cours de cuisine pour enfant
Anniversaire Enfant - Lyon
Au programme
Techniques abordées
Pochage de la pâte à chou
Fourrage des éclairs
Glaçage et décor des éclairs
En détail
Envie de proposer un anniversaire autour d'un cours de pâtisserie à votre enfant avec son groupe de copain·ine·s ?
Rejoignez notre Chef·fe en atelier pour 2 heures où l'anniversaire se déroulera en plusieurs parties :
- Arrivée des enfants : les tabliers les attendent. Le·a Chef·fe se présente et propose aux enfants de débuter les préparations pour réaliser un goûter d'anniversaire gourmand. Au programme : 1 recette au choix entre éclair au chocolat ou éclair à la vanille.
Les enfants s'appliquent à refaire les gestes du·de la Chef·fe tous ensemble et se partagent les différentes étapes de la recette. Chacun poche ses éclairs selon la recette choisie. Plus qu'à les décorer !
Allergènes : lait, blé, œuf, glucose.

- L'après-midi se termine autour d'un goûter festif autour d'un jus de fruits frais. Le·la Chef·fe apporte les éclairs avec les bougies. Votre enfant souffle ses bougies, ouvre ses cadeaux et se régale avec ses invités.
L'équipe
Retrouvez notre équipe de Chef·fe·s en cuisine qui saura rendre l'anniversaire de votre enfant festif et mémorable :
Basile Trichakis
Né en Crète, Basile a d'abord étudié la chimie à Athènes, il décide ensuite de partir en France pour suivre sa passion: la gastronomie. Ayant des connaissances pointues en cuisine et en pâtisserie, il travaille aux côtés de Jérôme Brochot dans son restaurant gastronomique en Bourgogne. Puis il arrive à Lyon pour travailler la pâtisserie en boutique, chez M Sève et aux Ondes de Choc, à Craponne. Son mot d'ordre: la convivialité !
Find out more
La cerise sur le gâteau
Une cuisine rien que pour votre enfant et sa bande de copain·ine·s
Un·e Chef·fe pédagogue et rigolo·te
Un goûter d'anniversaire festif
Boissons offertes (jus de fruits frais)
Tablier en coton recyclé bio inclus
Lieux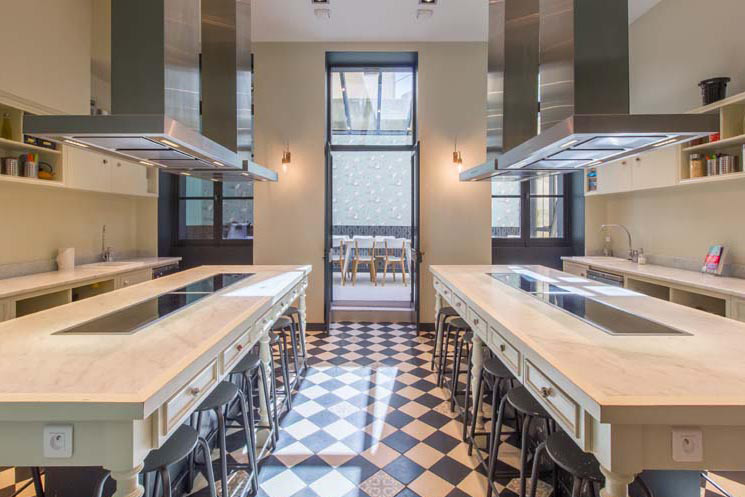 À mi-chemin entre le Parc de la Tête d'Or et la gare Part-Dieu, découvrez notre boutique-atelier, deux cuisines lumineuses et une agréable véranda pour accueillir vos dégustations et réunions.
Infos pratiques
Retrouvez toutes les recettes imprimables 48h avant le début du cours sur votre compte Chefsquare.


Do you want to organise this EXPERIENCE for a GROUP?
Contact us
You wish to propose this WORKSHOP to your CORPORATE COMMITTEE?
Contact us