Enfants
Anniversaire Enfant - Lyon
Enfants
Anniversaire Enfant - Lyon
Au programme
Chaque anniversaire dure 2 heures. Il se compose d'une partie atelier de pâtisserie (1h30) durant lequel les enfants réalisent 1 recette au choix (éclair chocolat ou éclair vanille) avec un.e Chef.fe. L'après-midi se termine autour d'un goûter festif (30mn) pendant lequel votre enfant souffle ses bougies, ouvre ses cadeaux et se régale avec ses invités.
Techniques abordées
Pochage de la pâte à chou
Fourrage des éclairs
Glaçage et décor des éclairs
En détail
Durant cette session, les enfants réaliseront un gourmand goûter d'anniversaire :
Arrivée des enfants : Les tabliers et les mini-toques les attendent. Le.a Chef.fe se présente et propose aux enfants de débuter les préparations : des éclairs au chocolat ou à la vanille.
Atelier de pâtisserie : Les enfants s'appliquent à refaire les gestes du.de la Chef.fe tous ensemble, et se partagent les différentes étapes de la recette. Chacun poche ses éclairs selon la recette choisie. Plus qu'à les décorer !
Allergènes : lait, blé, oeuf, glucose.
Dégustation : Autour d'un bon jus de fruits frais, les enfants s'installent à table. Le.la Chef.fe apporte les éclairs avec les bougies. Il est maintenant temps de déguster les gâteaux et d'ouvrir les cadeaux !
L'équipe
Testé.e.s et recruté.e.s par une équipe pédagogique interne, nos Chef.fe.s vous proposent leurs propres recettes et vous livrent tous leurs secrets :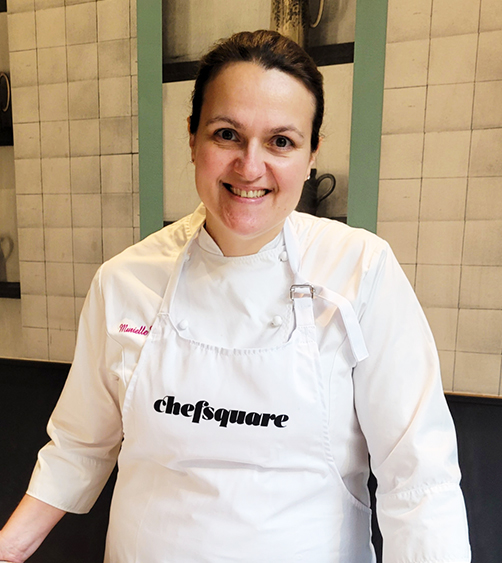 Murielle Valette
Murielle est née dans une famille de chefs français. Apprenant d'abord la tradition familiale, elle a ensuite suivi une formation classique en passant par l'Ecole du Grand Chocolat Valrhona, et a travaillé aux côtés des meilleurs chefs pâtissiers de France et du Royaume-Uni. Après avoir exercé le métier de chef pâtissier pendant 10 ans dans un restaurant étoilé Michelin en Angleterre et écrit un manuel de pâtisserie (Pâtisserie: A step-by-step guide to baking French pastries at home, Constable, 2013). Murielle revient en France et partage sa passion pour la pâtisserie dans notre atelier Lyonnais.
Find out more
La cerise sur le gâteau
Une cuisine rien que pour votre enfant et sa bande de copains
Un.e Chef.fe pédagogue et rigolo.te
Un goûter d'anniversaire de rêve
Boissons offertes (jus de fruits frais)
Lieux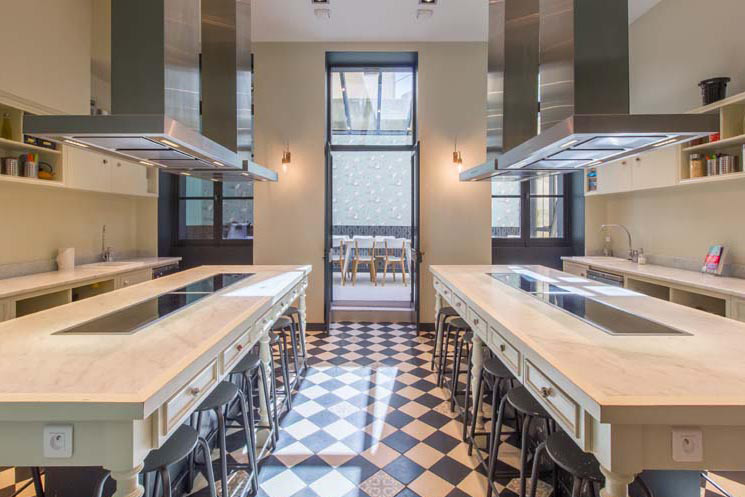 À mi-chemin entre le Parc de la Tête d'Or et la gare Part-Dieu, découvrez notre boutique-atelier, deux cuisines lumineuses et une agréable véranda pour accueillir vos dégustations et réunions.
Infos pratiques
Retrouvez toutes les recettes imprimables 48h avant le début du cours sur votre compte Chefsquare.


Do you want to organise this EXPERIENCE for a GROUP?
Contact us
You wish to propose this WORKSHOP to your CORPORATE COMMITTEE?
Contact us