Cours de cuisine EVJF
EVJF/EVJG Voyage à Rome - Lyon
Cours de cuisine EVJF
EVJF/EVJG Voyage à Rome - Lyon
Au programme
Organisez un cours de cuisine réservé à votre groupe de copain·ine·s !
Accueil des gourmand·e·s : ingrédients prêts, tabliers bien accrochés et mains propres ? Oui Chef·fe !
Préparation des mets et dégustation : comme une brigade de cuisine, entre rires et délires, élaborez plusieurs recettes en suivant les conseils du·de la Chef·fe.
Régalez-vous ensuite autour d'un bon verre de vin blanc et d'un spritz pour finir cette soirée en beauté !
Que le·a futur·e marié·e soit gourmand·e, romantique ou nul·le en cuisine, nous avons créé un menu spécialement pour SA soirée, à partir de produits non transformés et à indice bas carbone :
Printemps - Été (Avril à Septembre) :
- Risotto primavera aux légumes de saison
- Charlotte maison Fraises & Hibiscus
- Réalisation d'un Spritz
Allergènes : huile végétale (olive), lait, sulfites, œuf, blé (gluten).
Automne - Hiver (Octobre à Mars) :
- Risotto aux champignons de saison et parmesan
- Charlotte aux poires et chocolat
- Réalisation d'un Spritz
Allergènes : huile végétale (olive), lait, sulfites, œuf, blé (gluten).
À l'issue de votre cours, une table sera dressée et vous pourrez déguster les plats réalisés accompagnés d'un verre de vin, et partager un moment avec le·a Chef·fe et les autres participant·e·s.
Techniques abordées
Cuisson d'un risotto
Création d'une sauce
Réalisation d'un biscuit cuillère
Montage d'une charlotte
La cerise sur le gâteau
Un·e Chef·fe pédagogue et talentueux·se
Une cuisine privatisée pour votre groupe
Les boissons offertes (1 verre de vin blanc par personne, thé, café)
Les tabliers en coton recyclé bio et les recettes transmises par e-mail à l'issue de l'événement
Une offre 2 en 1 : activité ludique et pause repas
Lieux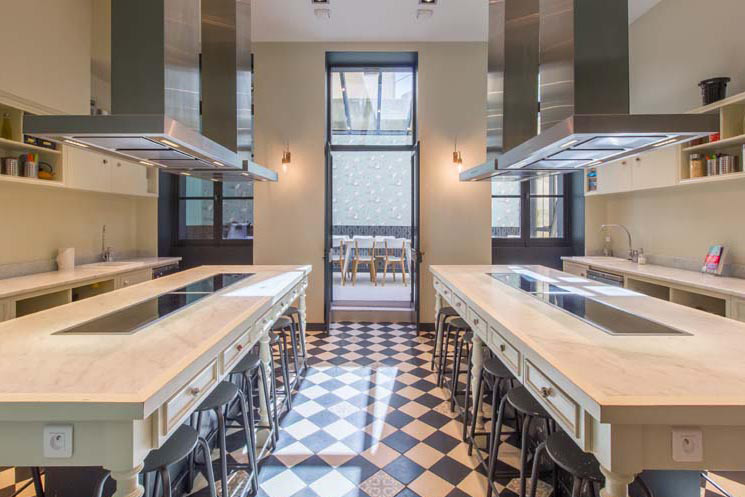 À mi-chemin entre le Parc de la Tête d'Or et la gare Part-Dieu, découvrez notre boutique-atelier, deux cuisines lumineuses et une agréable véranda pour accueillir vos dégustations et réunions.
Infos pratiques
Retrouvez toutes les recettes imprimables 48h avant le début du cours sur votre compte Chefsquare.


Do you want to organise this EXPERIENCE for a GROUP?
Contact us
You wish to propose this WORKSHOP to your CORPORATE COMMITTEE?
Contact us