Enfants
Atelier Ado 12-15 ans - Paris
Enfants
Atelier Ado 12-15 ans - Paris
Au programme
Macarons emoji ou pizza ? Nos Chef.fe.s revisitent les grands classiques version teens !
Techniques abordées
S'organiser en cuisine et en équipe
Reconnaître les produits qui composent les recettes
Réaliser des mélanges et maîtriser les cuisson
En détail
Votre adolescent.e présente un fort intérêt pour la cuisine ou la pâtisserie ? Faites-le.la participer à nos ateliers réservés uniquement pour les adolescents de 12 à 15 ans.

04 juin - Pizza Party Ado
-Réalisation de la pâte à pizza
-Réalisation de différentes pizzas

Allergènes : gluten (blé)

À l'issue du cours, une dégustation entre les ados et le.a Chef.fe aura lieu autour de jus de fruits frais, le reste des préparations sera à emporter à la maison.
L'équipe
Voici nos Chef.fe.s passionné.e.s par la pâtisserie pour ados, recruté.e.s pour cet atelier.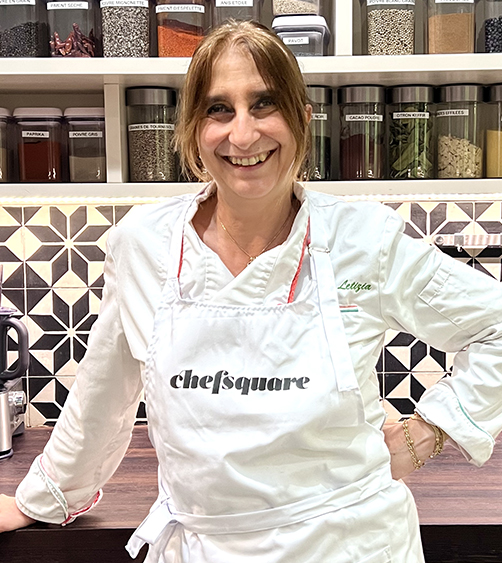 Letizia Del Vecchio
Originaire de Naples, berceau de la pizza et de la mozzarella, la cuisine de Letizia est depuis toujours parfumée de basilic, de tomates et d'huile d'olive. De sa grand-mère, elle hérite du goût des bonnes choses et d'une recette de pâtes fraîches incomparable qu'elle transmet chaque jour avec un enthousiasme et une générosité communicative.
Find out more
La cerise sur le gâteau
Tablier en coton recyclé offert
Jus de fruits frais à disposition
Recettes disponibles 48h avant le cours
Lieux
À deux pas de Bastille, ce nouveau lieu de 185 m2 associe un atelier de cuisine côté rue, à un laboratoire professionnel côté cour. Il conserve les marqueurs de l'école avec un environnement cocooning, un peu comme à la maison. Il partage aussi les attributs d'une vraie cuisine de restaurant pour plonger dans les conditions réelles les futurs food-entrepreneurs.
Infos pratiques
Retrouvez toutes les recettes imprimables 48h avant le début du cours sur votre compte Chefsquare.


Do you want to organise this EXPERIENCE for a GROUP?
Contact us
You wish to propose this WORKSHOP to your CORPORATE COMMITTEE?
Contact us