Enfants
Parent-enfant : En cuisine ! - Paris
Enfants
Parent-enfant : En cuisine ! - Paris
Au programme
Partager un moment avec vos enfants de 6 à 12 ans. Des recettes sympas et simples à refaire à la maison.
Réservez 1 place à 72 euros et venez cuisiner en duo parent/enfant (soit 72 euros pour 2 personnes).
Techniques abordées
Sélectionner des ingrédients
Apprendre des techniques de base
Réaliser des cuissons
En détail
Lors de cet atelier de 2 heures réservé aux parents et leurs enfants de 6 à 12 ans, vous réaliserez différents menus salés :
Samedi 21 Novembre > Mon premier risotto 
-Risotto au jambon (réalisation d'un bouillon, ciselage des légumes)
-Tiramisu au Nutella (réalisation de biscuits cuillère maison et d'une crème au mascarpone)
Dimanche 13 décembre > Mes premières gnocchis 
-Gnocchis maison, sauce tomate
-Nutellotti (petit biscuit au Nutella)
Dimanche 31 janvier > Mes premières bolognaise 
-Linguine maison, sauce tomate
-Polpette (boulettes de viande hachée poêlées)
-Nutellotti (petit biscuit au Nutella)
)
À l'issue du cours, vous pourrez partager un moment de dégustation avec vos enfants, le chef et les autres participants, le reste des préparations sera à emporter à la maison.
L'équipe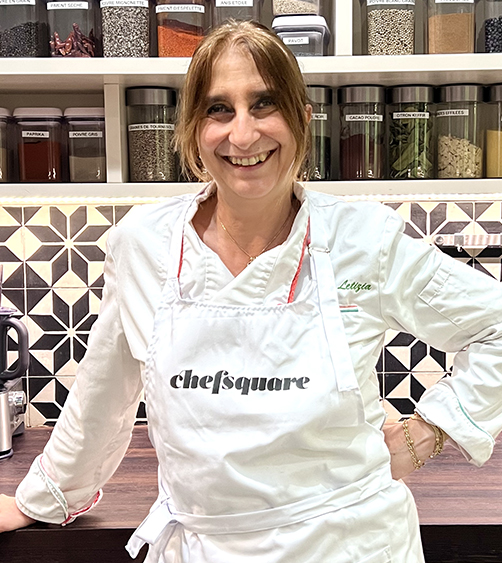 Letizia Del Vecchio
Originaire de Naples, berceau de la pizza et de la mozzarella, la cuisine de Letizia est depuis toujours parfumée de basilic, de tomates et d'huile d'olive. De sa grand-mère, elle hérite du goût des bonnes choses et d'une recette de pâtes fraîches incomparable qu'elle transmet chaque jour avec un enthousiasme et une générosité communicative.
Find out more
La cerise sur le gâteau
Tablier offert
Jus de fruits frais à disposition
Recettes disponibles 48h avant le cours
Lieux
À deux pas de Bastille, au fond d'une cour intérieure, retrouvez nos cuisines dans un ancien atelier d'artiste. Deux cuisines calmes et lumineuse d'une superficie totale de 100 m2 peuvent accueillir jusqu'à 30 personnes.
Info pratiques
Retrouvez toutes les recettes imprimables 48h avant le début du cours sur votre compte Chefsquare.

INFORMATIONS COVID-19
Nous avons mis en place toutes les mesures de sécurité pour vous recevoir dans les meilleures conditions :
- Masques obligatoires pour tous
- Répartition des denrées pour un travail individuel
- Limitation à 9 participants maximum espacé d'1 mètre
- Désinfection du matériel et des cuisines avant et après un cours
- Dans la mesure du possible, il est préférable de favoriser la dégustation à emporter. Néanmoins, quand l'espace le permet, la dégustation sur place est envisageable. (n'hésitez pas à venir avec vos propres contenants 3x1 litre pour le "à emporter")

Do you want to organise this EXPERIENCE for a GROUP?
Contact us
You wish to propose this WORKSHOP to your CORPORATE COMMITTEE?
Contact us