Cours de cuisine en famille
Caramel Addict - Paris
Cours de cuisine en famille
Au programme
Alors, certes, cela colle aux dents… mais c'est tellement régressif et bon !
Qui n'est pas fou·folle de caramel ? Avouez-le ! Vous aussi vous êtes addict·e !
Et bien nous aussi chez Chefsquare !

Rejoignez alors notre Chef·fe en cuisine pour préparer trois recettes avec du caramel et apprenez toutes les astuces pour ne plus qu'il brûle au fond de la casserole :
- Macaron caramel beurre salé
- Choux caramel
- Sabayon chocolat et caramel tiède aux épices
Allergènes : œuf, lait, fruits à coque (noisettes, amandes), gluten (blé).

Le caramel se décline sous toutes ses coutures et toutes ses formes : filant, coulant, en bonbons, de quoi ravir petits et grands !
Il est aimé par les enfants dès le plus jeune âge avec ce célèbre caramel emballé dans un emballage avec des blagues rigolotes.

À l'issue de votre cours, vous pourrez déguster les gâteaux réalisés accompagnés d'un café ou d'un thé, et partager un moment avec le·a Chef·fe et les autres participant·e·s. Les pâtisseries non dégustées sur place pourront être emportées. Dans une démarche éco-responsable, pensez à apporter un sac et vos boîtes de conservation.

Techniques abordées
Réaliser des coques de macarons
Travailler le caramel en différentes textures et savoir le conserver
Les astuces de cuisson et de température du caramel
L'équipe
Voici le·a Chef·fe spécialiste recruté·e pour cet atelier :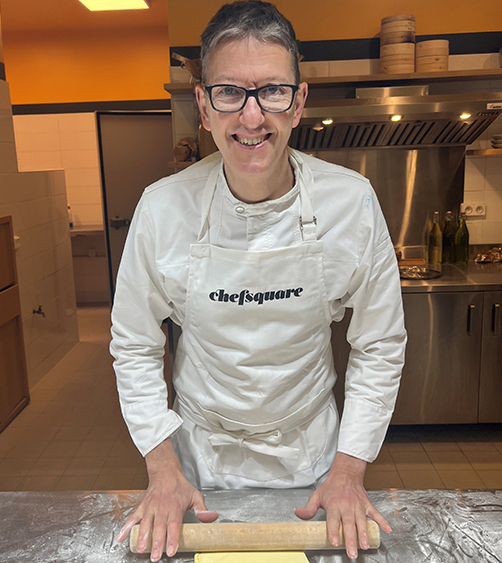 Stéphane Perrin
Stéphane a fait ses classes en Relais et Châteaux à Honfleur et en Suède, puis il a rejoint une brigade sur un bateau de croisière avant de s'installer en tant que chef pâtissier au Venezuela. De retour en France, il devient sous chef au Concorde et 1er sous chef au Bristol pendant 4 ans.
Find out more
La cerise sur le gâteau
Tablier en coton recyclé bio inclus
Café & thé bio offerts
Dégustation à table des réalisations
Repartir avec le reste de ses créations
Lieux
À deux pas de Bastille, ce nouveau lieu de 185 m2 associe un atelier de cuisine côté rue, à un laboratoire professionnel côté cour. Il conserve les marqueurs de l'école avec un environnement cocooning, un peu comme à la maison. Il partage aussi les attributs d'une vraie cuisine de restaurant pour plonger dans les conditions réelles les futurs food-entrepreneurs.
Infos pratiques
Retrouvez toutes les recettes imprimables 48h avant le début du cours sur votre compte Chefsquare.


Do you want to organise this EXPERIENCE for a GROUP?
Contact us
You wish to propose this WORKSHOP to your CORPORATE COMMITTEE?
Contact us