Cuisine végétarienne
Cuisine zéro déchet - Lyon
Cuisine végétarienne
Cuisine zéro déchet - Lyon
Au programme
Apprenez à travailler vos aliments de A à Z durant ces ateliers, des épluchures aux graines, en passant par l'eau de cuisson. Appréhendez les bases et les méthodes de la cuisine anti gaspillage et les clés pour diminuer ses déchets alimentaires à la maison.
Techniques abordées
Savoir utiliser un produit à la fois pour un plat et un dessert
Incorporer les épluchures dans la réalisation des plats
Réutiliser des restes de gâteau ou brioche pour réaliser un dessert
Utiliser l'eau des pois chiche en substitution des oeufs
Travailler l'orange de A à Z dans un confit
En détail
Durant ce cours de cuisine, appréhendez les bases et les méthodes de la cuisine anti gaspillage et zéro déchet, mettant en avant une réflexion sur la conception du menu. Travaillez à partir de produits non transformés, locaux et bio à indice bas carbone.
Au programme de l'atelier :
Automne-Hiver (d'Octobre à Mars) :
- Velouté de châtaignes et butternut, granola salé
- Risotto de pois chiche, butternut et champignons
- Mousse au chocolat à l'aquafaba et confit d'agrumes
Allergènes : fruits à coque (châtaignes), graines (avoine), fruits à coque (noix de pécan), légumineuses (pois chiches), sulfites.
Printemps-Été (d'Avril à Septembre) :
- Légumes verts rôtis, émulsion aux croûtes de parmesan
- Risotto aux légumes de Printemps cuit au bouillon antigaspi
- Cheese-cake, coulis de fruits rouges
Allergènes : huile végétale (olive), fruits à coque (amandes), lait, sulfites, blé (gluten).
À l'issue de votre cours, une table sera dressée et vous pourrez déguster les plats réalisés accompagnés d'un verre de vin, et partager un moment avec le·a Chef·fe et les autres participant·e·s.
L'équipe
Voici nos Chef·fe spécialistes recruté·e·s pour cet atelier :
Sophie Bodjikian
Sophie, cheffe de cuisine végétale à Lyon, capitale du saucisson. Sophie crée des recettes végétales gourmandes et facile à réaliser, afin que les végan, les végétariens, les mangeurs de viande, puissent tous se régaler! Son parcours en tant que commis dans des restaurants étoilés à l'étranger, ou bien en tant que serveuse, lui a donné le goût des bons produits et du partage. Elle aide aujourd'hui les restaurateurs qui désirent découvrir la cuisine végétale afin d'élargir leur clientèle, elle est également traiteur végétal pour les particuliers et les professionnels. Dans nos ateliers, elle vous transmettra ses techniques et astuces. Avec elle, la cuisine végétale va vous bluffer, sa mission : voir cette habitude alimentaire sous un autre jour afin que tout le monde puisse se régaler à une même table et ne pas être divisé.
Find out more
La cerise sur le gâteau
Tablier en coton recyclé bio inclus
Café & thé bio offerts
Dégustation à table des plats réalisés
Verre de vin offert pour le repas
Lieux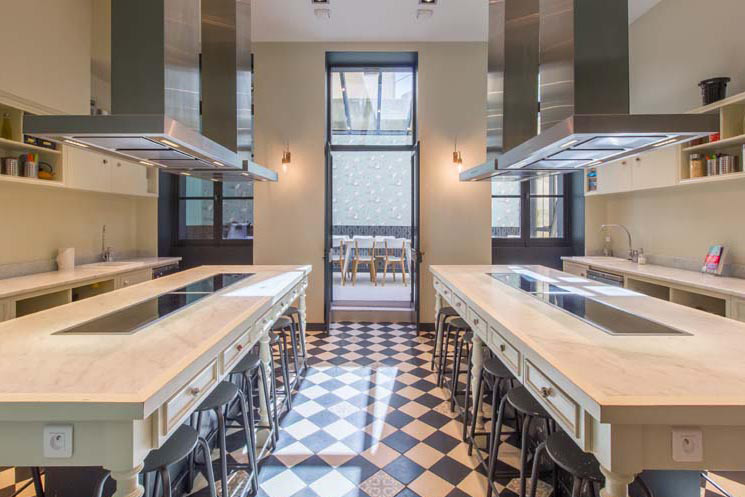 À mi-chemin entre le Parc de la Tête d'Or et la gare Part-Dieu, découvrez notre boutique-atelier, deux cuisines lumineuses et une agréable véranda pour accueillir vos dégustations et réunions.
Infos pratiques
Retrouvez toutes les recettes imprimables 48h avant le début du cours sur votre compte Chefsquare.


Do you want to organise this EXPERIENCE for a GROUP?
Contact us
You wish to propose this WORKSHOP to your CORPORATE COMMITTEE?
Contact us