French cooking
C'est la fête, c'est paillettes - Lyon
French cooking
C'est la fête, c'est paillettes - Lyon
Au programme
Pour un repas de fêtes ou de réveillon, partagez un moment festif en tête-à-tête ou en famille autour de produits nobles de saison et à indice bas carbone. Apprenez notamment à apprivoiser le homard en deux façons ! Dans cet atelier de 4 heures, le·a Chef·fe vous concocte un menu festif :
- Tarte fine aux champignons, croquant de châtaigne au foie gras
- Homard en deux services : Médaillon de homard, viennoise marjolaine, crémeux panais / Bisque raccourcie, raviole de poireaux
- Entremet chocolat-clémentine
Allergènes : lait, sulfites, fruits à coque (châtaignes, noisettes, amandes), blé (gluten), céleri, fruits de mer (crevettes), œuf.

À cœur de vous offrir le meilleur, nous sommes engagés aux côtés de producteurs investis pour une agriculture moderne et raisonnée et avons donc sourcés des fournisseurs alignés sur nos valeurs.

Passez derrière les fourneaux et réalisez tout un menu pour vos proches avec des produits bio et locaux et apprenez à les cuisiner selon différentes techniques et modes de cuisson variés tout en restant au cœur du goût des ingrédients de saison. Apprenez à travailler des champignons en tarte fine ou bien encore cuire un homard, le décortiquer et en tirer tout son goût en réalisant une bisque ou bien même réaliser un entremet à base de chocolat et de clémentine !
À l'issue de votre cours, une table sera dressée et vous pourrez déguster les plats réalisés accompagnés d'un verre de vin, et partager un moment avec le·a Chef·fe et les autres participant·e·s.
Techniques abordées
Apprendre à cuire et décortiquer un homard
Travailler des champignons
Réaliser une bisque
Confectionner un entremet
La cerise sur le gâteau
Tablier en coton recyclé bio inclus
Café & thé offerts
Dégustation à table des plats réalisés
Verre de vin offert pour le repas
Lieux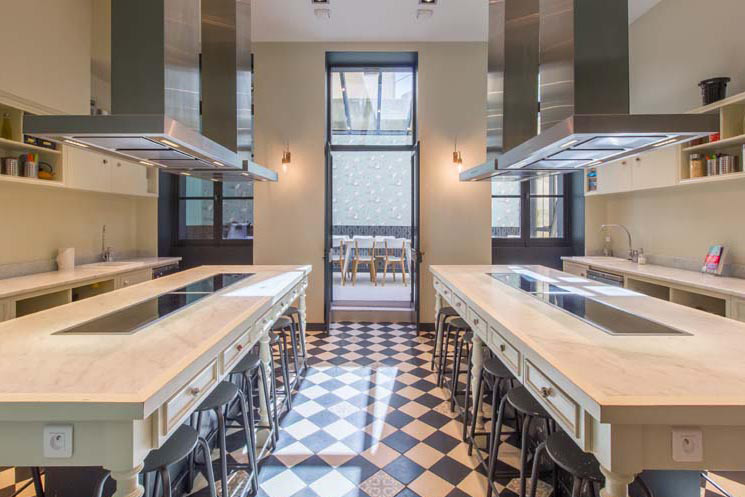 À mi-chemin entre le Parc de la Tête d'Or et la gare Part-Dieu, découvrez notre boutique-atelier, deux cuisines lumineuses et une agréable véranda pour accueillir vos dégustations et réunions.
Infos pratiques
Retrouvez toutes les recettes imprimables 48h avant le début du cours sur votre compte Chefsquare.


Do you want to organise this EXPERIENCE for a GROUP?
Contact us
You wish to propose this WORKSHOP to your CORPORATE COMMITTEE?
Contact us