Dégustations
Apprenez à infuser et déguster le thé avec un sommelier de thé
Dégustations
Apprenez à infuser et déguster le thé avec un sommelier de thé
Au programme
Durant cette immersion de 1h30, vivez au rythme d'un bar à thés et profitez d'une rencontre privilégiée Martin et Vincent : alchimiste et sommelier en thé.
Découvrez l'art et la manière de préparer le thé en respectant les codes de cette boisson séculaire.
Votre immersion sera rythmée d'une dégustation de 6 thés, pour mettre en pratique vos apprentissages.
En détail
Votre immersion se déroulera au salon de thés pour découvrir l'univers ancestral du thé. Au programme de votre immersion:
histoire du thé
art de la dégustation du thé
apprendre à infuser son thé
dégustation de 6 thés
Profitez de10% de réduction sur l'ensemble de la boutique à l'issu de l'atelier d'initiation.
L'équipe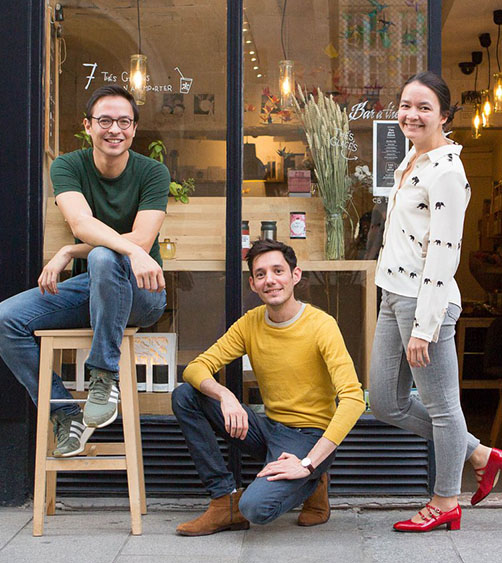 Vincent Brunet
Vincent Brunet et Martin Lê sont les deux alchimistes à l'origine de Kodama. Leur périple à Taïwan a été une vraie révélation et le point de départ pour l'amour du thé. De retour en France, ils suivent des enseignement de sommelerie du thé à Paris avant d'ouvrir leur propre établissement en 2015, les débuts de Kodama. Désormais, ils sont la référence pour concilier la créativité des alchimistes et la rigueur des infuseurs.
Find out more
La cerise sur le gâteau
Découvrir les coulisses d'un bar à thé
Apprendre l'art de la dégustation du thé
Lieux
A la fois salon de thé zen, boutique et laboratoire pour les nouveaux essais, Kodama est un lieu d'effervescence où la nature a repris ses droits. L'ambiance se veut cocooning et reposante : origamis colorés accrochés au plafond, lumière douce et flacons de thés pour ornés les murs. Un lieu où l'on se sent bien et que l'on a envie de garder secret rien que pour soi.
Info pratiques
Retrouvez toutes les recettes imprimables 48h avant le début du cours sur votre compte Chefsquare.

INFORMATIONS COVID-19
Nous avons mis en place toutes les mesures de sécurité pour vous recevoir dans les meilleures conditions :
- Masques obligatoires pour tous
- Répartition des denrées pour un travail individuel
- Limitation à 9 participants maximum espacé d'1 mètre
- Désinfection du matériel et des cuisines avant et après un cours
- Dans la mesure du possible, il est préférable de favoriser la dégustation à emporter. Néanmoins, quand l'espace le permet, la dégustation sur place est envisageable. (n'hésitez pas à venir avec vos propres contenants 3x1 litre pour le "à emporter")

Do you want to organise this EXPERIENCE for a GROUP?
Contact us
You wish to propose this WORKSHOP to your CORPORATE COMMITTEE?
Contact us