Cours d'œnologie
L'art de la dégustation - Lyon
Cours d'œnologie
L'art de la dégustation - Lyon
Au programme
Pour débuter dans le vin, rejoignez notre œnologue en atelier qui vous propose un cours de dégustation de vin dont l'objectif est de vous apprendre les 3 phases de la dégustation : la vue, le nez et le goût.
En petits groupes, notre intervenant·e aura le souci de vous transmettre toutes les clés pour choisir votre vin, le déguster et les mots pour en parler.

La dégustation stimule nos sens, délie les langues, anime les discussions autour de nos tables car nous exprimons tou·te·s nos préférences.
Le but de cette session est de dépasser le "j'aime", "j'aime pas" ou le "je préfère plutôt ce vin-là".
Par l'apprentissage des gestes et d'un vocabulaire approprié, cet atelier vous donnera accès aux fondamentaux de la dégustation. Vous y découvrirez entre autre pourquoi nous sentons telle ou telle odeur (il n'y a jamais eu de banane dans le vin !), pourquoi nous percevons telle ou telle saveur, ce que sont les larmes, etc… et bien entendu, nous bousculerons certainement quelques mythes !

Une session démystifiante pour s'approprier ou se ré-approprier nos sens !
Techniques abordées
Décrire précisément le goût des vins
Apprendre les gestes et le vocabulaire de la dégustation
S'affranchir de codifications souvent erronées
Acheter sans complexe et exprimer clairement ce qui vous convient
La cerise sur le gâteau
Des supports de cours délivrés le jour de votre atelier
Dégustation de 5 vins rouges et blancs
Gressins à disposition
Fontaine à eau filtrée plate ou gazeuse
Lieux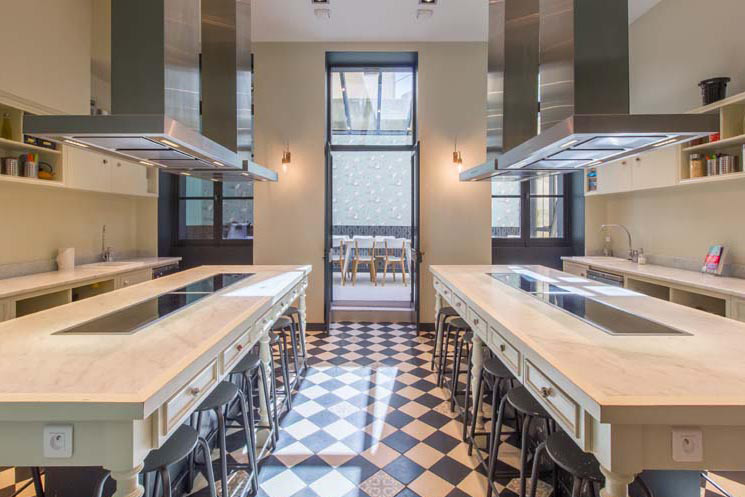 À mi-chemin entre le Parc de la Tête d'Or et la gare Part-Dieu, découvrez notre boutique-atelier, deux cuisines lumineuses et une agréable véranda pour accueillir vos dégustations et réunions.
Infos pratiques
Retrouvez toutes les recettes imprimables 48h avant le début du cours sur votre compte Chefsquare.


Do you want to organise this EXPERIENCE for a GROUP?
Contact us
You wish to propose this WORKSHOP to your CORPORATE COMMITTEE?
Contact us