French cooking
La coquille Saint-Jacques - Lyon
French cooking
La coquille Saint-Jacques - Lyon
Au programme
Crue, marinée, poêlée, rôtie… avec ou sans corail… il existe plusieurs manières de déguster ce mollusque délicat et tant apprécié des amateurs : nous parlons bien entendu de la coquille Saint-Jacques.

Avant de déguster les précieuses Saint-Jacques, il faut un petit coup de main pour ouvrir les coquilles, les ébarber et nettoyer les noix : vous saurez tout ce qu'il faut savoir dans cet atelier !

Rejoignez notre Cheffe Mariana en cuisine pour découvrir trois recettes à base de noix de Saint-Jacques qui sauront vous satisfaire tant par les techniques culinaires qui vous seront transmises que par leur dégustation.
Au programme de cet atelier de 3 heures :
- Carpaccio de Saint-Jacques aux légumes croquants
- Noix de Saint-Jacques snackées, jeunes poireaux et émulsion au safran
- Saint-Jacques au beurre de noix et pomme verte
Allergènes : fruits de mer (noix de Saint-Jacques), huiles végétales (olive, arachides), sésame, soja, lait, sulfites, blé (gluten), fruits à coque (noix).

À l'issue de votre cours, une table sera dressée et vous pourrez déguster les plats réalisés accompagnés d'un verre de vin, et partager un moment avec la Cheffe et les autres participant·e·s.
Techniques abordées
Ouvrir, ébarber et récupérer les coquilles Saint-Jacques
Travailler la noix de Saint-Jacques en plusieurs façons
Cuire la noix de Saint-Jacques
Utiliser un siphon
La cerise sur le gâteau
Tablier en coton recyclé bio inclus
Café & thé offerts
Dégustation à table des plats réalisés
Verre de vin offert pour le repas
Lieux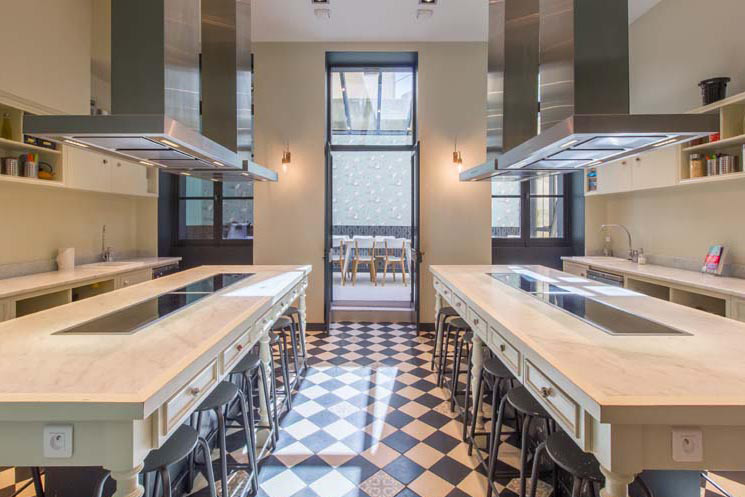 À mi-chemin entre le Parc de la Tête d'Or et la gare Part-Dieu, découvrez notre boutique-atelier, deux cuisines lumineuses et une agréable véranda pour accueillir vos dégustations et réunions.
Infos pratiques
Retrouvez toutes les recettes imprimables 48h avant le début du cours sur votre compte Chefsquare.


Do you want to organise this EXPERIENCE for a GROUP?
Contact us
You wish to propose this WORKSHOP to your CORPORATE COMMITTEE?
Contact us