French cooking
Les bases de la cuisine - Lyon
French cooking
Les bases de la cuisine - Lyon
Au programme
Une formation aux techniques culinaires de base qui vous permettra d'apprendre les gestes d'un vrai chef pour acquérir les fondamentaux de la cuisine française. Tout cela en une journée dans notre atelier Lyonnais.
Techniques abordées
Maîtriser les techniques de préparation, cuisson et présentation
Réaliser des productions culinaires
Organiser son poste de travail
En détail
Il s'agit d'une journée de cours divisée en 2 modules :
1- Matin : Mise en place
Taillage des légumes
Désossage et découpage de la viande
Travail des poissons
Préparation d'un bouillon de légumes, d'un fond de viande et d'un fumet de poisson
Élaboration du déjeuner
2- Apres-midi : Mise en application
Menu Automne-Hiver (d'Octobre à Mars) :
Entrées:
Soupe crémeuse choux-fleur, parmesan, romarin et noisette
Salade de pousses d'épinard, butternut et betterave rôties au miel, graines de courge, canneberges et tzatziki de céleri
Poissons et crustacés :
Curry de filet de poisson aux légumes d'hiver, trio de quinoa aux herbes
Saint-Jacques poêlées, fondue de poireaux, crème de potimarron et beurre de sauge
Viandes :
Pavé de viande rouge (selon arrivage) à poêler, sauce échalote au vin rouge, pomme de terre hasselback
Filet de canette ou magret de canard (selon arrivage), sauce soja caramélisée, légumes racines et champignons rôtis
Menu Printemps-Eté (d'Avril à Septembre) :
Entrées:
Soupe froide de petits pois aux amandes et herbes fraîches, chips de poitrine fumée
Salade de légumes et agrumes, tapenade
Poissons :
Ballottine de saumon, ratatouille et beurre blanc safran
Sole meunière, épinard juste voilés
Viandes :
Sauté de veau aux agrumes, purée de pommes de terre, tomates cerises confites, romarin
Coquelet au vin jaune et morilles, riz pilaf
L'équipe
Voici nos chefs formateurs en cuisine française recrutés pour cet atelier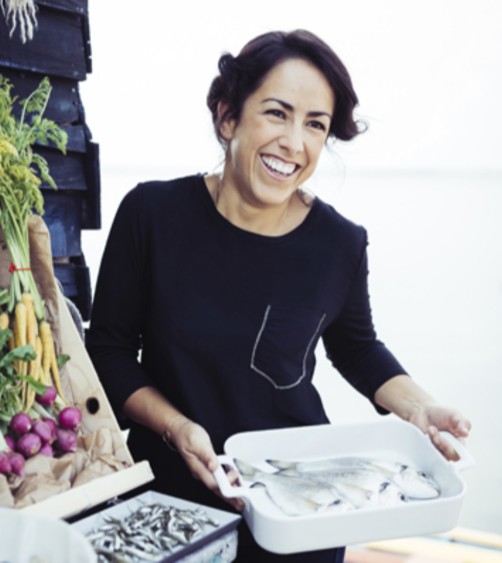 Mariana Delubac
Après avoir officié auprès des plus grands maitres culinaires (Louis Grondard au Drouant, Philippe Legendre au Georges V, Éric Frechon au Bristol,Philip Howard au Square) Mariana prends la tête d'Il Vino où elle décroche une étoile. Elle partage aujourd'hui sa cuisine d'exception dans notre atelier de Lyon.
Find out more
La cerise sur le gâteau
Dégustation d'un déjeuner préparé en équipe
Verre de vin offert pour le repas
Café & thé offerts
Tablier inclus
Oeufs et agrumes BIO
Lieux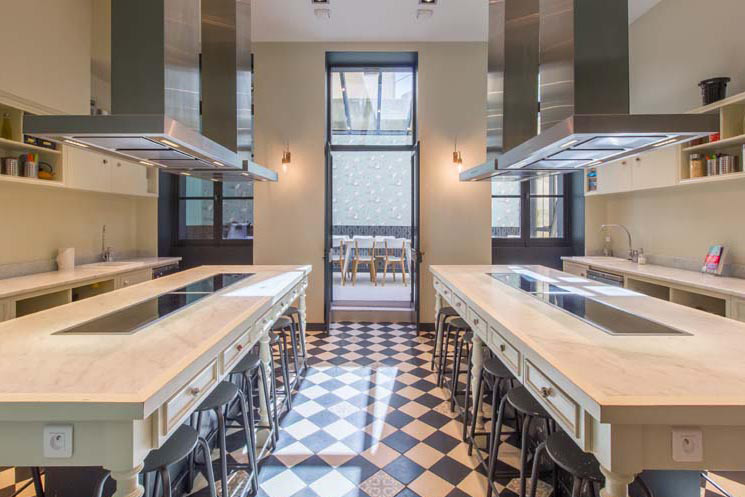 À mi-chemin entre le Parc de la Tête d'Or et la gare Part-Dieu, découvrez notre boutique-atelier, deux cuisines lumineuses et une agréable véranda pour accueillir vos dégustations et réunions.
Infos pratiques
Retrouvez toutes les recettes imprimables 48h avant le début du cours sur votre compte Chefsquare.

INFORMATIONS COVID-19
Nous avons mis en place toutes les mesures de sécurité pour vous recevoir dans les meilleures conditions :
- Masques obligatoires pour tous
- Répartition des denrées pour un travail individuel
- Limitation de 10 à 12 participants maximum espacés d'1 mètre
- Désinfection du matériel et des cuisines avant et après un cours

Do you want to organise this EXPERIENCE for a GROUP?
Contact us
You wish to propose this WORKSHOP to your CORPORATE COMMITTEE?
Contact us