French cooking
Les viandes sans cuisson - Lyon
French cooking
Les viandes sans cuisson - Lyon
Au programme
De bons petits plats tirés des classiques de bistrot et sublimés par nos Chef.fe.s tant par la qualité et l'originalité des produits que par les techniques culinaires employées. Dans ces ateliers, nous aborderons plusieurs recettes à base de bœuf, canard et veau afin de vous enseigner les critères de choix, le taillage et la préparation de la viande. Un cours de choix aux saveurs umamis : un cadeau idéal pour la Fête des Pères.
Techniques abordées
Découper de la viande au couteau
Travail du boeuf, du canard et du veau
Maîtriser la cuisson tataki
En détail
Pendant votre atelier de 3h à Lyon, vous réaliserez 3 recettes à base de viandes crues, de produits non transformés et à indice bas carbone :
- Tartare de bœuf, gingembre et coriandre
- Carpaccio de veau, citron confit, olive et oignons nouveaux
- Tataki de canard, laqué soja et wasabi
- Pommes Pont-Neuf en accompagnement
Allergènes : en cours.

À l'issue de votre cours, une table sera dressée et vous pourrez déguster les plats réalisés accompagnés d'un verre de vin, et partager un moment avec le.a Chef.fe et les autres participant.e.s.
La cerise sur le gâteau
Tablier en coton recyclé bio inclus
Dégustation sur place des plats réalisés
Vins et café/thé inclus
Recettes disponibles 48h avant le cours
Lieux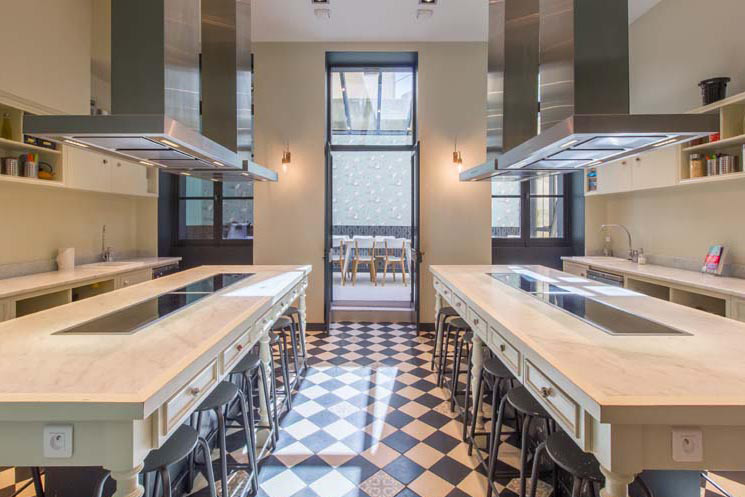 À mi-chemin entre le Parc de la Tête d'Or et la gare Part-Dieu, découvrez notre boutique-atelier, deux cuisines lumineuses et une agréable véranda pour accueillir vos dégustations et réunions.
Infos pratiques
Retrouvez toutes les recettes imprimables 48h avant le début du cours sur votre compte Chefsquare.


Do you want to organise this EXPERIENCE for a GROUP?
Contact us
You wish to propose this WORKSHOP to your CORPORATE COMMITTEE?
Contact us