French cooking
Menu Bistronomique - Paris
French cooking
Menu Bistronomique - Paris
Au programme
Réalisez un menu bistronomique, de l'entrée jusqu'au dessert, en travaillant les produits de saison et en apprenant à les décliner sur les différents plats. A la frontière entre la gastronomie et la cuisine moderne, apprenez les techniques propres de cette cuisine à la fois actuelle et réfléchie.
Techniques abordées
Réaliser une crème soyeuse et onctueuse
Apprendre à travailler les produits de saison et les décliner dans un menu
Confectionner un menu bistronomique en entier
En détail
Durant ce cours de cuisine française, réalisez un menu entier, de l'entrée au dessert, sur le thème de la bistronomie, la gastronomie moderne.
Au programme de l'atelier :



Printemps : (d'Avril à Juin)
-Crème de vieux parmesan, petits pois croquants, copeaux de parmesan et julienne de jambon cru
- Carré d'agneau rôti, caviar d'aubergine à la marjolaine, beurre de nage au romarin
- Quenelle de chocolat Guanaja, crème anglaise safranée
Eté : (de Juillet à Septembre)
- Brioches d'escargot de Bourgogne, oeuf poché, crème d'ail et jus de volaille
- Gratin de homard, purée de pomme de terre, émulsion homard à la crème de lait
- Tarte à la rhubarbe acidulée, pulpe à la fraise
Automne (d'Octobre à Décembre) :
- Croustillant de champignon des bois au jambon Serrano et crème de cèpes
- Filet de dorade royal rôti au beurre d'ail doux, risotto de légumes d'automne au vieux parmesan
- Crémeux au chocolat noir et blanc parfumé à la menthe et sablé au spéculoos
Hiver (de Janvier à Mars) :
- Crème de châtaigne et courge muscade, pastrami, pleurotes à l'ail
- Quasi de veau laqué aux agrumes, poêlée de panais et châtaignes au beurre de sauge, échalotes confites
- Mont Blanc marron yuzu
L'équipe
Voici le chef spécialiste recruté pour cet atelier :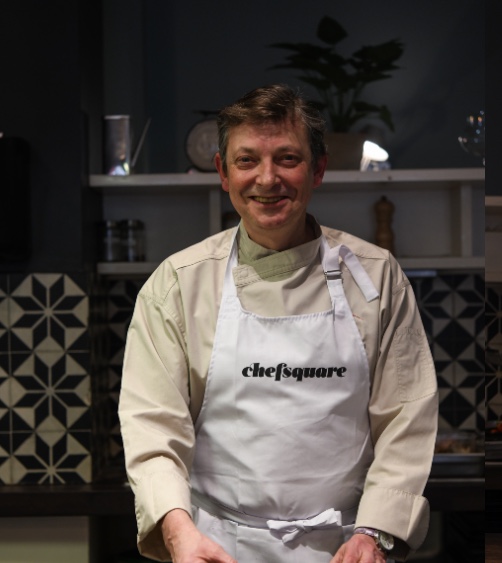 Jean-Paul Deyries
Gersois fort de 35 années d'expériences au sein d'établissements prestigieux comme Le Fouquet's, La Perouse, le Pavillon Elysée Lenôtre et Le Macéo, il ouvre son propre restaurant l'Instinct en 2005. Chef Jean-Paul transmet aujourd'hui sa passion de la haute gastronomie avec humilité et brio.
Find out more
La cerise sur le gâteau
Tablier inclus
Café & thé bio offerts
Dégustation à table des plats réalisés
Verre de vin offert pour le repas
Lieux
À deux pas de Bastille, au fond d'une cour intérieure, retrouvez nos cuisines dans un ancien atelier d'artiste. Deux cuisines calmes et lumineuse d'une superficie totale de 100 m2 peuvent accueillir jusqu'à 30 personnes.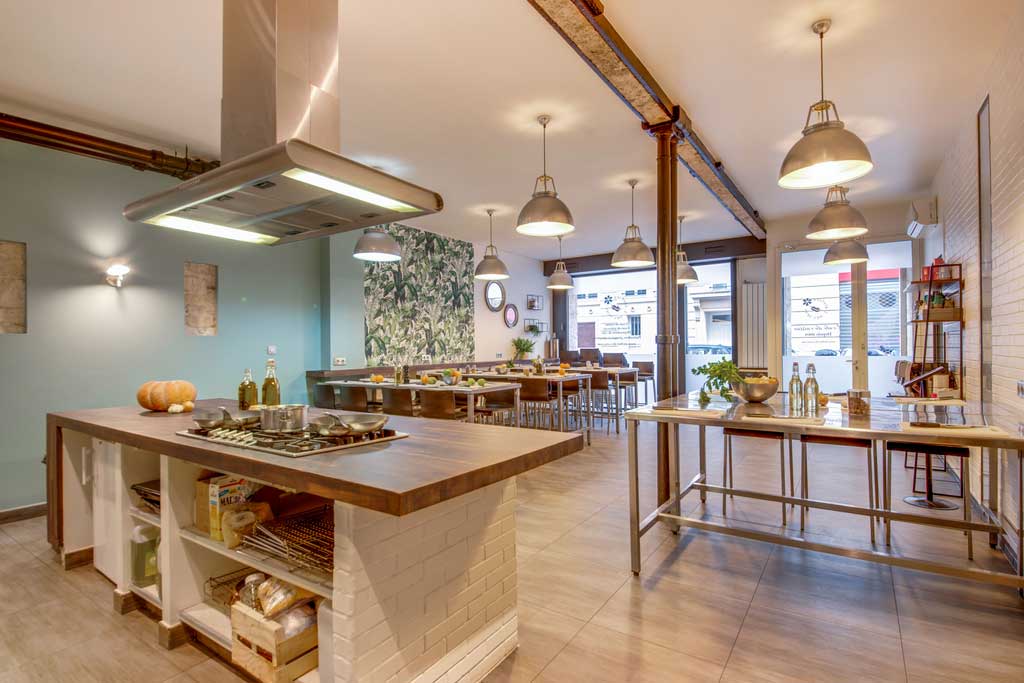 À quelques pas de Beaubourg, cet espace culinaire a été aménagé dans une ancienne galerie d'art sur deux niveaux. Au RDC, notre grande cuisine ouverte sur plus de 100 m² est modulable en fonction de vos besoins. Au sous-sol, nos deux caves voûtées en pierres apparentes sont propices aux dégustations de vins et aux réunions de travail.
Info pratiques
Retrouvez toutes les recettes imprimables 48h avant le début du cours sur votre compte Chefsquare.

INFORMATIONS COVID-19
Nous avons mis en place toutes les mesures de sécurité pour vous recevoir dans les meilleures conditions :
- Masques obligatoires pour tous
- Répartition des denrées pour un travail individuel
- Limitation à 9 participants maximum espacé d'1 mètre
- Désinfection du matériel et des cuisines avant et après un cours
- Dans la mesure du possible, il est préférable de favoriser la dégustation à emporter. Néanmoins, quand l'espace le permet, la dégustation sur place est envisageable. (n'hésitez pas à venir avec vos propres contenants 3x1 litre pour le "à emporter")

Do you want to organise this EXPERIENCE for a GROUP?
Contact us
You wish to propose this WORKSHOP to your CORPORATE COMMITTEE?
Contact us