Cours de pâtisserie
Number Cake - Lyon
Cours de pâtisserie
Au programme
Anniversaire ? Envie de changer du simple gâteau commandé chez son boulanger-pâtissier de son quartier ?

Et si vous concoctiez pour votre proche un number cake ? Ce gâteau en forme de chiffre qui allie gourmandise et créativité car il est personnalisable à l'infini en fonction des fruits de saison et de ses goûts préférés.

Rejoignez notre Chef·fe en cuisine dans cet atelier de 2h où il·elle vous livrera toutes les clés et ses secrets pour réaliser un grand number cake pour célébrer le proche dont on fête l'anniversaire. Vous apprendrez à créer notamment :
- Pâte sucrée
- Ganache au chocolat
- Crémeux aux fruits de saison
- Crème chantilly
- Eléments de décor
Allergènes : lait, œuf, blé (gluten).

Vous apprendrez également les premières notions du cake design. La composition des recettes et les fruits sont voués à changer au fil des saisons.

À l'issue de votre cours, vous pourrez déguster les gâteaux réalisés accompagnés d'un café ou d'un thé, et partager un moment avec le·a Chef·fe et les autres participant·e·s. Les pâtisseries non dégustées sur place pourront être emportées. Dans une démarche éco-responsable, pensez à apporter un sac et vos boîtes de conservation.

Techniques abordées
Réalisation d'une pâte sucrée
Création d'une ganache montée et d'un crémeux aux fruits
Monter son gâteau
Apprendre des astuces de décorations de gâteaux
La cerise sur le gâteau
Tablier en coton recyclé bio inclus
Café & thé offerts
Recettes sans additif
Verre de jus de fruits frais offert pour la dégustation
Lieux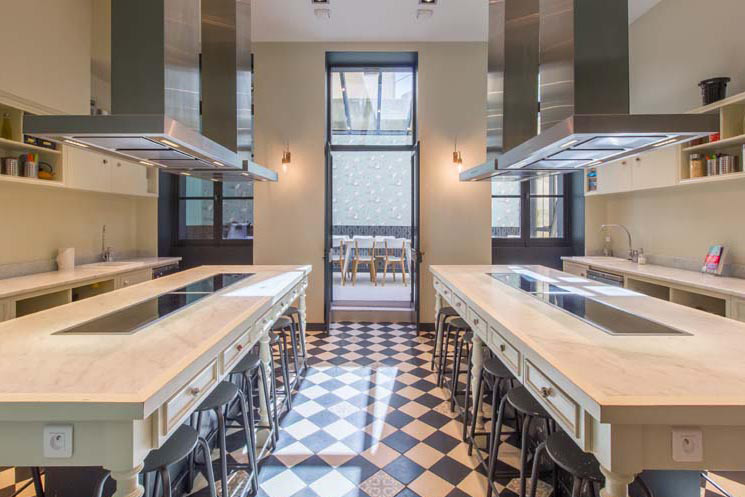 À mi-chemin entre le Parc de la Tête d'Or et la gare Part-Dieu, découvrez notre boutique-atelier, deux cuisines lumineuses et une agréable véranda pour accueillir vos dégustations et réunions.
Infos pratiques
Retrouvez toutes les recettes imprimables 48h avant le début du cours sur votre compte Chefsquare.


Do you want to organise this EXPERIENCE for a GROUP?
Contact us
You wish to propose this WORKSHOP to your CORPORATE COMMITTEE?
Contact us