Cours de cuisine en famille
Macarons - Paris
Cours de cuisine en famille
Au programme
Assurément LE gâteau bijou de cette dernière décennie, tout est parfait ! Biscuit lisse et croquant, ganache onctueuse et fondante à cœur.
Dans ce cours, 3 macarons vous seront enseignés avec 3 garnitures différentes.
Techniques abordées
Réaliser une meringue italienne colorée
Réaliser une crème au beurre et une ganache
Pocher les coques de macarons
En détail
Lors de cet atelier de 3 heures, le.a Chef.fe vous apprend à réaliser les coques de macarons et les différentes ganaches qui les accompagnent :
- Macaron au chocolat
- Macaron framboise
- Macaron café
Allergènes : fruits à coque (amandes), œuf, lait.

À l'issue de votre cours, vous pourrez déguster une partie des pâtisseries réalisées accompagnées d'un verre de jus de fruits frais, et partager un moment avec le.a Chef.fe et les autres participant.e.s. Une partie des pâtisseries seront aussi emportées.
L'équipe
Voici nos Chef.fe.s pâtissier.ère.s recruté.e.s pour cet atelier :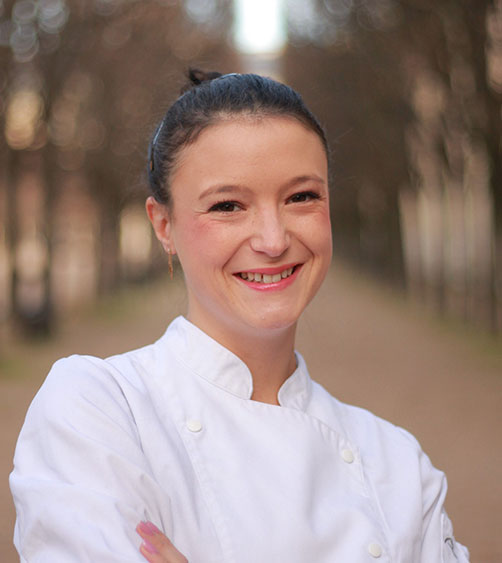 Léopoldine Bigant
Passionnée par la pâtisserie depuis son plus jeune âge, la cheffe Léopoldine Bigant construit son parcours à travers l'hôtellerie de luxe, en France et à l'étranger. Après s'être formée à l'Hôtel des Ministres au Ministère des Finances, elle travaille aux côtés du chef étoilé Jean-Louis Nomicos à la Fondation Louis Vuitton. En tant que formatrice pour les professionnels, elle saura vous partager sa pédagogie et son envie de transmettre.
Find out more
La cerise sur le gâteau
Tablier en coton recyclé bio inclus
Café & thé offerts
Recettes sans additif
Verre de jus de fruits frais offert pour la dégustation
Lieux
À deux pas de Bastille, ce nouveau lieu de 185 m2 associe un atelier de cuisine côté rue, à un laboratoire professionnel côté cour. Il conserve les marqueurs de l'école avec un environnement cocooning, un peu comme à la maison. Il partage aussi les attributs d'une vraie cuisine de restaurant pour plonger dans les conditions réelles les futurs food-entrepreneurs.
Infos pratiques
Retrouvez toutes les recettes imprimables 48h avant le début du cours sur votre compte Chefsquare.


Do you want to organise this EXPERIENCE for a GROUP?
Contact us
You wish to propose this WORKSHOP to your CORPORATE COMMITTEE?
Contact us