Cuisine asiatique
Pâtisseries d'Asie - Lyon
Cuisine asiatique
Pâtisseries d'Asie - Lyon
Au programme
Pendant votre atelier, vous réaliserez deux incontournables pâtisseries japonaises et la boisson tendance du moment Taïwanaise: le bubble tea<br>
De la confection de la pâte à Dorayaki à l'utilisation du thé matcha : un voyage express au pays du soleil levant.
Techniques abordées
Réaliser un appareil à pancakes japonais
Utiliser les haricots Azuki
Réaliser d'une pâte à mochi et son façonnage
Confection des perles de tapioca maison
Cuisson du bubble tea
En détail
Lors de cet atelier de 2 heures, le.a Chef.fe vous apprend à réaliser deux pâtisseries Asiatiques :
- Dorayaki "maison" garnis d'anko
- Mochi arômatisé cacao, thé matcha
- Buble tea au fruit de saison
Allergènes : œuf, blé (gluten), soja, huile végétale (arachide ou tournesol), légumineuses (haricots rouges), lait, fruits à coque (amandes), tapioca.

À l'issue de votre cours, vous pourrez déguster une partie des pâtisseries réalisées accompagnées d'un verre de jus de fruits frais, et partager un moment avec le.a Chef.fe et les autres participant.e.s. Une partie des pâtisseries sera aussi emportée.
L'équipe
Voici nos Chef.fe.s imprégné.e.s de la cuisine Japonaise recruté.e.s pour cet atelier :
Patrice Cayuela
Patrice Cayuela fait ses classes en Hôtellerie Restauration à Rive de Gier (42) avant de parfaire sa formation dans plusieurs maisons, notamment chez Philippe Bruneton, Meilleur Ouvrier de France et Maître Confiturier, puis devenir Second de cuisine dans plusieurs restaurants. Il renforce ses études en passant son CAP Pâtissier et continue sa formation chez le chocolatier lyonnais Bernachon. Aujourd'hui il propose des événements culinaires ainsi que des Masterclass en tant que consultant à travers la France afin de transmettre son savoir.
Find out more
La cerise sur le gâteau
Tablier en coton recyclé bio inclus
Café & thé bio offerts
Recettes sans additif
Lieux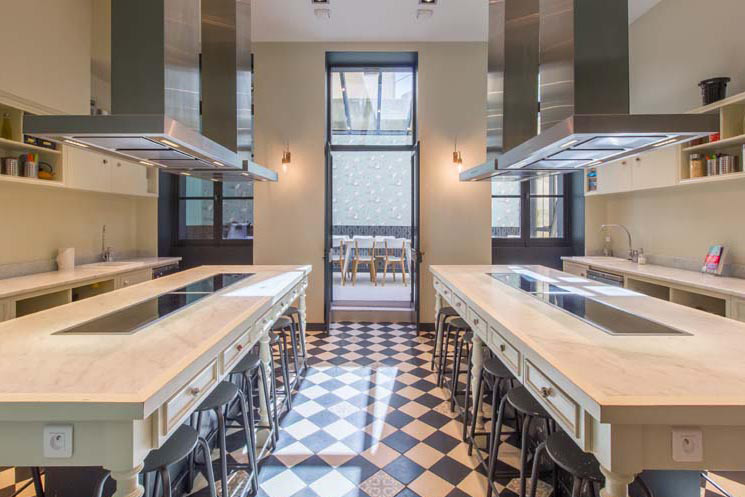 À mi-chemin entre le Parc de la Tête d'Or et la gare Part-Dieu, découvrez notre boutique-atelier, deux cuisines lumineuses et une agréable véranda pour accueillir vos dégustations et réunions.
Infos pratiques
Retrouvez toutes les recettes imprimables 48h avant le début du cours sur votre compte Chefsquare.


Do you want to organise this EXPERIENCE for a GROUP?
Contact us
You wish to propose this WORKSHOP to your CORPORATE COMMITTEE?
Contact us