Cours de cuisine asiatique
Pâtisseries d'Asie - Lyon
Cours de cuisine asiatique
Pâtisseries d'Asie - Lyon
Au programme
Quel beau goûter se profile à l'horizon, tout droit venu d'Asie…

Rejoignez notre Chef·fe en cuisine durant cet atelier de 2 heures pour apprendre à réaliser deux gourmandises de la pâtisserie Asiatique avec une boisson tendance du moment :
- Dorayaki "maison" garnis d'anko
- Mochi aromatisé cacao, thé matcha
- Bubble tea aux fruitx de saison
Allergènes : œuf, blé (gluten), soja, huile végétale (arachide ou tournesol), légumineuses (haricots rouges), lait, fruits à coque (amandes), tapioca.

Le dorayaki est aux Japonais ce que la crêpe est aux Bretons ! Issu du mot "dora" – littéralement "gong" – le dorayaki est un emblème populaire de la pâtisserie au Japon. Celui-ci est composé de deux pancakes à la consistance aérienne est fourrée d'une couche généreuse de pâte sucrée de haricots azukis ou haricots rouges, appelés "anko".
On ne présente plus le mochi, cette petite boule de douceur fabriqué à partir de riz gluant et fourré avec la garniture que l'on souhaite : ici elle sera aromatisée au cacao et au thé matcha.
Et le tout, accompagné d'un délicieux bubble tea où vous confectionnerez vous-même les perles de tapioca !

À l'issue de votre cours, vous pourrez déguster une partie des pâtisseries réalisées accompagnées d'un verre de jus de fruits frais et partager un moment avec le·a Chef·fe et les autres participant·e·s. Une partie des pâtisseries sera aussi emportée.
Techniques abordées
Réaliser un appareil à pancakes japonais
Utiliser les haricots Azuki
Réaliser une pâte à mochi et la façonner
Confectionner des perles de tapioca maison
Cuire un bubble tea
La cerise sur le gâteau
Tablier en coton recyclé bio inclus
Dégustation à table des réalisations
Repartir avec le reste de ses créations
Lieux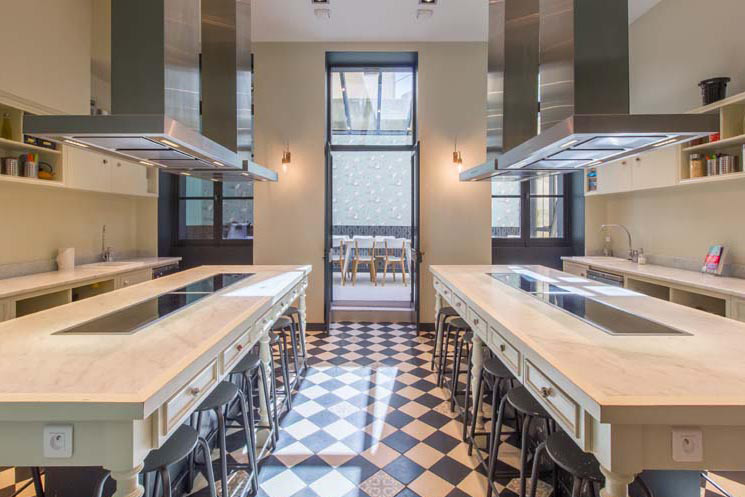 À mi-chemin entre le Parc de la Tête d'Or et la gare Part-Dieu, découvrez notre boutique-atelier, deux cuisines lumineuses et une agréable véranda pour accueillir vos dégustations et réunions.
Infos pratiques
Retrouvez toutes les recettes imprimables 48h avant le début du cours sur votre compte Chefsquare.


Do you want to organise this EXPERIENCE for a GROUP?
Contact us
You wish to propose this WORKSHOP to your CORPORATE COMMITTEE?
Contact us