Cours de pâtisserie
Chocolat Addict - Paris
Cours de pâtisserie
Au programme
"Chauuuuuuuuud cacao ! Chaud, chaud, chocolat !"
Qui n'est pas fou·folle de chocolat ? Avouez-le ! Vous aussi vous êtes addict·e !
Et bien nous aussi chez Chefsquare !

Rejoignez alors notre Chef·fe en cuisine pour préparer trois recettes chocolatées pour les aficionados au chocolat !
- Soufflé au chocolat noir
- Fondant chocolat praliné
- Brownie caramel beurre salé
Allergènes : lait, œuf, blé (gluten), fruits à coques (amandes, noisettes).

Le chocolat est adoré de tou·te·s, pour toutes occasions et sous toutes ses formes : tablettes, bonbons, gâteaux, noir, au lait ... Tout un univers cacaoté !
Apprenez à réaliser les grands classiques des desserts cacaotés avec notre Chef·fe pâtissier·ère dans un de nos ateliers de cuisine à Paris.

À l'issue de votre cours, vous pourrez déguster les desserts réalisés accompagnés d'un verre de vin, et partager un moment avec le·a Chef·fe et les autres participant·e·s.
Techniques abordées
Réussir un soufflé bien monté
Connaître la bonne cuisson d'un fondant
Réaliser un caramel beurre salé
Travailler le chocolat sous différentes textures
L'équipe
Voici le·a Chef·fe pâtissier·ère recruté·e pour cet atelier :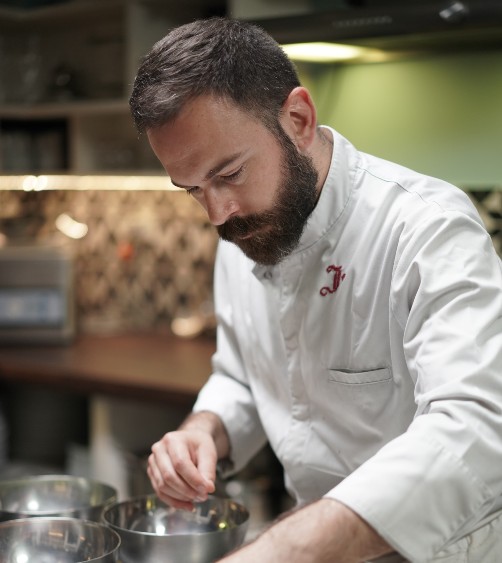 Jean Mathat-Christol
Jean est issu d'une famille de cuisiniers, pâtissiers et hôteliers. Gardant de ses études un goût pour la recherche théorique, il construit ses cours comme des leçons ludiques et considère que les recettes qu'il met au point sont un moyen de comprendre la chimie, la physique et l'histoire de la cuisine.
Find out more
Géraldine Salah
Formée chez Ferrandi, Géraldine adore réaliser des gâteaux traditionnels de la pâtisserie française. Egalement férue de peinture sur gâteaux mais aussi de wedding cakes, elle adore proposer des associations originales dans ses créations sucrées.
Find out more
La cerise sur le gâteau
Tablier en coton recyclé bio inclus
Café & thé bio offerts
Dégustation à table des desserts réalisés
Repartir avec le reste de ses créations
Lieux
À deux pas de Bastille, ce nouveau lieu de 185 m2 associe un atelier de cuisine côté rue, à un laboratoire professionnel côté cour. Il conserve les marqueurs de l'école avec un environnement cocooning, un peu comme à la maison. Il partage aussi les attributs d'une vraie cuisine de restaurant pour plonger dans les conditions réelles les futurs food-entrepreneurs.
Infos pratiques
Retrouvez toutes les recettes imprimables 48h avant le début du cours sur votre compte Chefsquare.


Do you want to organise this EXPERIENCE for a GROUP?
Contact us
You wish to propose this WORKSHOP to your CORPORATE COMMITTEE?
Contact us