French cooking
Cuisine des montagnes - Paris
French cooking
Cuisine des montagnes - Paris
Au programme
Gla-gla les basses températures se font bien ressentir : on ressort les gros pulls, les écharpes, les gants… et les bons plats d'hiver qui réchauffent et réconfortent !
Et quoi d'autre que le fromage pour mettre la France à l'honneur et sa pléthore de choix pour vous en faire profiter au sein de plats conviviaux qui réchauffent le cœur ?

Rendez-vous est pris dans cet atelier de 3 heures et rejoignez notre Chef·fe en cuisine pour apprendre à réaliser trois recettes qui font la part belle aux fromages, idéales à déguster après une journée de ski ou pour se faire plaisir :
- Velouté butternut, crumble de Beaufort aux châtaignes
- Tartiflette et salade d'endives aux agrumes
- Tarte aux noix, crème glacée à la Chartreuse
Allergènes : lait, fruits à coque (châtaignes, noix, noisettes, noix de pécan), sulfites, blé (gluten), œuf.

À l'issue de votre cours, une table sera dressée et vous pourrez déguster les plats réalisés accompagnés d'un verre de vin, et partager un moment avec le·a Chef·fe et les autres participant·e·s.
Techniques abordées
Découvrir les fromages de montagnes
Réaliser une vinaigrette qui change
La technique du crumble salé
Réaliser une glace sur base de crème anglaise
Cuire un caramel
L'équipe
Voici le·a Chef·fe spécialiste recruté·e pour cet atelier :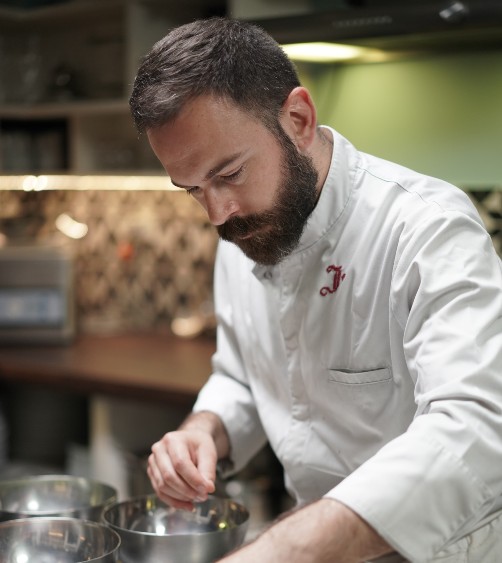 Jean Mathat-Christol
Jean est issu d'une famille de cuisiniers, pâtissiers et hôteliers. Gardant de ses études un goût pour la recherche théorique, il construit ses cours comme des leçons ludiques et considère que les recettes qu'il met au point sont un moyen de comprendre la chimie, la physique et l'histoire de la cuisine.
Find out more
La cerise sur le gâteau
Tablier en coton recyclé bio inclus
Café & thé offerts
Dégustation à table des plats réalisés
Verre de vin offert pour le repas
Lieux
À deux pas de Bastille, au fond d'une cour intérieure, retrouvez nos cuisines dans un ancien atelier d'artiste. Deux cuisines calmes et lumineuse d'une superficie totale de 100 m2 peuvent accueillir jusqu'à 30 personnes.
Infos pratiques
Retrouvez toutes les recettes imprimables 48h avant le début du cours sur votre compte Chefsquare.


Do you want to organise this EXPERIENCE for a GROUP?
Contact us
You wish to propose this WORKSHOP to your CORPORATE COMMITTEE?
Contact us