French cooking
Menu Lyonnais - Lyon
French cooking
Au programme
Cuisinez 3 grands classiques de la région Lyonnaise aux côtés d'un.e Chef.fe Lyonnais.e : échangez sur vos spécialités préférés avec le.a Chef.fe !
Techniques abordées
Réaliser une brioche (pâte levée)
Apprendre à pocher des quenelles et utilisation d'une poche à douille
Réaliser une sauce à base de crustacés
Réaliser une pâte sablée
En détail
Durant ce cours de cuisine Lyonnaise, réalisez un menu entier de l'entrée au dessert pour découvrir la cuisine de notre région.
Au programme de l'atelier :
- Le saucisson brioché
- Quenelles, sauce nantua et gratin dauphinois
- Tarte à la praline rose

À l'issue de votre cours, une table sera dressée et vous pourrez déguster les plats réalisés accompagnés d'un verre de vin et partager un moment avec le.a Chef.fe et les autres participant.e.s.
L'équipe
Voici nos Chef.fe.s imprégné.e.s par la cuisine régionale recruté.e.s pour cet atelier :
François Pitois
Chef de cuisine du "club des dirigeants" : le Prisme à Lyon depuis une vingtaine d'année. Au début de sa carrière professionnelle, il a peaufiné ses classes dans les grandes brigades Parisiennes : le Pré Catelan, Hôtel Matignon, service du premier ministre, participation aux repas officiels. Chef à domicile dans de prestigieuses maisons : Mme Pompidou, Hermès, De Bétencourt... 5 ans au côté de Christian Têtedoie à Lyon. Obtention d'une Michelin, 2 participations aux demi-finales "Meilleurs Ouvrier de France". Il intervient aujourd'hui dans notre Atelier Lyonnais.
Find out more
La cerise sur le gâteau
Tablier en coton recyclé bio inclus
Café & thé bio offerts
Dégustation à table des plats réalisés
Verre de vin offert pour le repas
Lieux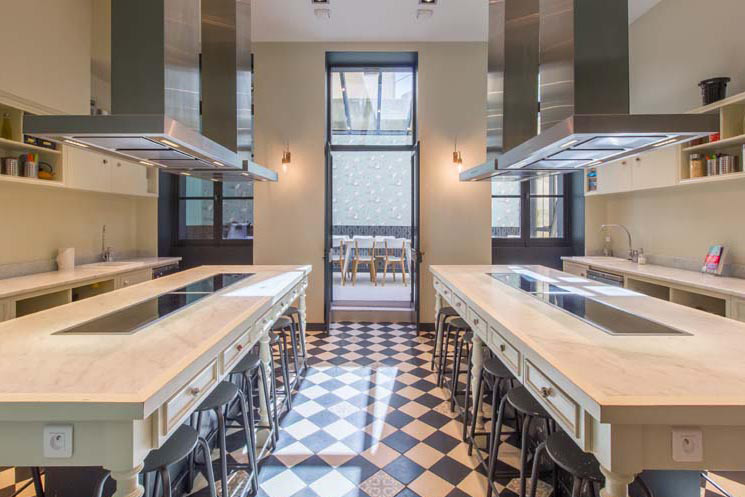 À mi-chemin entre le Parc de la Tête d'Or et la gare Part-Dieu, découvrez notre boutique-atelier, deux cuisines lumineuses et une agréable véranda pour accueillir vos dégustations et réunions.
Infos pratiques
Retrouvez toutes les recettes imprimables 48h avant le début du cours sur votre compte Chefsquare.


Do you want to organise this EXPERIENCE for a GROUP?
Contact us
You wish to propose this WORKSHOP to your CORPORATE COMMITTEE?
Contact us