Apprendre à sublimer les pâtes
Pasta fresca et pesto verde et rosso - Lyon
Apprendre à sublimer les pâtes
Pasta fresca et pesto verde et rosso - Lyon
Au programme
Ciao a tutti !
Qui ne raffole pas de la cuisine italienne ? Et qui plus est de l'un des plus grands symboles de la cuisine de la petite botte ? J'ai nommé la pasta !
Et à cela si vous rajoutez un véritable pesto qu'il soit verde ou rosso, alors vous êtes le·a bienvenu·e à la table de nos ami·e·s Italien·ne·s !

Durant cet atelier de 2 heures, rejoignez notre Chef·fe à l'accent chantant qui vous transmettra ses recettes et ses tours de main pour fabriquer des pâtes fraîches et deux recettes de pesto :
- Pesto verde basilic, pignons de pin, parmesan et huile d'olive
- Pesto rosso tomate, amandes, pecorino et basilic
- Ravioli au parmesan et ricotta
Allergènes : fruits à coque (pignons de pin, amandes), lait, huile végétale (olive), blé (gluten), œuf.

À l'issue de votre cours, une table sera dressée et vous pourrez déguster les plats réalisés accompagnés d'un verre de vin, et partager un moment avec le·a Chef·fe et les autres participant·e·s.
Techniques abordées
Fabriquer des pâtes fraîches aux œufs
Utiliser la machine à pâte et les accessoires
Cuire les pâtes "al dente"
Réaliser un pesto verde et un pesto rosso
La cerise sur le gâteau
Tablier en coton recyclé bio inclus
Café & thé offerts
Dégustation à table des plats réalisés
Verre de vin offert pour le repas
Lieux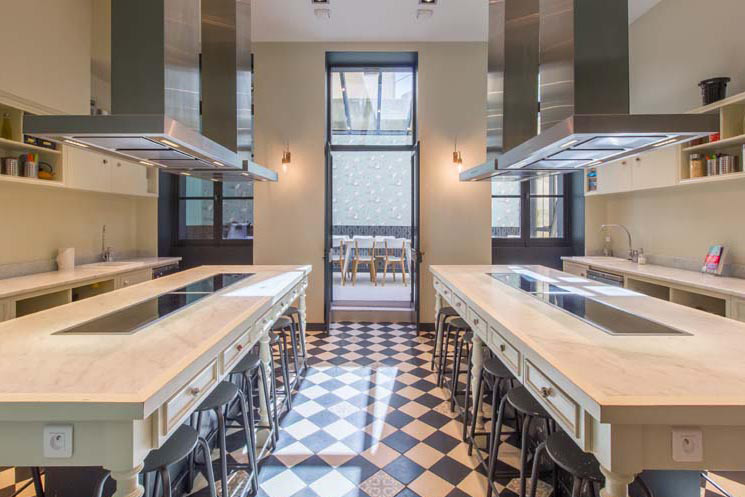 À mi-chemin entre le Parc de la Tête d'Or et la gare Part-Dieu, découvrez notre boutique-atelier, deux cuisines lumineuses et une agréable véranda pour accueillir vos dégustations et réunions.
Infos pratiques
Retrouvez toutes les recettes imprimables 48h avant le début du cours sur votre compte Chefsquare.


Do you want to organise this EXPERIENCE for a GROUP?
Contact us
You wish to propose this WORKSHOP to your CORPORATE COMMITTEE?
Contact us