Cours de cuisine d'ailleurs
Cuisine africaine - Paris
Cours de cuisine d'ailleurs
Cuisine africaine - Paris
Au programme
Plongez au cœur de la cuisine Africaine avec notre Cheffe Anto Cocagne ! D'origine gabonaise, c'est sur Paris qu'elle propose sa version de la cuisine minimaliste, relevée d'une French touch : une patte qui brise les apriori sur des plats encore trop peu connus qui sont riches en saveurs et en senteurs. Bien loin des préjugés de plats trop gras, trop sucrés, trop salés ou encore trop pimentés.

Lors de cet atelier de 3 heures, la Cheffe vous apprend à réaliser plusieurs recettes issues de la cuisine Africaine :
- Salade bassamoise (taboulé à base de manioc)
- Mafé de poulet (plat à base de viande avec une sauce à la cacahuète)
- Cake Citron Moringa, glaçage citron (herbe aromatique rappelant le matcha)
Allergènes : blé (gluten), huile végétale (olive, raisin), légumineuses (pois chiches), sésame, lait.

Vous pourrez déguster les plats réalisés accompagnés d'un verre de vin, et partager un moment avec la Cheffe et les autres participant·e·s.
Techniques abordées
Réaliser une marinade
Cuire le poulet à la perfection
Découvrir les épices et les produits d'Afrique
L'équipe
Voici notre Cheffe imprégnée par la cuisine Africaine recrutée pour cet atelier :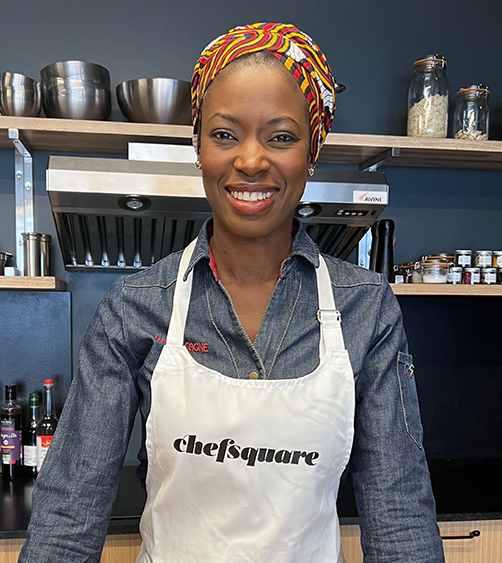 Anto Cocagne
Anto a quitté son Gabon natal bien décidée à poursuivre ses rêves et décrocher son Bachelor Restaurateur (Ferrandi). Elle passe ensuite par les cuisines d'Alain Hascoët, Chef de l'hôtel 5* «Le Carlton » à Cannes, par celles d'Eric Pras MOF(3* au guide Michelin) et co-fonde le magazine Afro cooking avant de décrocher en 2018 le Prix Spécial « Eugénie Brazier » pour la créativité aux Cuillères d'Or. Depuis 2019, c'est sur la chaine Canal Plus Afrique que l'on peut la retrouver en tant que présentatrice de l'émission « Rendez-vous avec Le Chef Anto ».
Find out more
La cerise sur le gâteau
Tablier en coton recyclé bio inclus
Café & thé bio offerts
Dégustation à table des plats réalisés
Verre de vin offert pour le repas
Lieux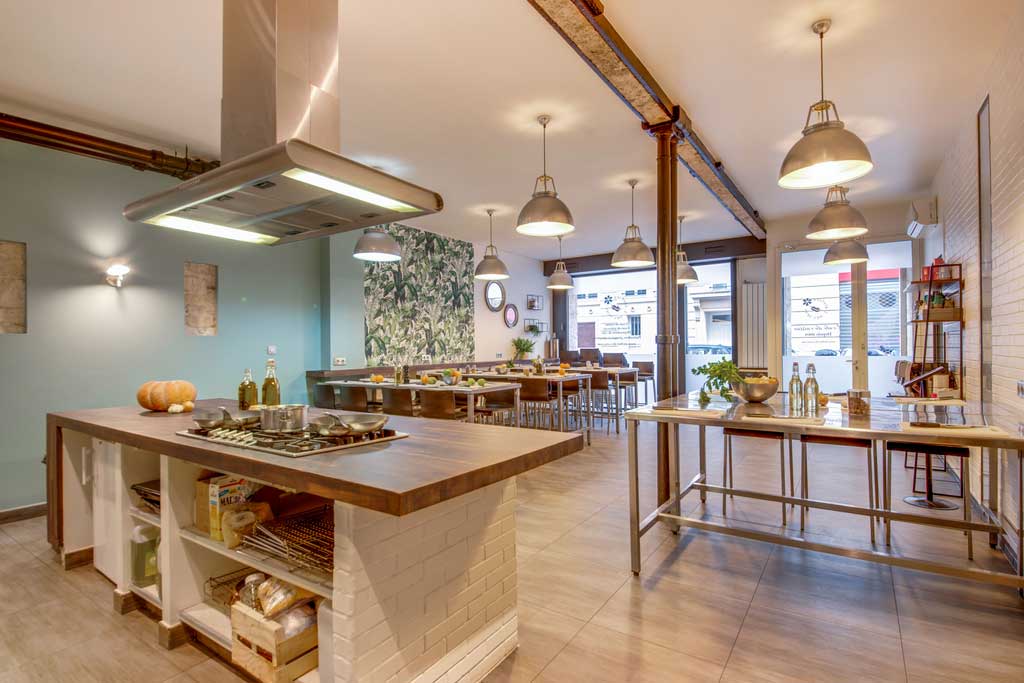 À quelques pas de Beaubourg, cet espace culinaire a été aménagé dans une ancienne galerie d'art sur deux niveaux. Au RDC, notre grande cuisine ouverte sur plus de 100 m² est modulable en fonction de vos besoins. Au sous-sol, nos deux caves voûtées en pierres apparentes sont propices aux dégustations de vins et aux réunions de travail.
Infos pratiques
Retrouvez toutes les recettes imprimables 48h avant le début du cours sur votre compte Chefsquare.


Do you want to organise this EXPERIENCE for a GROUP?
Contact us
You wish to propose this WORKSHOP to your CORPORATE COMMITTEE?
Contact us